« Houses Passes Obamacare "Repeal"; Now Heads to the Senate
> |
Main
|
Buzzfeed Director of Social Media Caught Wishing for President's Assassination »
May 04, 2017
The Altamont of Stupid: Would-Be Super-Luxe Coachella on the Sea "Organized" by Shit-for-Brains Millennials to Get Other Shit-for-Brains Millennials to Pay up to $2000 to Attend Turns Into, Get This, Epic Level Shit Show
And it's prompted three class action lawsuits, several alleging fraud, and one naming damages to the tune of $100 million.
The "Fyre Festival" was co-organized by Ja Rule, who I've heard of but I have no earthly idea who he actually is or what he does. I have some vague memory he's involved in rap music. He's not actually a Millennial, because he's like 41 or something.
But he seems to be a Millennial in spirit, and in ability.
The story about this Festivus-style festival is kinda old -- almost a week old, in fact -- but I'm not hip so I didn't know about it until an hour ago.
This is the Most Millennial story I've ever written up.
The event was also co-organized by a guy named Billy McFarlane, a true Millennial. This guy started a credit card aimed at Millennials called something really fucking stupid -- Magnises. What the fuck. That's not even close to a word. It sounds like he just took "Magnum condoms" and "penises" and mashed them together.
The credit cards are black because Of Course They Are. I guess the idea is "Hey, my black credit card? Means I have a magnum penis. Just like it says on the tin."
They paid a lot of models and "influencers" -- idiots with big accounts on Twitter and Instagram -- to promote this "festival," to be located on an island in the Bahamas. These models and influencers were reportedly paid $20,000 each as a minimum, even for the minor, 2nd-rate instagrammers. (Another report says a $10,000 minimum, but several claim $20,000.)
He spent $250,000 on a single Instagram post from Kim Kardashian s half-sister Kendall Jenner and laid out hundreds of thousands more on lesser-name "influencers," none of whom were paid less than $20,000, one person familiar with the payments said.

Only one model -- "Gone Girl" actress Emily Ratajkowski --- labeled her promotion as an ad, as required by the Federal Trade Commission. The other models' comissions are now the subject of a class-action lawsuit.

"These 'sponsored posts' were in direct violation of Federal Trade Commission guidelines on disclosing material connections between advertisers and endorsers," the suit alleges. "Social Media 'influencers' made no attempt to disclose to consumers that they were being compensated for promoting the Fyre Festival. Instead these influencers gave the impression that the guest list was full of the Social Elite and other celebrities."
The venue was advertised as being a "private island" once owned by drug lord Pablo Escobar.
Their promises to registrants also kept changing over time. Pablo Escobar never owned an island in the Bahamas, and even if he had, the festival was located on an abandoned development site on a public beach near a Sandals resort.
I guess "Party on a private island once owned by a notorious narco-terrorist" sounds better than "party on an abandoned development site just a stone's throw from super-exclusive Sandals Bahamas."
The Concierge desk where Pablo Escobar
liked to sit back and admire his Empire of Unpainted Wood and Filth
Turns out, this Millennial knew as much about organizing a large festival as he knew about giving a credit card a name that doesn't sound like viagra-infused bottled water at a Gay Rave. One employee told Variety: "It was incompetency on an unbelievable scale."
The two production professionals became concerned as soon as they came on board. "They had fired a [previous production company], so we took a look at how much had been done -- and there were so many red flags," one said. "Things like water [supply], bathrooms and other everyday structures that should have been in place six months before -- none of that had been done. We all said to them, 'It takes at least eight months to a year to produce a festival, you have to push the date' -- we stressed that and said that over and over. And they were like 'It'll be fine, it's not that big of a deal.' They kept making it seem like we were exaggerating. It was like they didn't care." Even appealing to the young entrepreneurs' reputations among the rich-millennial set they coveted had little effect.

"We said, 'What you've promised [in statements and advertising promoting the festival] as opposed to what we're even maybe capable of delivering in this amount of time is not the same. You're going to destroy your brand if you try to have it on this date and don't deliver what you promised. If you push the date a year, people will be upset. But once you deliver what you promised, they'll get over it.' But it was like they didn't care: They literally kept saying, 'We're gonna be legends.'"
Those who shelled out up to $12,780 for the luxury weekend in the Exumas, in the Bahamas, found themselves Thursday treated to mass disorganization, half-built tents, and catered food that was little more than limp cheese sandwiches.
I saw another report saying the mattresses weren't even inside the tents, but stacked outside of them.
More...
Advertising video for the "Fyre Festival,"
which went totally viral, because Millennials are silly
When I said it became a shit-show, I meant that more literally than people usually mean it.
Serious logistical planning for the festival didn't even begin until late February or early March -- less than two months before the thousands of people McFarland had sold a luxury vacation on a private island were scheduled to arrive.

The toilet and shower supplier, who did not get the Fyre Festival contract, told the organizers it would cost north of $1 million just to order the equipment -- a rush-order mark-up he unironically referred to as "disaster pricing." That number did not include the cost of shipping the equipment to the island or the high cost of the barge needed to dispose of the wastewater created by thousands of people showering and using the toilet for four days.
One lawsuit alleges there was one port-a-potty every 200 yards, which seems like a shitty-low number of units for a festival once planned to attract 40,000 people.
"Upon the arrival of guests to the island of Great Exuma for the first weekend, the island was lacking basic amenities, was covered in dirt, and guests had to sleep in tents with wet blankets," the complaint states. "There were no communal showers or bathrooms as promised; instead there were porta potties (only about one for every 200 yards) that were knocked down and only three showers although there were hundreds of people arriving... Additionally, there were no other basic amenities like soap, sunscreen and shampoo, and no electricity."
Cigars, cars, caviars,
and shitting in ditches and wiping
your ass with a Wendy's hamburger wrapper
The attendees had been promised luxe catering by famous restauranteur Stephen Starr, but Starr actually withdrew from the project in early April when the organizers, get this, failed to pay him.
So the attendees wound up with this sort of luxury catering:
By the way, I don't even know how the hell people thought this was going to be some Big Luxurious Festival. One of the Headliner bands scheduled was Blink-182 -- who? They're almost as old as I am! -- and another was Major Lazer, who I assume planned to just play that one song you've already heard to death in tv commercials for consumer electronics eight times in a row for a tight, if repetitive, 35 minute set.
Anyway, things didn't turn out great, not really great at all, as Trump would say.
It wasn't terrific. It really wasn't great.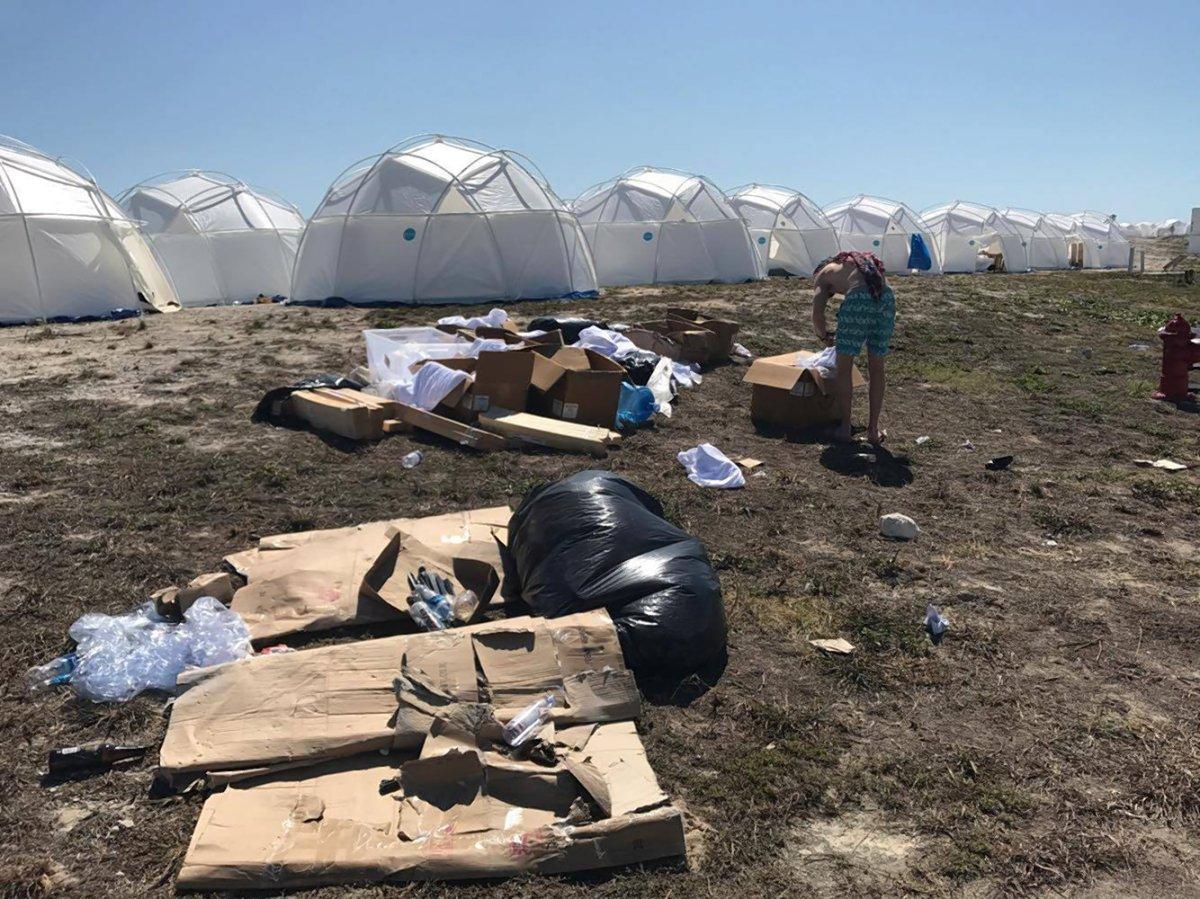 Looks like the place where the Poor People live
in The Running Man
The problem seems to have been that the two knuckleheads behind this disaster didn't realize you need 8 months or more to plan, organize, and provide basic infrastructure (water, electricity, "luxury lodges" in the form of tents for the refugees you don't like, etc.) for a large scale festival, and just wouldn't re-schedule it when pros kept telling them that what they wanted was impossible. (Apparently this was conceived of in October 2016-- but the real grit of organizing didn't begin before a couple of months before the scheduled date for the event, as an above-quoted article reported.)
There are claims of some groups paying $150,000 or even $250,000 for attendance but I'm not sure I believe that at all, given that tickets wound up being discounted.
Still, given that the festival seems to have been targeted to not people who are actually rich but people who are not rich but who can scratch together three grand (for travel and accommodations) to live the fantasy of being rich for a weekend, the $2-3 grand in almost complete losses must sting.
The organizers do say they are mounting a make-up festival in 2018, and full refunds.
The math doesn't work out, in my opinion -- but we'll get to that later.
The support from the musical community has been overwhelming and we couldn't be more humbled or inspired by this experience. People were rooting for us after the worst day we've ever had as a company. After speaking with our potential partners, we have decided to add more seasoned event experts to the 2018 Fyre Festival, which will take place at a United States beach venue.

All festival goers this year will be refunded in full. We will be working on refunds over the next few days and will be in touch directly with guests with more details. Also, all guests from this year will have free VIP passes to next year's festival.
You're going to both re-fund money you already spent (and in fact ran out of this time) and then also stage another expensive event, this one even more expensive, I assume, because it costs more money to do it right, and you're giving current ticket-holders a free pass to that?
What money will they use? Will they just float the costs themselves? How? The make-up event will have major costs but I don't think there's going to be much fresh income to cover those costs.
It's a nice thought -- but I just don't see how this can happen. It seems like another off-the-cuff idea, with no one thinking about practical realities.
The Bahamas government is intervening, promising much stricter vetting of any planned festivals in the future, to protect its own reputation as a destination.