« Cutting The Cord: It's Easier Than You Think. I Think. I have No Idea. That's What This Post Is For
|
Main
|
The Morning Report 5/8/17 »
May 07, 2017
Sunday Overnight Open Thread (5/7/17) Work Week Eve ONT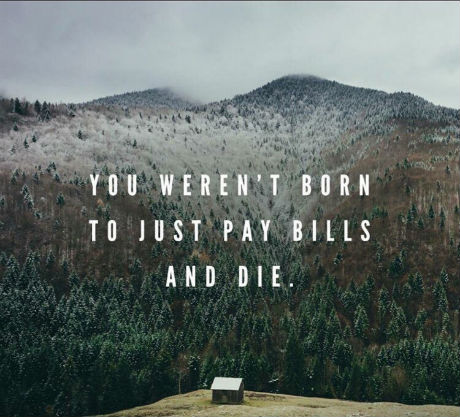 Yes, there are ONTs to be written
Let's roll.....................
Quotes of The Day

Quote I

Wherever I am in the world, I never get Sunday night blues. I suppose it's because I've never worked at any one thing long enough to start hating it. Hayley Mills
Consider yourself blessed.

Quote II

If God hadn't rested on Sunday, He would have had time to finish the world. Gabriel Garcia Marquez
Quote III

Sunday evenings often feel like the weekend is over before it's even begun. Catherine McCormack
Isn't that the truth!

Quote IV

Perhaps the most valuable result of all education is the ability to make yourself do the thing you have to do, when it ought to be done, whether you like it or not; it is the first lesson that ought to be learned; and however early a man's training begins, it is probably the last lesson that he learns thoroughly. Thomas H. Huxley
h/t Mike Hammer

Quote V

"I am for doing good to the poor, but...I think the best way of doing good to the poor, is not making them easy in poverty, but leading or driving them out of it. I observed...that the more public provisions were made for the poor, the less they provided for themselves, and of course became poorer."Benjamin Franklin
*****
Never afraid to roll up their sleeves to make a buck. Organized crime "lights up" big profits. Millions to be made in bootleg cigarettes.

A bust of a major organized crime ring that made millions smuggling cigarettes and committing bank fraud in Virginia has resulted in 43 indictments and more than 740 charges, Fairfax County police announced Friday.

An extensive two-year investigation uncovered a sprawling operation with more than 150 suspects engaged in transporting cigarettes from the Richmond area to New York City, writing bad checks, money laundering, and committing shootings and other violent crimes in the Richmond area, officials said.


"Illegally trafficked cigarettes now have a higher profit margin than cocaine, heroin, marijuana or guns," a Virginia State Police official was quoted as saying by the state's Crime Commission.
Oh My!!!
*****
There isn't enough Christian mission work to do. One has to go to North Korea and end up in detention.
*****
Casino fails. No big deal, We'll just grow pot.

A small Indian tribe in a remote stretch of San Diego County has traded in its failed dream of casino riches for what could be the next big payout — marijuana cultivation.

The Iipay Nation of Santa Ysabel — which shuttered its 35,000-square-foot gaming hall in February 2014, buried under $50 million in debt — has transformed the vacant space into a high-tech medical marijuana operation, and is leasing part of the property to growers who cultivate and distribute the drug to legal dispensaries throughout the state.
*****
A walk down Memory Lane for the 'ettes? 10 fascinating facts about the Easy Bake Oven.
I'll take some brownies and glass of milk, please.
*****

"Hell On Wheels", amazing photographs of the NYC underground in the 1980s.
*****
Careless? A klutz? Do you have a Twitter account? If you answered "Yes" to all of these you may be in the running for 12 of the dumbest ways people have injured themselves.
#1 you called your Dad? Really? Ugh.
*****

Pron meets Sharknado. The phrase, 'Shake a leg' takes on a whole new meaning.h/t MTF

But the shoot went horribly wrong when a ten-feet lemon shark broke through the metal barrier and took a chunk out of her foot and ankle.

Molly is then seen desperately scrambling to get out of the water and back to the safety of the film crew's boat.
Horribly wrong? No shit kidding Captain Obvious.
*****
The ONT Musical Interlude
May 7, 1966, The Mamas and the Papas started a three week run at No.1 on the US singles chart with 'Monday Monday', it made No.3 in the UK. The group was reported, as saying they all hated the song except for its writer John Phillips. The Mamas and the Papas won a Grammy Award for Best Pop Performance by a Duo or Group with Vocal for this song. via thisdayinmusic.com
***
May 7, 1998, Eddie Rabbitt, US singer, songwriter died of lung cancer aged 56. During his career, he scored over 20 No.1's on Billboard's country singles chart including 1981 'I Love A Rainy Night'. Elvis Presley, Dr Hook, Tom Jones, Kenny Rogers, Crystal Gayle and Lynn Anderson all recorded his songs. via thisdayinmusic.com
*****
Shoe On Head takes a look at SJWs & SexBots. NSFW
*****

France has elected their own "Obama" only with more Caucasian. NSFW
*****

The ONT bets you that you will not see this anytime soon at 6 Flags.
Different strokes for different folks, I guess.
*****
People who enjoy The Great Outdoors know of the dangers of invasive species. Minnesota's Department of Natural Resources has a new approach.

Baby zebra mussels called veligers can be present in water, the DNR's K-9 unit coordinator, Jason Beckmann, told Minnesota Public Radio. "They can be up inside of motors, in bilges, live wells, things like that, that an inspector might not be able to see. And a dog can smell that."

Invasive species are a problem in waterways across the country. Eurasian milfoil, carp, and zebra mussels outcompete and infest lakes, rivers, and streams. They often spread with human aid, and cleaning hulls and motors is the most effective means to prevent transporting them.
At approximately $6,500 per dog, they better know how to fillet a walleye and pan fry it.
*****
6 packs? Not enough beer. 12 packs? Not enough beer. Case? Not enough beer. How about a 1000 pack? Nokia Brewery of Finland is now producing 1,000 packs of beer.

These are a couple shots of the 1,000 packs of beer sold by the Nokia Brewery of Finland. The massive case includes a thousand 0.5-liter (~16.9oz) cans of their 5% ABV Keisari Lager and costs €2,490 (~$2,344). Wait -- that's almost $2.50 a can! I'm not paying that.
*****
Why does the USA have the fattest poor people of the world? "The rise of obesity in the U.S. tracks closely with the expansion of America's primary food assistance program."

Recent reports show that the United States is one of the most obese nations in the world—the only G-8 nation to crack the top 20 of the most overweight countries in the world.

For children and low-income people the problem is particularly acute. A 2015 report commission by the Organization for Economic Cooperation and Development found that the U.S. "has the fattest kids by a wide margin and is tops in poor health for teenagers
*****
Quick and regrettable, oh that's what they call a Genius Award Winner.
Pretty amazing guy, Tonight's Feel Good Story of The Day.
*****
The ONT has been brought to you by the Ace of Spades Headquarters Work Station.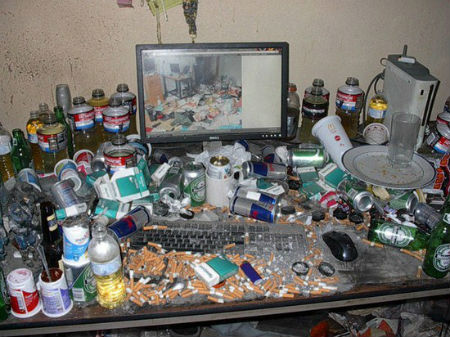 Notice: Posted with permission by AceCorp, LLC. Management reserves the right to reserve the right.
*****

Top 10 commenters:
1 [433 comments] 'Insomniac ' [60.80 posts/day]
2 [359 comments] 'Steve and Cold Bear'
3 [351 comments] 'chavez the hugo'
4 [348 comments] 'J.J. Sefton'
5 [344 comments] 'Deplorable Jay Guevara'
6 [281 comments] 'Lizzy'
7 [278 comments] 'Mike Hammer, etc., etc.'
8 [275 comments] 'Christopher R Taylor'
9 [262 comments] 'Village Idiot's Apprentice'
10 [257 comments] 'rickb223'
Top 10 sockpuppeteers:
1 [98 names] 'Steve and Cold Bear' [13.76 unique names/day]
2 [68 names] 'phreshone'
3 [56 names] 'an indifferent penguin'
4 [50 names] 'Bertram Cabot, Jr.'
5 [42 names] 'The Political Hat'
6 [35 names] 'Duncanthrax'
7 [34 names] 'andycanuck'
8 [33 names] 'Buzzsaw90'
9 [33 names] 'Cicero (@cicero)'
10 [31 names] 'Mike Hammer, etc., etc.'


posted by Misanthropic Humanitarian at
09:40 PM
|
Access Comments