« French Elections: Macron and LePen Qualify For Second Round, Drawing 23.7% and 21.7% Respectively
|
Main
|
Early Sunday Night Open Thread »
April 23, 2017
Food Thread: It's Just Food
I'll make you a deal Dr. Hyman: You inoculate us both with Yersinia pestis (plague) or rabies, and I will treat myself with antibiotics or rabies vaccine, and you treat yourself with a big bowl of kale and some raw radishes, and in a month we will meet and compare notes.
The conceit of these new age shamans that 2,500 years of Western intellectual development is somehow flawed and that they can simply invent a new paradigm of health is a reflection of a very wealthy society that has many people in it who have nothing serious to worry about.
Food is fuel. Yes, there are some mixtures that are better for us than others, but in the end, food provides energy and the building blocks for growth of tissue.
Making it some sort of 21st century totem that symbolizes an ascent to some higher plane is just silly. I'm all for putting food on a pedestal, but only for the purposes of pleasure and as a social lubricant. I refuse to elevate it to something magical and mystical. And the people who claim incredible properties of food are doing exactly that. It's voodoo and astrology all wrapped up in baked quinoa and arugula until it is proven by a dispassionate scientific study that is then repeated, preferably a few times.
******
So what foods not intended for mobile consumption have you eaten while driving? And what was the dry-cleaning bill?
******
I ranted about this kind of crap recently, so I won't plague you again for awhile, but just take a look (or even better don't give them the clicks) at this thinly disguised attempt at anthropomorphising food animals.
Before you put that fennel and garlic-scented chicken leg in your mouth, read this
Yeah, I get it. Piglets and chicks are cute and have brains and feel. But they also taste good, and that is more important. Because they are simply not on par with Man.
******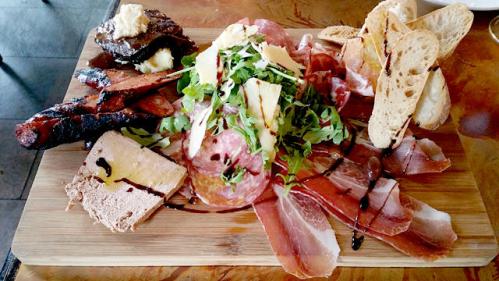 artisanal 'ette sent me a bunch of links for charcuterie platters, and here is a good one. 5 Tips For A Fabulous Charcuterie Board is pretty straightforward and simple, but the writer gets it. Sometimes simple is better, and this is one of those times. Also, the portions are small, so even fancy stuff like Serrano ham isn't going to set you back a fortune.
HOW TO SERVE: Serve everything already sliced on one board. If you don't have room for the bread and crackers, serve on the side.

BEER AND WINE PAIRINGS: Almost everything pairs with cured meats - that's the great thing about serving a charcuterie board.
Pretty much!
And a photo of a charcuterie board just for grammie winger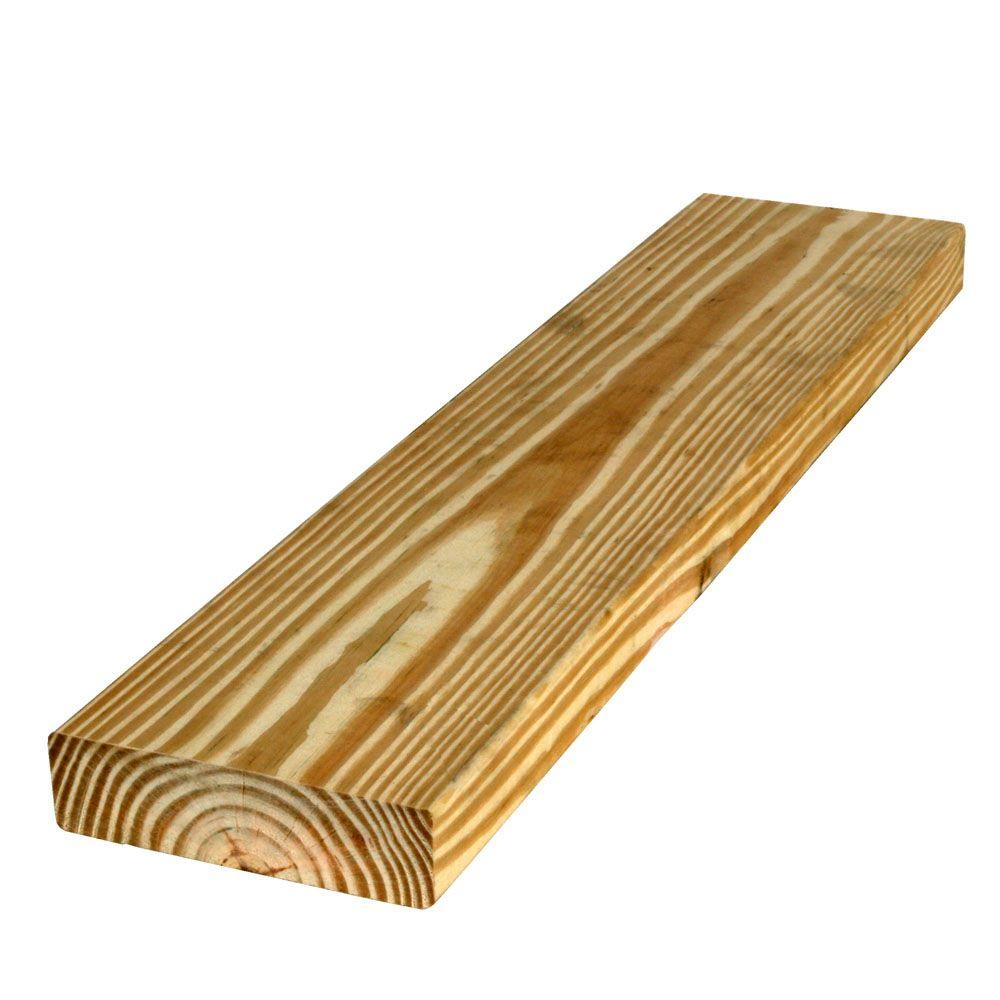 ******
OregonMuse sent this along, and while these lists are usually a bit silly, this one is spot on.
7 Secrets From a Grilled Cheese Master
aren't really secrets, but the guy really does know grilled cheese.
******
Today is the fourth edition of:
"Liquor Cabinets: A Study By And Of Morons."
From commenter"Walknot," a very nice simple cabinet that gives off a retro vibe.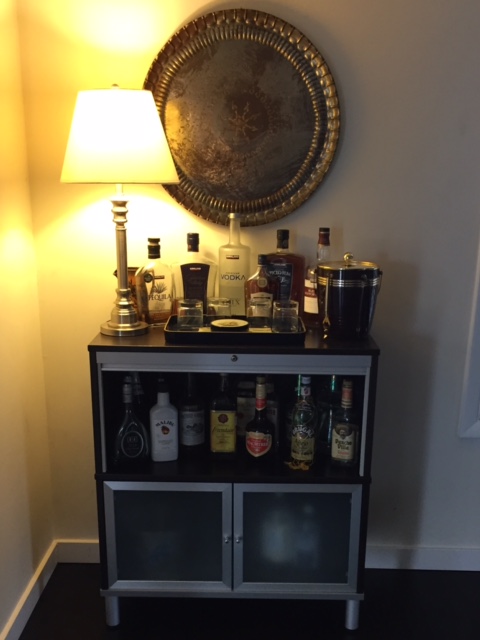 It ain't fancy and the booze isn't top shelf but it's mine and my X wife didn't get it! The roll up has some prissy shit for the ladies but the important stuff is easily accessible. LED lights are in its future and its twin is in my office and will likely be duplicated for my lower level when I finish it, can't be bothered walking up a flight of steps to freshen your drink, Cheers!
I like it. Minimalist and serious. It sends a message that you are a serious drinker. And really, what else is important in life?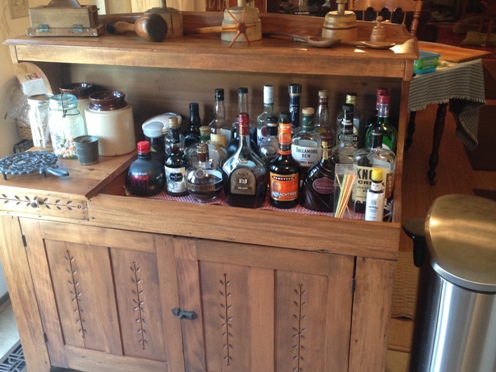 This one is from commenter nnptcgrad, and it is a beauty!
This is my liquor cabinet, an old dry sink that was inherited from my grandparents. They had it restored, as it was a battered stack of boards when they got it. They inherited it from the side of the family that were total teetotalers. We joke that that side of the family is spinning in their graves from this.
******
This is from Mark Bittman, and I usually have some problems with his cooking. The dish sounds like fun, but I think the expensive prosciutto will be overwhelmed by the garlic. As usual, his first instinct is wrong. A better choice would be a smoky ham or something powerfully flavored. I think the bacon might be fun. Yeah...there's a stretch.
Pasta With Prosciutto and Whole Cloves of Garlic
(Maccheroni alla San Giovanniello)
•1/3 cup olive oil or butter
•10 cloves garlic, lightly crushed
•1/2 cup prosciutto or other salted ham or slab bacon, cut into cubes or strips
•6 plum tomatoes, or 11/2 cups drained canned tomatoes
•Salt and freshly ground black pepper to taste
•1 pound cut pasta, such as ziti or penne
•1 cup roughly chopped fresh basil leaves
•1 cup freshly grated Pecorino Romano or Parmesan cheese, or a combination
1. Bring a large pot of water to a boil.
2. Combine the oil, garlic, and ham in a medium to large skillet over medium-low heat. Cook slowly, stirring occasionally, until the garlic becomes deep golden, nearly brown, all over, 10 to 15 minutes.
3. Core and chop the plum tomatoes (or crush the canned tomatoes) and add them, along with salt and pepper, to the skillet. Stir and simmer while you salt the boiling water and cook the pasta.
4. Drain the pasta when it is tender but firm, reserving a little of the cooking water and adding it to the sauce if it appears dry (quite likely if you used fresh tomatoes). Toss the pasta with the sauce and most of the basil, along with the cheese. Mince the remaining basil, garnish the pasta with it, and serve.

******
Food tips, extra Pappy van Winkle bourbon and other goodies:
cbd dot aoshq at gmail dot com

posted by CBD at
05:07 PM
|
Access Comments