« Saturday Gardening Thread: Bloomin' Mysteries [KT]
|
Main
|
Saturday Afternoon Chess/Open Thread 04-22-2017 »
April 22, 2017
Ace of Spades Pet Thread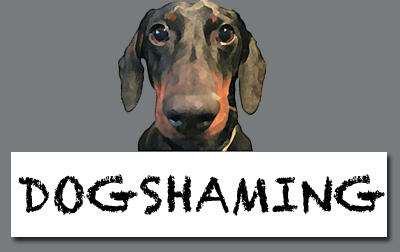 Welcome to the almost world famous Ace of Spades Pet Thread, where critters are tops.
It's been quite a week with the pets here. All I can say is I'm glad that they don't have thumbs. Whats been going on in your world?
A Little of This. A Little of That.

Submitted by our friend & Moron, ibguy.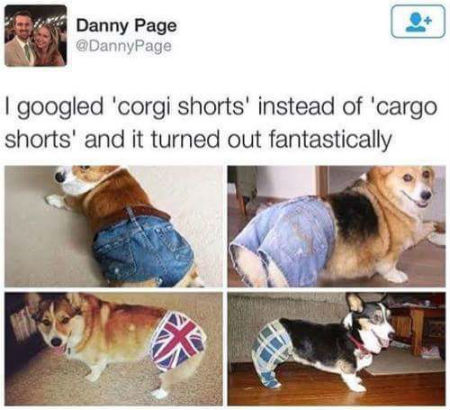 Meet Mark Ching, a good good guy.

Up until a couple of years ago, Mark Ching was a successful businessman who dedicated his free time and resources to rehabilitating abused dogs in Los Angeles and finding new homes for them. But then he heard about the horrors of the dog meat trade in China, and after witnessing them first hand he dedicated his life to rescuing as many canines as he could from dog slaughterhouses across Asia, even if it meant putting his own life at risk.

Firefighters save elderly dog. Wonder what kind of bill they will charge.

Not to be undone, a cat and its owner needed rescuing.
Keeping up with the Dogs is no way to go through life.

Cattle. Beaver. Quite the roundup.

Pets. Owners. Photos. Smile worthy.

Dog grooming 10 photos of before and after doggy haircuts.
Meet The PetMorons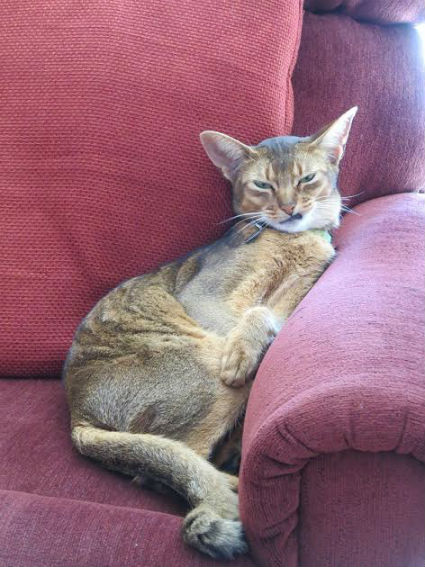 Our first PetMoron this week is Gizmo.

Gizmo lost one of her upper canines and sometimes her upper lip catches on the gum, producing a cool, one-sided Dirty Harry snarl. "Well, do ya, punk?" Notice how she drapes herself half-way up the armrest, which is wierd -- never had any other cat who does that. Must be comfy, I guess...

-- Tankascribe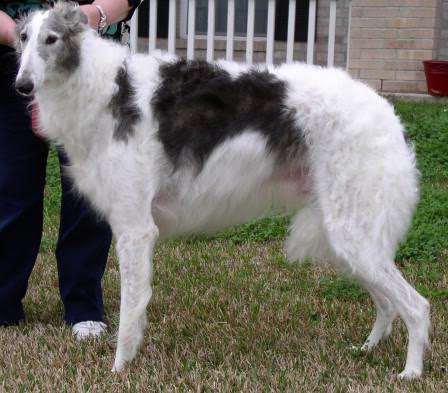 Of all the dogs we've owned, this is one of the ones we can feel proudest of. This is Smoke, who we fostered for many months.

Smoke came to us in the worst condition of any rescue we've taken in: malnourished, filthy, matted, swarming with fleas and red with eczema. He was unsocialized and so terrified of people that he hid under the bench at the vet's office. When he was being washed and cut down, part of his tail fell off. I'll spare you the "Before" picture.

Dogs live with us in trust. Better to have a millstone handed around the neck and be cast into the sea than betray that trust with abuse.

Kodos the Executioner
Quite the story. Thank you for sharing Kodos.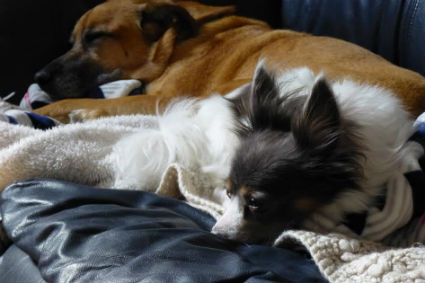 Here are two of my buddies (my rescue golden Sara was featured a few months ago)

The mid-sized fawn guy with the black muzzle in back is my bud Max. Max is a 9 year old mix that looks a lot like a Black Mouth Cur. DNA testing says he's relatively equal parts Italian Greyhound, Beagle, Border Collie and Australian Shepard. He does the classic baying at the base of the tree when he hunts squirrels and possum.

The little long hair chihuahua up front is Cookie. We took in Cookie last year from a friend who had rescued several large dogs, which caused Cookie to go into a shell. At 12 years old he was going great like a little pup until a few weeks ago when an undiagnosed tumor ruptured. RIP little guy.
phreshone
Sorry to hear about your buddy phreshone.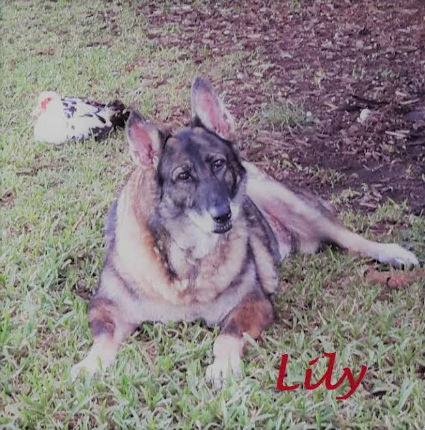 Another story of a Moron with a big heart.

This is Lily-- a big girl with a big, big personality. I know persons who have less of it than her.
We learned of her through a newspaper article about a dog operated on for embedded choke collar. When I went to get her I found she was also missing a leg. I brought her home and she took over the day-to-day running of the house.
She passed away a few months ago. She had exceeded her expected life span by six years.
I'm floridacracker, an original Microsoft employee as documented by Ace of Spades, and an occasional Nancy Sinatra stand-in.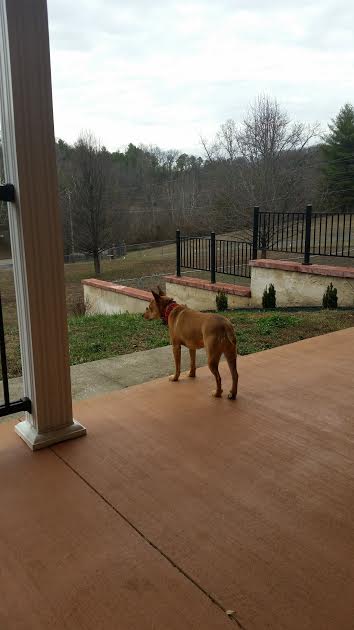 Charles submitted the following about his "little" buddy.

Here is Ruger surveying his domain. Don't let his 19 lb size fool you, he is positive there is a 100 lb dog inside.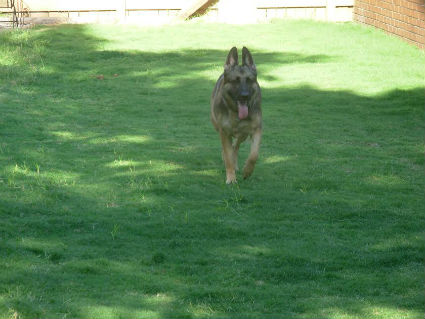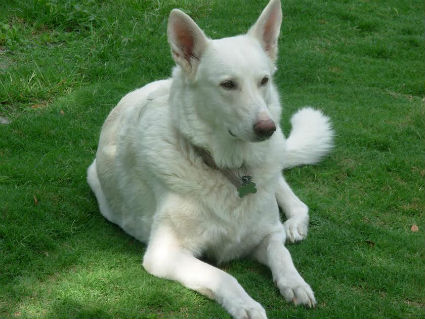 These are my buds... Sabine and Bianca. love your web site. - Robert
What a wonderful group of animal people we have here. You folks are wonderful. Thank you for the photos and tips.
Looks like the cat photos have dried up a bit. If you cat owners can herd them up we would take your photos :)
Own a cat? Have a dog? Want it to be on Pet Thread. Photos, tips, videos can be sent here to petmorons at gmail dot com.
Here is hoping you and your critters have a great week!!!

posted by Misanthropic Humanitarian at
02:52 PM
|
Access Comments