« ISIS Bombs Two Churches In Egypt, Killing Dozens
|
Main
|
Gossip Girls (MJ) »
April 09, 2017
Food Thread: Matzoh Ball Soup And Roast Lamb Edition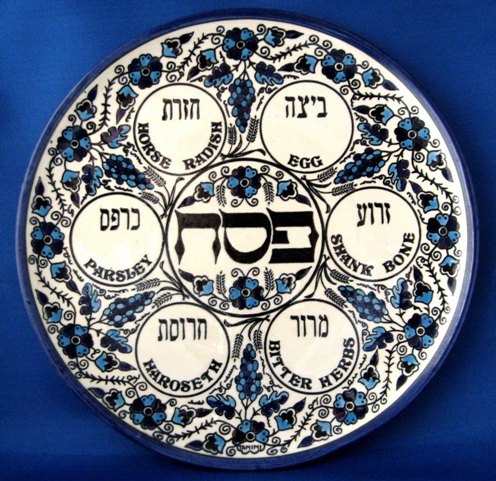 Otherwise known as Passover.
Which as Jewish holidays go is important, but the food that goes with it can be problematic. Gefilte Fish is...um...how do I say this politely? Fvcking awful. I think most people just buy the jarred crap, and suffer. It is possible however to make good ones. They are call "quennelles" in France, and the reason nobody makes them will be evident when you look at the recipes. It is a lot of work for the equivalent of a side dish.
On the other hand, Matzoh Ball soup can be damned good, but I think that is driven in part by the quality of the chicken soup those Matzoh's balls are immersed in. I have used straight chicken stock, but that is a bit thin, so this year I am going to add some demiglace I made, just to pump up the chicken flavor. The other part of the equation is the amount of fat one puts into the matzoh ball mix. Use a lot of fat, preferably duck fat or chicken fat or, if you want your ancestors to roll over in their graves...bacon fat. It's just a dumpling, and there should be some richness and mouth feel if it is going to be the focus of the dish.

******
And now we arrive at the best part...the lamb!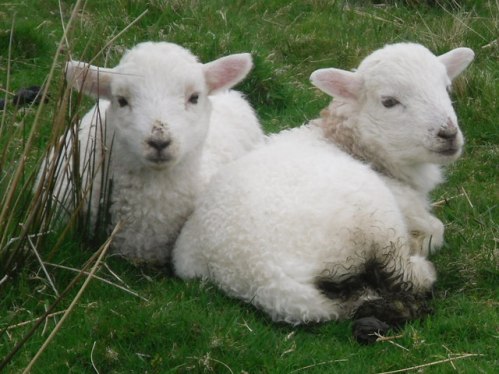 My favorite cut is the rack (shut up!), but it's pricy, and a difficult to make for a large crowd. The next best in my book is the little chop, which is nothing more than a lamb porterhouse. It's great, and fun to eat, but still expensive for lots of people. And the best way to make them is on the grill, and I am not grilling to order for a dozen people.
So, we are left with the leg, but that doesn't mean that we will be settling for dreck here at Chez Dildo. It's a wonderful cut, with several different muscles that add to the flavor and interest factor. Plus there is plenty of fat, so it won't dry out.
I picked up a few boneless legs at Costco, which as many of you know has an impressive meat department. The lamb comes from Australia, is of very high quality, and intensely flavored. it's a bit stronger than American lamb, I guess because they slaughter older lambs. But it's good, and takes to my marinade very well. Parsley, garlic, Dijon mustard, salt, pepper, Rosemary, Thyme, olive oil....all blended into a thin paste and lathered on a day or two before cooking.
If I were cooking for an informal evening I would grill it, but for passover I will roast it in a warm oven, then crank it for a few minutes to put a bit of a crust on the meat. I shoot for medium-well ends and medium-rare middle. That seems to provide a good range for most people.
And this may be sacrilegious, but I don't like lamb very rare. I think medium-rare or medium is the way to go. The texture of rare lamb is too chewy and rubbery. Hell, I like the well-done ends because they are nice and crispy.
******
Today is the second edition of:
"Liquor Cabinets: A Study By And Of Morons."
Send me photos of your liquor storage system, and I'll post the good ones, and the really awful ones....
Today's entry is Hotspur's shrine to distilled beverages. I like the illumination, and is that a Lazy Susan I see on the bottom shelf? Very smart. it makes all of those weird mixing liquors that usually migrate to the back of the cabinet feel like they have a chance to go to the big dance.

******
One day I will speak with a rabbi or other competent religious expert about whether this is kosher for Passover. It has no leavening agent, and if baked immediately there won't be any theoretical possibility of rising from wild yeasts. But....my guess is that the answer is no.
MOLTEN CHOCOLATE CAKE


4 ounces soft, unsalted butter, more for greasing dishes

12 ounces bittersweet chocolate (And spend some money on the chocolate. I use Caillebaut)

4 large eggs

Salt

6 ounces superfine sugar* or 7ounces of granulated sugar

1 teaspoon vanilla extract

1/3 cup flour.
Preheat oven to 375°
1. Butter (and do a very good job! The more the merrier) seven 4-ounce baking ramekins.
2. In a small saucepan over low heat or in a microwave oven, melt chocolate; set aside to cool slightly. Using an electric mixer, cream together the butter and the sugar. In a medium bowl, whisk eggs together with a pinch of salt until frothy; set aside. Gradually add egg mixture, then vanilla. Add flour and mix well. Add chocolate and blend until smooth. The batter sets fairly quickly, so don't leave it sitting around while you putter around doing other stuff for dinner. It will be more difficult to transfer into the baking dishes.
3. Divide batter into the baking dishes and arrange them on a baking sheet. Bake until just firm and dry on surface, 13-15 minutes. The timing is very, very approximate. But be careful; the point of this dessert is the spoonful of molten chocolate in the middle. If you overcook them they will be nice little chocolate cakes, but nothing to write home about. Remove dishes from the oven, run a thin knife or spatula around the cake and immediately invert cakes onto small plates or shallow bowls. I give the inverted dish a good rap with a knife to release the cake. Serve hot with a small scoop of good ice cream on top.
You can also just serve them in the ramekins, but they will be hot, so be careful.
Yield: 7 generous servings.
Batter may be placed in baking dishes, covered with plastic wrap and refrigerated for a few days. If you have time, bring to room temperature before baking. Or not. It sounds good, but I am not sure that straight from the refrigerator makes much difference.
*Granulated sugar that has been blended for a few minutes, or granulated if you don't feel like pulling out the food processor.

******
Email cbd dot aoshq at gmail dot com with food tips, extra antelope steaks, and unused single malt scotch.

posted by CBD at
04:00 PM
|
Access Comments