« EMT 04/09/17
|
Main
|
ISIS Bombs Two Churches In Egypt, Killing Dozens »
April 09, 2017
Sunday Morning Book Thread 04-09-2017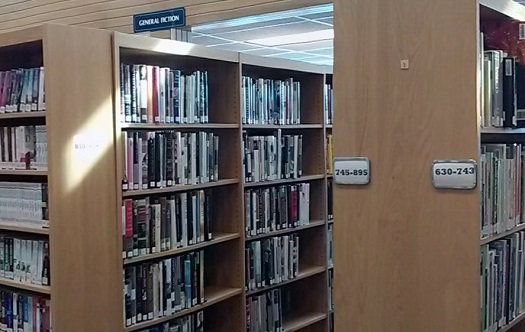 Library of BookGeek - Librarian By Profession


Good morning to all you 'rons, 'ettes, lurkers, and lurkettes. Welcome once again to the stately, prestigious, internationally acclaimed and high-class Sunday Morning Book Thread, where men are men, all the 'ettes are gorgeous, safe spaces are underneath your house and are used as protection against actual dangers, like natural disasters, or Literally Hitler, and special snowflakes do not last. And unlike other AoSHQ comment threads, the Sunday Morning Book Thread is so hoity-toity, pants are required. Even if it's these pants, which don't really look to be very practical. I mean, how can you sit down in them?.

Pic Note
The library you're looking at belongs to a lurker who calls himself 'BookGeek'. It is his opinion that he has the ultimate library:
Look, I have a library - six of 'em. And I don't pay for them - they pay me. I'm a library director in rural Wyoming, and this is just the library where my office is; there are five other branches. I buy books ... with other people's money! Roughly 50,000 books, all told, with a little over 225,000 items borrowed a year.

And that's how a Moron stays in reading material.
BookGeek also tells me: "I use the book thread as a partial guide for item purchases for at least one branch."
That makes me feel all warm inside. The Horde gets results!

Notes From The Revolution - 1
438...
The library I used to work at has a huge special collections vault. All kinds of first edition SF, cookbooks, veterinary treatises from the 1600s, possibly the largest comics collection in any one place, stuff like that. A huge pallet of gay pulp romance novels came in as a donation to the LGBT collection, so it had to be catalogued. One of the cataloguers - think "librarian" and you're picturing her already, mid 50s, gray hair, glasses on a chain, cat hair covered cardigan - had to sit in her office for about 3 months and catalogue it all.

Apparently she did not find it an enjoyable experience.

Posted by: hogmartin at March 17, 2017 01:46 PM (8nWyX)

It Pays To Increase Your Word Power®
TODDY, meaning a warmed alcoholic drink, derives from 'tādī', the Marathi Indian word for palm wine.
h/t Haggard Hawks
Tor Goes All In On Stupid
I've never seen the sense of a business model where you tell half your audience to get lost. But then again, I'm not the NFL commissioner, owner of CNN, or the marketing director of Tor Books:
On International Women's Day, several of the best writers in SF/F today reveal new stories inspired by the phrase "Nevertheless, she persisted", raising their voice in response to a phrase originally meant to silence.
Do go on.
She was warned. She was given an explanation. Nevertheless, she persisted...As this message was transmitted across the globe, it has become a galvanizing cry for people of all genders in recognition of the struggles that women have faced throughout history. To me, it is also serves as a reminder of the cyberpunk nature of our everyday lives, as technology can weave our hearts and minds in unity toward a greater cause.
Ugh, did they actually pay someone to write this stuff? It's not coherent, it's not inspirational, it's pompous windbaggery, and it feels like sludge seeping into my ears. It reminds me of the crap propaganda I've heard about that the Chicom government blasted out of loudspeakers throughout the country all day every day during the Cultural Revolution. Who can listen to it?
And this is how Tor chooses to advertise itself as a business to potential customers. Does anybody, after reading this, feel inclined to buy something from Tor Books? Spoiler: I actually feel somewhat less inclined.
The only good thing about this anthology is that it is available for free.
(h/t to The Political Hat (heh) for this item.)

Writing Contest
Anna Puma tipped me to this writer's contest, which the organizers have named Freedom With WritingKindle Storyteller:
Amazon UK is currently hosting a writing contest with a huge prize –– £20,000, which equals nearly $25,000.

The contest requires writers to publish their entry via Kindle Direct Publishing. Keep in mind that doing so will make the book "published" in the eyes of publishers, and will make it harder to publish in other venues.
Which I guess means that if other publishers will only publish previously unpublished works, you've just pooched yourself.
I assume this contest is open to all, despite being from Amazon UK. I didn't see anything about it being limited to UK writers.
More info here. Formal submission guidelines here.
The deadline is May 19th. That's not a lot of time, but you only need to write a 5,000 word story, so what are you waiting for?

Notes From The Revolution - 2
This one came from one of my deep-cover peeps in the industry. Peep says it's from "an insane thread on a biblio chat group which...you will see for yourself what goes on in the heads of some book dealers."
I've just sent off this email to Jeff Bezos and I would urge all booksellers who deal? with Amazon to also send him a note. Don't know if it will do any good, but one must do whatever one can:



dear mr. Bezos, I truly am at a loss over your supporting Breitbart, which is a right wing fascist fake news propaganda machine of the anti-semite bannon and used by the fascist fake president for his news. I sell my books on amazon have done so for years but if you continue to support this right wing fascist hate rag I'm seriously considering removing my books and will urge all of my fellow booksellers to do so also. This support of yours for them is really pathetic and sad. I truly hope you will listen to reason and stop this support.

sincerely

xxx xxxxxxx,
xxxxxxxx books, www.-------books.com
Wow. Reading that, I can just feel the unhinged lunacy hit me like shimmering waves of heat from the engine of an overheated car. That guy is way out there where the buses don't run, and he won't be coming back. I doubt I could even begin to have any kind of a conversation with him.
It has occurred to me that this would be an interesting debate topic among conservatives:
RESOLVED: That the book publishing industry is more batsh* progressive crazy than academia.
And I wonder which one would win?

The Road Goes Ever On
'Ette All Hail Eris requested I do a Tolkien-themed book thread. Trouble is, other than some bad jokes about 'pipeweed', I don't think I have anything to say on the subject that hasn't already been said, so I don't feel particularly inspired. But she did send me this lovely photo of some items from her Tolkien collection, so I can at least share that with you all: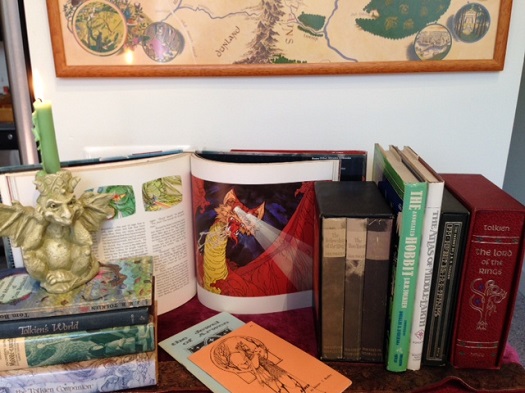 Looks kind of like a little shrine, with that candle and all, doesn't it?

___________
Also, I heard from a lurkette in e-mail who has set up one of those little free libraries out on her front lawn, where the idea is that people in the neighborhood can "take a book, return a book" and so the books get circulated. It's kind of like a bird feeder for nerds (h/t Last Man Standing). Here is what she has set up: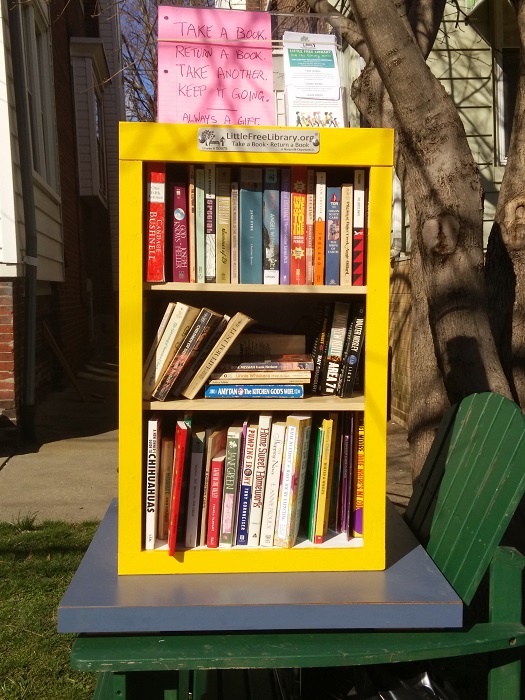 You would think the problem is that it would turn into 'take a book, good bye' so your little kiosk gets quickly depleted, but she is actually running into the opposite problem. It has turned into 'take a book, leave a milk crate full of books.' Before a fortnight had passed, she had 300 more books than she started out with.

Books By Morons
Moron author Brian says to me, he says, "I haven't seen much drama highlighted in the book threads--how can you be hoity toity if you don't include drama and the ( ::sniff:: ) theatah?" To remedy this appalling situation, he recommends his new book, The Courtship of Barbara Holt, which consists of a full evening play and a one-act play bundled together. Here are the plays you get for 99 cents:
The Courtship of Barbara Holt:
Mark Dever, English major, has trouble talking to women. It's worse than being speechless: When Mark is interested, he speaks in blank verse, like some Shakespearean courtier. When he meets Barbara Holt, his inadvertent poetry goes into overdrive. But Barbara is not interested in some wishy-washy English major, unlike her friend Jenn, who is an English major herself. Can his friends help Mark woo Barbara successfully and, more importantly, woo Jenn?

Dennis Thompson Goes On Strike:
Dennis Thompson has had enough. All his life, some nameless author has been writing the book that is Dennis's life, and Dennis has decided that he's not going to play along any more. If The Author says, "Jump!", Dennis is going to say, "No." It's like Six Characters in Search of an Author, but with a twist.
Brian is also the author of the comic heist novel John Donnelly's Gold wherein a group of IT geeks get back at the CEO who laid them off.
Robert Davies, Web developer. Daryl Simon, tech support. Michele Isbert, failing novelist. Kevin Horton, marketing assistant...one autumn day, they found themselves out of work, part of the new CEO's new plans for the company. The same new CEO who personally bought a gold bar at auction and put it on the company's Web site as a symbol for the company's prosperity...Stealing that gold bar is the principled thing to do, but only if they can do it the right way, without too much risk to themselves.

___________
The 4th installment of the Amy Lynn series, Amy Lynn: Into the Fire, by moron author Oldsailor's Poet (AKA Jack July) is now available on Kindle for $4.99:
Amy Lynn Braxton has just returned home from a mission, covered with burns, unable to control her inner monster, and with no memory of what happened. For the sake of her unborn child, she must uncover—and own—the truth.

The last thing Amy remembers is working with a Romanian Intelligence operative to locate a young American couple who, in their quest to adopt a child, ran afoul of the Romanian mafia and disappeared.

Under the care of brilliant, specialized CIA psychiatrist Dr. John Earle, Amy fights to regain her memory, come to terms with her unique psychosis, and learn to deal with the brutal truth about her alter ego, Fenian.

At stake is Amy's very ability to live her life and love her family.
The three earlier Amy Lynn novels:
Amy Lynn
Golden Angel
The Lady of Castle Dunn

___________
Don't forget the AoSHQ reading group on Goodreads. It's meant to support horde writers and to talk about the great books that come up on the book thread. It's called AoSHQ Moron Horde and the link to it is here: https://www.goodreads.com/group/show/175335-aoshq-moron-horde.
___________
So that's all for this week. As always, book thread tips, suggestions, bribes, rumors, threats, and insults may be sent to OregonMuse, Proprietor, AoSHQ Book Thread, at the book thread e-mail address: aoshqbookthread, followed by the 'at' sign, and then 'G' mail, and then dot cee oh emm.
What have you all been reading this week? Hopefully something good, because, as you all know, life is too short to be reading lousy books.


posted by OregonMuse at
08:57 AM
|
Access Comments