« Evening Headlines Open Thread
|
Main
|
The Morning Report 4/6/17 »
April 05, 2017
Wednesday Overnight Open Thread (4/5/17) You Get What You Pay For Addition (No, Not Really)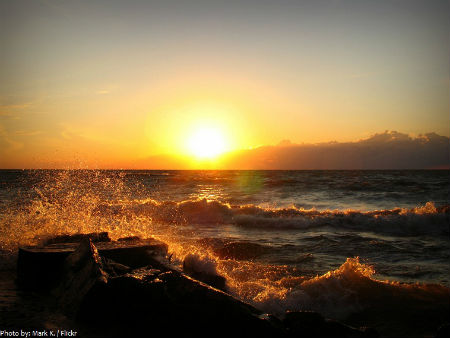 Lake Erie
Quotes of The Day
Quote I

Some people die at 25 and aren't buried until 75. Benjamin Franklin
Quote II

Tell me and I forget. Teach me and I remember. Involve me and I learn.Benjamin Franklin
Quote III

Guests, like fish, begin to smell after three days. Benjamin Franklin
Quote IV

Where sense is wanting, everything is wanting. Benjamin Franklin
Tonight's History Lesson. Benjamin Franklin writes letter to Lord North. Was Franklin the first Moron?
My Lord, All your small Politicians, who are very numerous in the English Nation, from the patriotic Barber to the patriotic Peer, when big with their Schemes for the Good of poor Old England, imagine they have a Right to give Advice to the Minister, and condemn Administration if they do not adopt their Plan. I, my Lord, who have no mean Opinion of my Abilities, which is justified by the Attention that is paid to me when I harangue at the Smyrna and Old Slaughter's, am willing to contribute my Mite to the public Welfare; and have a Proposal to make to your Lordship, which I flatter myself will be approved of by the Ministry, and if carried into Execution, will quiet all the Disturbances in America, procure a decent Revenue from our Colonies, make our royal Master (at least there) a King de facto, as well as de jure; and finally, as it may be managed, procure a round Sum towards discharging the national Debt.

My Scheme is, without Delay to introduce into North America a Government absolutely and entirely Military. The Opposition which some People suspect would be made by the Colonies, is a mere Bugbear: The Sight of a few Regiments of bold Britons, appearing with Ensigns displayed, and in all the Pomp of War, a Specimen of which may be seen every Summer at the Grand Review on Wimbledon Common, with that great Commander G——l G——e at their Head, accompanied with a Detachment from the Artillery, and Half a Dozen short Sixes, would so intimidate the Americans, that the General might march through the whole Continent of North America, and would have little else to do but to accept of the Submission of the several Towns as he passed. But as the Honour would be too great for one Man to reduce to absolute Subjection so great an Extent of Territory, I would propose that a separate Command be given to L——d G—— G——e, who by his animated Speeches in the House, and coinciding so entirely with your Lordship's Opinion on the proper Methods for humbling America, deserves a Share in the Fame of such a grand Exploit. Let him have one half of the Army under his Direction, and march from New York to South Carolina. No one can object to the Nomination, as his Military Prowess is upon Record. The Regiments that are in America, with those who are about to embark, will be amply sufficient, without being at the Expence of sending more Troops. Those who served in America the last War, know that the Colonists are a dastardly Set of Poltroons; and though they are descended from British Ancestors, they are degenerated to such a Degree, that one born in Britain is equal to twenty Americans. The Yankey Doodles have a Phrase when they are not in a Humour for fighting, which is become proverbial, I don't feel bould To-day. When they make this Declaration, there is no prevailing on them to attack the Enemy or defend themselves. If contrary to Expectation they should attempt an Opposition, procure Intelligence when it happens not to be their fighting Day, attack them and they will fly like Sheep pursued by a Wolf. When all North America have thus bent their Neck to the Yoke designed for them, I would propose that the Method made use of by the Planters in the West Indies may be adopted, who appoint what they call a Negro Driver, who is chosen from among the Slaves. It is observed that the little Authority that is given him over his Fellow Slaves, attaches him to his Master's Interest, and his Cruelty would be without Bounds were he not restrained; but the Master is certain, that the utmost Exertion of Strength will be exacted by this cruel Task-master for the Proprietor's Emolument. Let all the Colonists be enrolled in the Militia, subject of course to Martial Law. Appoint a certain Number of Officers from among the conquered People, with good Pay, and other Military Emoluments; they will secure their Obedience in the District where they command. Let no other Courts be allowed through the whole Continent but Courts Martial. An Inhabitant, who disobeys an Order, may by a Court Martial be sentenced to receive from One Hundred to a Thousand Lashes in a frosty Morning, according to the Nature of his Offence. Where Punishment is thus secure, this Advantage will accrue, that there will not be the same Necessity of hanging up so many poor Devils as in this free Country; by which Means the Service of many an able Man is lost to the Community. I humbly propose that the General and Commander in Chief be vested with the Power, and called by the Name of the King's Viceroy of all North America. This will serve to impress the Americans with greater Respect for the first Magistrate, and have a Tendency to secure their Submission. All Orders issuing from this supreme Authority to have the Force of Laws. After this happy Change of Government, how easy to collect what Taxes you please in North America. When the Colonists are drained of their last Shilling, suppose they should be sold to the best Bidder. As they lie convenient for France or Spain, it may be reasonably expected one of those little Powers would be a Purchaser. I think Spain is to be preferred, as their Power hath more of the Ready than France. I will venture a Conjecture, that the Ministry might get at least Two Millions for the Soil, and the People upon it. With such a Sum what glorious Things might he not achieve! Suppose it should be applied towards the Payment of one hundredth Part of the National Debt, I [it?] would give him an Opportunity of drawing down upon him the Blessing of the Poor by making him to take off the Halfpenny Duty on Porter. Considering the probable Stability of the present Ministry, this Honour may be reserved for your Lordship.

My Lord, excuse the Crudity of these indigested Hints, which your Wisdom is so capable of improving; and believe me, with infinite Respect, Your Lordship's Most obedient Humble Servant,

A Friend To Military Government.
Benjamin Franklin, truly a wise and gifted man. Sharing a pint with him would have been rather enjoyable.
*****
Watch out where the Huskies go. Don't you eat that yellow snow. Huskies? Hell. Watch out for those damn monkeys. They fling shit, literally.

The monkey was getting riled up by onlookers when it decided to take fecal matters into his own hands. The chimp scooped up some poop and tossed it in the direction of the visitors.

No one was prepared and a piece struck a woman right on the nose.
The world is changing. And America's position in it is changing as well.

.....Hayden is a retired U.S. Air Force general who was NSA director under Presidents Bill Clinton and George W. Bush, and then became Bush's CIA chief in 2006.

"The system that the world has relied on for self-governance for the last three-quarters of a century is pretty much at the end of its fiscal life," Hayden said, referring to the post-World War II financial system that resulted from milestones including the Bretton Woods Conference and the International Monetary Fund.
Mark Steyn, when isn't he spot on regarding our culture? The left doesn't want to win the debate. They want to cancel the debate.

Let's just expand that "Somali-born activist" précis a little. She's not a dead white male like me or Charles Murray. As someone once said, Ayaan Hirsi Ali is everything the identity-group fetishists profess to dig: female, atheist, black, immigrant. But, because she does not toe the party line on Islam, her blackness washes off her like a bad dye job on a telly anchorman - and so do her femaleness and godlessness and immigrant status. And in the end she is Charles Murray, or Geert Wilders - or even David Duke. A black Somali woman is, it turns out, a "white supremacist".

What does women's softball, The CIA and the Washington Post have in common?In 1963 the WP unwittingly profiles the CIA's women softball team.
The ONT Musical Interlude
*****
1985, At 3:50pm GMT, over 5,000 radio stations worldwide aired the charity single by USA for Africa 'We Are The World'. The single went on to be a No.1 in the US & UK, and most Western territories. via thisdayinmusic.com
******

George Soros has his evil tentacles world wide. Hungary says no more.

Hungary has approved a new law that could force a George Soros-financed university out of the country, despite widespread protests against the bill in Budapest.
The Central European University (CEU), founded by the US billionaire investor in 1991, is the only international college in the country with no overseas affiliate. The ruling Fidesz party's new higher education bill would require institutions funded by foreign investment to also host students at a home nation campus.

The bill also states that certain universities could be blocked from issuing foreign diplomas to Hungarian residents.
*****
Folsom Prison Blues meets the Pinball Wizard
*****
Senior GOP Senators have said that Judge Neil Gorsuch will be seated on the SCOTUS by week's end. The Democrats say not so fast. The GOP says go ahead and filibuster, we will strike with the "Nuclear Option". What is the "Nuclear Option" and how is it implemented?

It's widely assumed that if Republicans can't get eight Democrats to vote in favor of cloture on Gorsuch this week, Senate Majority Leader Mitch McConnell (R-Kentucky) will trigger the so-called "nuclear option" and abolish the filibuster for Supreme Court nominees.

Here's how it would go down—with Republicans following the same path as Democrats did in 2013.

Congress passes legislation to make weathermen do a better job.

With bipartisan support, the bill, the Weather Research and Forecasting Innovation Act of 2017, has passed both chambers of Congress and now moves on to President Trump's desk. It seeks to improve the forecasting ability of the National Oceanic and Atmospheric Administration, including the National Weather Service. The bill has a particular emphasis on extreme weather, including working on tornado warning and hurricane forecast improvement, and weather satellite and data innovation.

Don't hold your breath, IYKWIMAITYD.

Haunting photos. Photos by Jewish photographer Henryk Ross.

In the winter of 1944, at the height of the Holocaust, Jewish photographer Henryk Ross buried a box of photographs in the ground. Just over a year later, he returned to unearth the photos, and the tragic story they told still resonates to this day.

Racial minority purity > Global Warming.

The March for Science is having a tough time deciding whether the march should focus on "diversity and inclusion" or health and climate policy.

They were supposed to have gotten their internal issues under control, but this week a new fight broke out over whether Bill Nye the Science Guy, the former children's television host who considers himself the leader of the "pro-science movement" should lead the protest. The problem? Nye is a "white male."

You have to be awfully f*cking lazy to walk your dog while driving a car.

According to the news report, "the driver told officers he was walking the dog for a friend"—presumably now a former friend—and "agreed to never walk an animal in that manner again." In addition to possible animal-cruelty charges, police said, doing this potentially violated reckless-driving laws.

The resilience of failed fast food joints. Just because you bomb here doesn't mean you won't make it in some 3rd world country.
Obtaining legal advice here? Maybe. Seeking legal counsel from Wikipedia? Genius Award Winner.

Helping a child overcome cancer. Tonight's Feel Good Story of The Day.

Tonight's ONT has been brought to you by Father of The Year Nominee.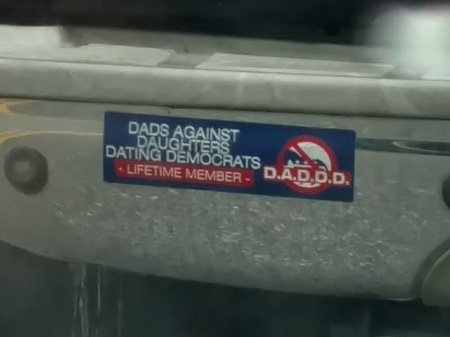 Notice: Posted with permission by AceCorp, LLC. Home of the No Shoes, No Shirt, No Pants, No Problem Thread.

posted by Misanthropic Humanitarian at
09:57 PM
|
Access Comments