« Scientists: The Tyranosaurus Rex Was a Caring Lover Who Offered A Lot of Foreplay In Order to Control Women's Bodies and Garner Masculine Achievements
|
Main
|
Manchin, Heitkamp Announce They'll Vote In Favor of Gorsuch »
March 30, 2017
Hillary's Insipid "H With an Arrow" Logo Took Three People Two Month's Work
As Z said in Men in Black: "You're everything we've come to expect from government employees."
Though they weren't employees; they were volunteers. Employees would have taken another six months plus an addition $10 million to cover cost overruns.
This reads like a spoof, but the Free Beacon claims this is genuine.
"I put together a three-person team: me, designer Jesse Reed, and project manager Julia Lemle," Bierut wrote. "We would work in secret for the next two months."

Bierut says the goal of the two-month secret project was "to create something new and different."
And boy, did you exceed expectations.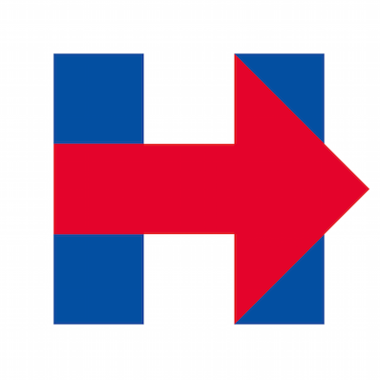 This looks like a sign in a former Soviet Republic
telling you where to drop off your dying relatives for euthanasia
The team settled on "a perfectly square H," which seemed simple but really was anything but."
I did a ten second google search for "square H." I thought it would be very simple, but it was something else entirely -- it was very, very simple.

A theoretical perfectly square H (artist's conception)
I mean, obviously, a perfectly square H is a hard thing to pull off. You'd need like a T-square or shit.
"Although we explored dozens of symbols, the one everyone gravitated to was the simplest of all: a perfectly square H," Bierut explained.

Wait, I thought it turned out to be "anything but" simple, but now it's the "simplest."
"But its simplicity was deceptive."
No, it's not deceptive. Block letters are kind of the opposite of deceptive.
But anyway, here's the deceptive part, per this design expert:
"What looked like an H was really a window, capable of endless transformations."

A perfectly square H which is really a window,
capable of "endless transformations"
Incidentally, I've seen windows. I've used windows. I have sometimes put lights around windows to make them festive.
I have never noticed they were capable of "endless transformations." Pretty much they alternate between the "Open" and "Closed" "transformation."
"Two" is not really one of your classic numbers associated with "endlessness," unless the two in question is in Teen Wolf 2.
Though, if you want to be a stickler, I suppose you can say that Zeno's Arrow can be endlessly transformed into Zeno's Arrow, and each infinitesmial iota of sliding between "open" and "shut" can count as a new "transformation," and therefore a window is in fact capable of "endless transformations."
I guess you can also break the window, and glass could shatter in a not-quite-infinite-but-near-enough number of ways. More "endless transformations."
But that would be hard to achieve. You'd need an endless supply of protean window panes and an endless supply of transformative rocks.
For purposes of comparison, here's a window which suggests it just might be capable of "endless transformations:"
Note two important things about this window:
1, it's visually interesting; and
2, it belongs to a Fuckin' Wizard who has actually read several books about how to achieve endless transformations with your Fuckin' Wizard Powerz.
But this simple yet "anything but" simple design wasn't quite perfect yet -- while it wasn't an H, really, but an endlessly transforming window opening upon superdimensional vistas and higher planes beyond mortal man's ken, it wasn't quite perfect enough yet.
It needed one additional transformation -- infinity wasn't enough. Hillary Clinton needed infinity plus one.
By adding in an arrow, the logo was complete.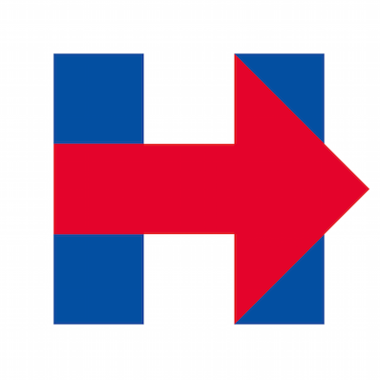 Perfection.
Ever buy a window? From like Home Depot?
I bet the packaging outside the window actually has an arrow on it to tell you which way the window should be installed.
So I bet this isn't even a novel look for a window.
These design geniuses (Jerry Seinfeld just emailed to ask, "Who arrrre these Design Geniuses?") realized that the simple but "anything but" simple H, which was really an endlessly-transforming window, wasn't quite endlessly transforming enough, and in fact was a bit static, which is the exact opposite of "transforming," whether endlessly, periodically, or whatever, but we're now very deep in the bullshit so let's just roll with it.

"We worried that the H alone, even as an ever-changing frame, was too static."
Bro, do you even lift concepts and buzzwords you barely understand?
Get ready for a final avalanche of meaningless buzzwords.
"We finally found what we thought was the right finishing touch, the simplest thing in the world: an arrow, emerging naturally from the geometry of the letterform, pointing forward, toward the future."
It emerged so naturally from the letterform they had to crudely draw it on with red paint.
By the way, this endlessly transformative frame of a window with an arrow through it could also be visualized as a sad blue Democrat letterform which has been mortally wounded by an arrow red with heart's blood and Republican hatred which could be said to emerge naturally from the geometry of Hillary's scandals and complete lack of message or personality.
And the block nature of the letter could be read as a the plan of a cell block. That, too, emerges organically and yet complexly from the letterform and its numinous transformations of mind:space and discourses about power relationships between jailer and prisoner.
Anyway, so that's the story of how a logo which an 8 year old kid would have designed in his first draft became Hillary's much criticized amateurish symbol of failure and incompetency.
You gotta see this sketchbook of "new and different" conceptspaces for the letterform "H," some with arrows in them.

posted by Ace at
06:10 PM
|
Access Comments