« Sunday Morning Book Thread 03-26-2017
|
Main
|
Open Thread For Various Discussions About Everything Except Dresses »
March 26, 2017
Food Thread: Oysters And Bars And Happy Hours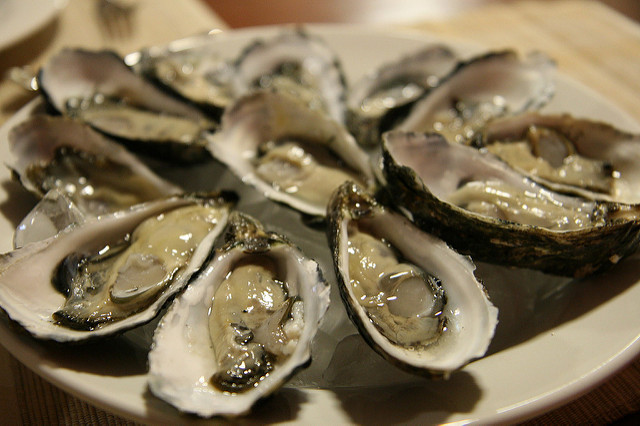 It's no secret that I love the little buggers. Even thoroughly mediocre mass-market oysters that are found at the typical $1 oyster happy hour are pleasant. But occasionally, like last night, I get some really good ones. A touch of brine, firm and creamy flesh, and best of all that marvelous and unique "oyster" flavor that is almost sweet but not quite...almost tart but not quite. Yes, I will turn in my Man-CardTM for using this word, but "umami" might be the best descriptor. I know that oysters are odd, and some people simply can't abide their texture, but if you haven't tried them, and are at all adventurous, give it a shot. But go to a good place. And don't order a dozen. Just order three, and maybe ask for a selection. If you like them, you will probably descend into oyster hell...forever haunting happy hours and out-of-the-way dives that are rumored to have the best oysters in town.
Anyway, the bar was packed, but shockingly they knew how to manage the crowds by taking names for seats at the bar. One of the things I despise about humanity is its conspicuous lack of etiquette. And nowhere is that failing displayed more obviously than at crowded bars. Don't try to elbow your way past me to sit at the newly vacated seat for which I was waiting patiently. Don't rotate your bar stool so you can chat facing your friend; that takes room away from me. And it's rude.
But management at The Mermaid Inn managed these issues quite well. The hostess and bartenders kept lists and enforced them. A rude couple did try to scoot past me to snag those seats, and the bartender firmly put them in their place.
It was glorious.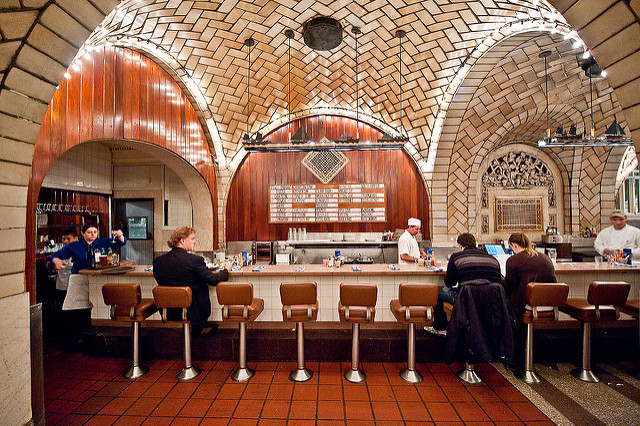 This once was a temple of oyster gastronomy; The Grand Central Oyster Bar. Sadly faded, but still a fascinating glimpse into what New York City once was.
******
Here are a bunch of links forwarded by artisanal'ette. I think she is pining for some nice Spring weather and lovely Spring food!
Looks simple to make: Roasted Strawberry-Buttermilk Sherbet
******
Here's a recipe that Bluebell swears doesn't stink up your kitchen. And that is a big deal for me, since the hood over my stove is crap, because of both design flaws and being underpowered. It is an integrated hood/microwave/convection oven, and two of the three are useful and work well. But form certainly did not follow function in this case.
The Best Salmon You've Ever Had Is Slow-Baked in Just 22 Minutes

******
I am all for learning a bit of arcane stuff about food. And this article sort of interesting, but please; ease up on the smug. And the easy pontification about things you know not-quite-enough to be considered an expert. Like this:
Ostriches are the largest birds on earth, which means they lay the largest eggs.
Uh...no. They may be the largest birds on earth, and they may lay the largest eggs, but one does not prove the other. Sorry.
******
I was all set to give you a wonderful arugula and potato salad. I was confident that I had never posted it. Right up until I checked, and found that I had indeed posted it, and not too long ago. Yeah....tell me again what the upside to growing old is....
So you will have to settle for a hastily researched recipe. I never made it, but it looks good. If it sucks, it's not my fault! Leave me alone! I need my binky....
Lentil and Sausage Soup for a Cold Winter's Night
I do have a quibble. I would not use Italian sausage. I think anduille or a chroizo would be a better choice. They are firmer, have a bit of spice, and don't have fennel, which seems discordant in this recipe.
[For food complaints, comments, recipes and the address to which you may send all of your extra antelope backstrap and fresh morels: cbd dot aoshq at gmail dot com]
&topic=world_news">

posted by CBD at
04:00 PM
|
Access Comments