« EMT 03/26/17
|
Main
|
Food Thread: Oysters And Bars And Happy Hours »
March 26, 2017
Sunday Morning Book Thread 03-26-2017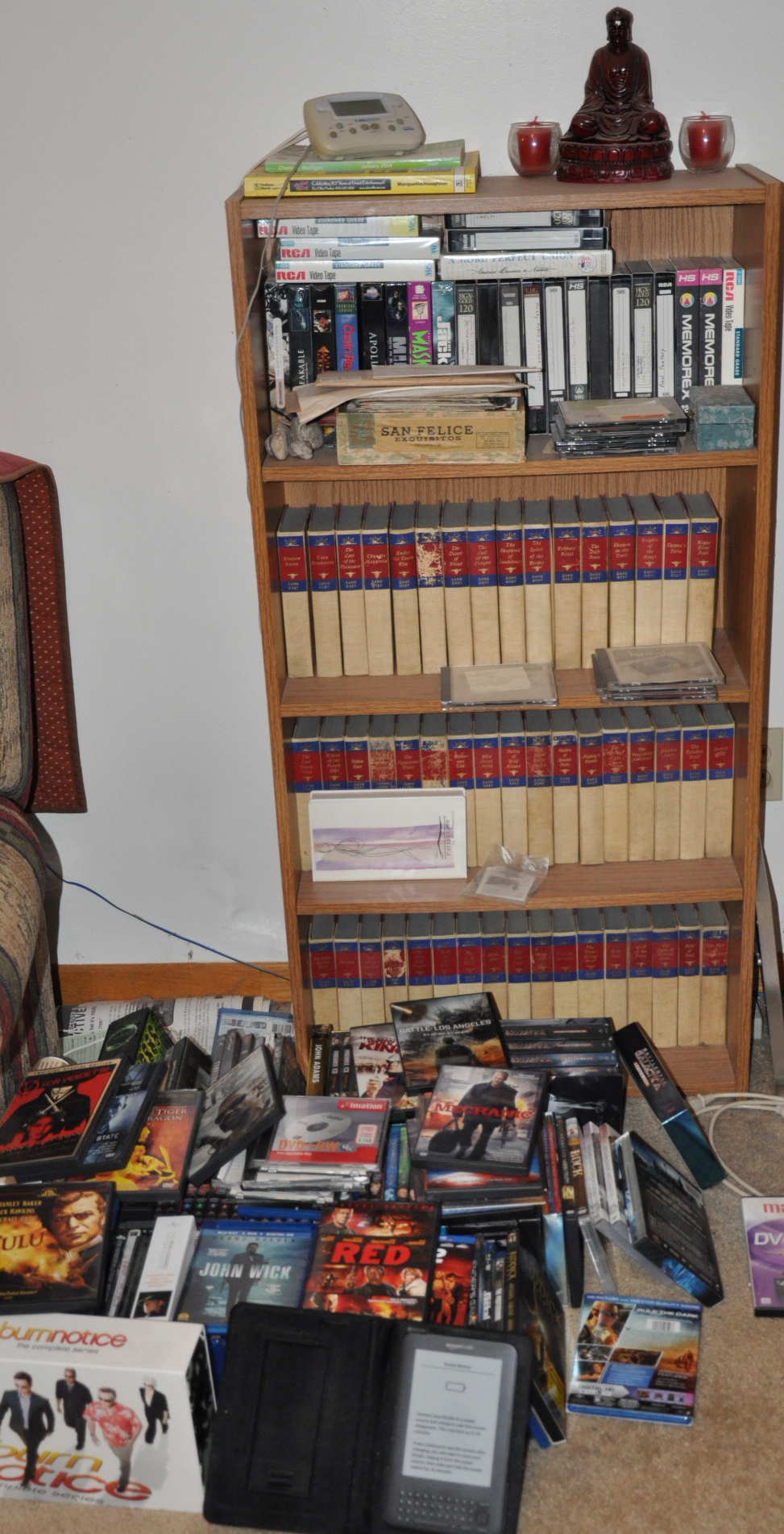 Library of Skandia Recluse
Good morning to all you 'rons, 'ettes, lurkers, and lurkettes. Welcome once again to the stately, prestigious, internationally acclaimed and high-class Sunday Morning Book Thread, where men are men, all the 'ettes are hotties, safe spaces are underneath your house and are used as protection against actual dangers, like natural disasters, or Literally Hitler, and special snowflakes melt. And unlike other AoSHQ comment threads, the Sunday Morning Book Thread is so hoity-toity, pants are required. Even if it's these pants, which only go to show that wearing your PJs in the middle of the day is perhaps not a modern fad.

Pic Note
Skandia Recluse writes:
The Zane Grey books are book club editions and were published in the fifties, and I had read them all before reaching the sixth grade, usually in bed, late at night, under the covers, by flashlight. Probably why I am very nearsighted...You might notice the figure of Buddha on the top shelf and in the spirit of Mr. Dietrich (V for Vendetta) when asked "Are you Muslim?" replied, "No, I'm in television," I would reply to the question, "Are you Buddhist?" with "No, I am a recluse."

Today is International De-Lurk Day
As I announced last week, I want to turn today's book thread into what you might call a "lurkers' showcase" where all of you lurkers and lurkettes post a book review. That is, if you've enjoyed a book that you first heard about on the book thread, I think you can assume that you might know of a book or two that the rest of us would like to hear about. The value of the book thread is in the comments, where books are recommended, de-recommended, and generally discussed. So I hope many of you will be moved to post your reviews.

Prescience
Over on the MoronHorde group on GoodReads, a few months ago, we read The Camp of the Saints, a French novel from the 1970s which predicted, with uncanny accuracy, the social pathologies that are produced when a western country is inundated by a mass influx of unassimilated third-world immigrants. It was published, mostly forgotten, then became a best-seller in 2011 when the issues it raised became topical again.
So I came across another novel that is kind of like that, meaning, written long ago, forgotten, then rediscovered.
The Twentieth Day of January, written by acclaimed British author Ted Allbeury and first published in 1980, tells of an incoming American president who is compromised by a sex scandal concocted by Russian spies..."When it was written, Carter was president, Reagan was about to come in…The bare bones [of the plot] are that an aspirant politician who was nowhere near being a serious contender for the presidency somehow through the manipulation of a strike gets into a position where he becomes a possible contender and keeps being helped undoubtedly with financial support, and then becomes president. And the Russians have compromising photographs of him."

Although a work of fiction, fans of the book have been astonished by the way it seems to predict the rise of Trump and the allegations made against him recently.
Allbeury, an ex-intelligence officer during the Cold War, passed in 2005. It sounds like his professional life was perhaps a bit more exciting than he would have liked:
After his death, his friend and fellow writer Len Deighton recalled: "During the Cold War, Ted was running agents across the border that divided communist East Germany from the west. His luck ran out and the Russians left him nailed to a kitchen table in a farmhouse. Practised torturers, they made sure he had a chance to survive and take the story back to his fellow agents. The war never ended for him. His children were kidnapped and he pursued them to South America. Ted never told me what happened after that. I urged Ted to write his memoirs but he could not be persuaded. He said he'd signed an official document that prevented him doing so. Well, that's our loss, along with Ted himself: a hero, patriot, family man, friend and outstanding writer."
You know what other well-known author was a CIA field agent? William F. Buckley. It's probably safe to assume he incorporated his experiences working for the agency into his Blackford Oakes spy novels. I had always wanted Buckley to write an account of what he did during his time in the CIA, but perhaps he was bound by a non-disclosure agreement similar to Allbeury's. Or, maybe he was just an honorable man who didn't think it was proper to divulge secrets that had been entrusted to him.
The Twentieth Day of January is available on Kindle for seven and a quarter.
And Buckley's Blackford Oakes novels, such as Stained Glass and Marco Polo, If You Can, are also available on Kindle, each one for about eight.

Islamic Publishing
I have to give credit to Marcia Nelson, the author of Muslim Publishers Look to Build Bridges, Counter Cultural Misunderstanding for managing to restrain herself from using the word 'Islamophobia' until the 9th (out of 13) paragraph of her Publisher's Weekly piece:
Simon & Schuster's Salaam Reads is the first imprint at a major publishing house to focus on Muslim characters and stories. Zareen Jaffery is the executive editor at the imprint, which launched last year. Her focus is on books that reflect the diversity within the Muslim community, but authors also explore issues that many Muslims face in the U.S. today. "Unfortunately Islamophobia has been going on for a long time, although it does feel like it's been heightened today, with mosques burning down and verbal assaults increasing," said Jaffery. "Feeling threatened tends to permeate the mind and writers respond to that in their work—maybe not directly, but it does show up."
Well, if she doesn't like mosque burnings, perhaps she should tell her co-religionists to stop setting them on fire. Like that guy in Seattle.
Anyway:
Despite the nuances found in the Muslim publishing industry, one common goal between publishers is clear: to provide resources that accurately represent beliefs and experiences of distinct and numerous communities of Muslims in the U.S. and around the globe. Such books can "expand the base of knowledge" on Islam, according to Jaffery.
OK, fine. I'm all for cross-cultural understanding. I'm a bit of a text geek. That is, I'd like to try to understand texts as the authors intended them to be understood, rather than just making sh* up to fit my preconceived notions. Which, incidentally, is how liberal Christians read the Bible and what progressives do with the U.S. Constitution.
Anyway, with that being said, here is what I would like to see: a book by a 'moderate' Islamic scholar or scholars that refutes the teachings of the Wahabist/Salafist/jihadist school of Islam. The jihadists claim that the Quran commands them to establish an Islamic civilization, by force, if need be (and it always does). And if this involves murdering unbelievers, then the murders will have Allah's blessing, as it is all part of the greater jihad. So I would like the book to be something like: "The jihadis take verse such-and-such from the Quran and use it to justify their atrocities, but the correct interpretation of that verse is actually quite different." And then provide an exegetical explanation of what they think the correct interpretation should be. And they would need to do this point by point, with every Quranic verse and every quote from the Hadiths.
I would be genuinely interested in reading such a book. Because I'm wondering if it is possible to write such a book without pretty much destroying Islam as a religious system and replacing it with some modern, low-cal, secular, liberal substitute. Kind of like how the western progressives turn Christianity into a system of beliefs wherein "God without wrath brought men without sin into a Kingdom without judgment through the ministrations of a Christ without a cross" type of namby-pamby liberal Christianity, which, of course, isn't really Christianity at all. You really can't have Christianity without the cross. But can you have Islam without the sword?

A New Interstellar Hero?
Here's a new one (new to me, anyway) that came across my path this week, Starship Grifters, featuring Rex Nihilo, who's a "space-faring ne'er-do-well with more bravado than brains". It looks like a run read:
Rex Nihilo plies the known universe in a tireless quest for his own personal gain. But when he fleeces a wealthy weapons dealer in a high-stakes poker game, he ends up winning a worthless planet…and owing an outstanding debt more vast than space itself!

The only way for Rex to escape a lifetime of torture on the prison world Gulagatraz is to score a big payday by pulling off his biggest scam. But getting mixed up in the struggle between the tyrannical Malarchian Empire and the plucky rebels of the Revolting Front—and trying to double-cross them both—may be his biggest mistake. Luckily for Rex, his frustrated but faithful robot sidekick has the cyber-smarts to deal with buxom bounty hunters, pudgy princesses, overbearing overlords, and interstellar evangelists…while still keeping Rex's martini glass filled.
Yeah, Rex sounds like a real Moron. And with a robot sidekick, plus buxom bounty hunters, what's not to like?
And if you want to wet your whistle with a cheapie, you can get the Kindle edition of a Rex Nihilo prequel, The Chicolini Incident: A Rex Nihilo Adventure (Starship Grifters Universe Book 0) for 99 cents.

Moron Recommendations
Perhaps the most famous of the many books by C.S. Lewis is The Screwtape Letters. Some years ago, they released an audiobook version, read by the British comedian John Cleese. I have it on cassette tape (that's how long ago I bought it) and I have to say that Cleese does a devilishly good job with the material.
The good news is that this audio version has made it to Youtube. Here is the playlist. You can even use one of those Youtube download apps to store it on your hard drive, if you prefer.
(h/t to TheJamesMadison for this recommendation last month)

___________
What I'm Reading
I finished Philip K. Dick's The Man in the High Castle last week, the first one of his that I've read. And since I'm also watching the Amazon series, comparisons are inevitable. And this is where I find literary criticism to be extremely difficult. That is, I have some beefs with the book, but are the beefs the result of the author doing a lousy job, or because I have a lousy understanding of the book?
My main complaint is that TMitHC just seemed underdeveloped. Dick had an interesting idea, but he didn't seem to do much with it. For example, there is nothing in the book about any "resistance", nor is there the subplot involving Obergruppenführer John Smith and his family troubles. And I found the ending to be sort of unsatisfying. When I had finished it, my reaction was not so much "what a good story", but rather "yeah, so what?"
Because once you set a story in an alternative universe, you immediately invite all sorts of questions about the different universe, how did it get there and what's it all about? And why is such a setting necessary to tell the story?
These are some of the unanswered questions I had after finishing it.
But I liked Dick's discussions of Japanese culture and modes of thought. Also, his description of how the I Ching is used is so intricately detailed, I get the impression that his experience with it is first-hand, like this is something he seriously played around with at some time in his life. And it plays a way bigger part in the book than it does in the series.
All in all, I prefer the series. But that's maybe because I started watching it first and my expectations were set before I picked up the book.

___________
Moronette 'votermom' is putting together a list of moron authors over on the Goodreads site which is intended to be accessible to non-members. Here is the list she has compiled so far. Let her know if there's an author she's missing.
http://www.bookhorde.org/p/aoshq-authors.html
___________
Don't forget the AoSHQ reading group on Goodreads. It's meant to support horde writers and to talk about the great books that come up on the book thread. It's called AoSHQ Moron Horde and the link to it is here: https://www.goodreads.com/group/show/175335-aoshq-moron-horde.
___________
So that's all for this week. As always, book thread tips, suggestions, bribes, rumors, threats, and insults may be sent to OregonMuse, Proprietor, AoSHQ Book Thread, at the book thread e-mail address: aoshqbookthread, followed by the 'at' sign, and then 'G' mail, and then dot cee oh emm.
What have you all been reading this week? Hopefully something good, because, as you all know, life is too short to be reading lousy books.


posted by OregonMuse at
09:00 AM
|
Access Comments