« Ace of Spades Pet Thread
|
Main
|
Saturday Evening Movie Thread 03-25-2017 [Hosted By: TheJamesMadison] »
March 25, 2017
Saturday Afternoon Chess/Open Thread 03-25-2017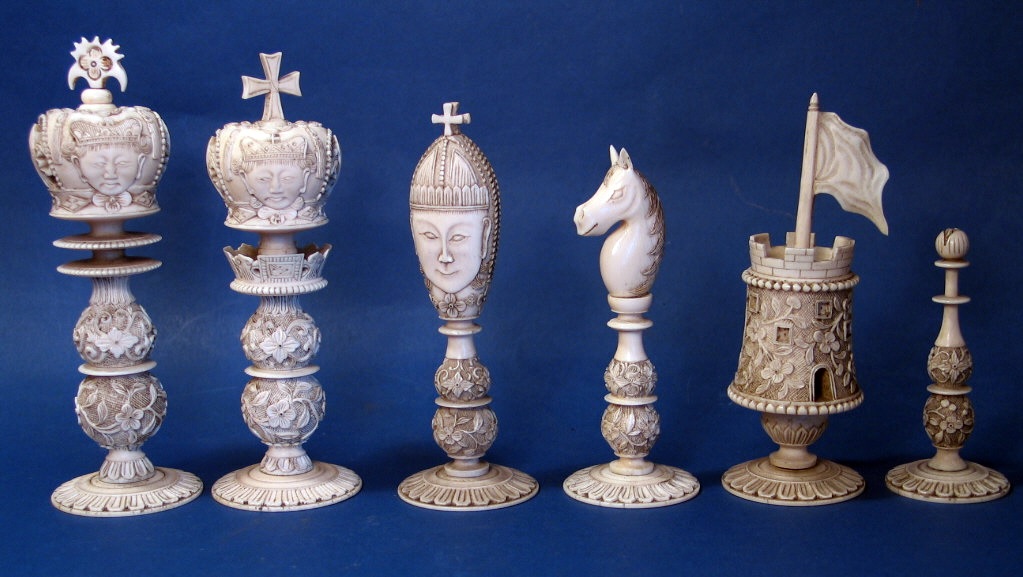 Burmese Chess Set

Good afternoon morons and moronettes, and welcome to the Saturday Afternoon Chess/Open Thread, the only AoSHQ thread with content specifically for all of us chess nerds who pay homage in the temple of Caïssa, goddess of the chessboard. And, for those of you who aren't nerdly enough for chess, you can use this thread to talk about checkers, or other games, or politics, or whatever you wish, only please try to keep it civil. Nobody wants to get in the middle of a hockey brawl on a Saturday afternoon. Except maybe hockey enthusiasts.
"When the Chess game is over, the Pawn and the King go back to the same box"

(Irish saying)

Pic Note
According to the chessantiques.com page from whence I stole this photo, this 19th century set is made from Chinese ivory. The king stands 12 cm tall, which is about 4 3/4 inches. The chessantiques.com link contains some pretty good close-up photos where you can better see the intricately-carved, ornate design. The opposite color pieces are a kind of jade green color. I'm assuming the color is from a green paint or stain on the ivory rather than actual jade.

Problem 1 - Black To Play (187)
Hint: Black mates in 2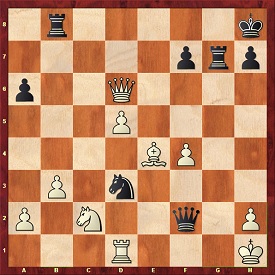 1r5k/5prp/p2Q4/3P4/4BP2/1P1n4/P1N2q1P/3R3K b - - 0 1


Problem 2 - White To Play (160)
Hint: White wins material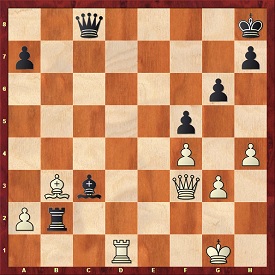 2q4k/p6p/6p1/5p2/5P1P/1Bb2QP1/Pr6/3R2K1 w - - 0 1



Problem 3 - White To Play (149)
Hint: White mates in 4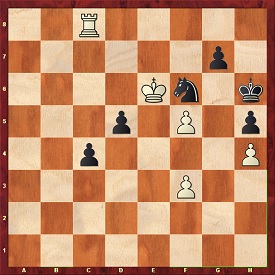 2R5/6p1/4Kn1k/3p1P1p/2p4P/5P2/8/8 w - - 0 1



Cinematic Chess Mistakes
Here is an interesting article on chess mistakes in movies:
There's one group of experts who can barely flip on the television without being exposed to egregious, head-on-desk mistakes: chess players...While different experts cite different error ratios, from "20 percent" to "much more often than not," all agree: Hollywood is terrible at chess, even though they really don't have to be. "There are so many [errors], it's hard to keep track," says Grandmaster Ilja Zaragatski, of chess24. "And there are constantly [new ones] coming out."
Oh, I don't know, I'm thinking maybe the firearms experts can make a strong case for the many mistakes they see in their particular area of expertise. It's fun sitting next to one while you're watching a movie or TV show and seeing then explode with fury. You might hear "That rifle wasn't used in that battle!" or "What's a German soldier doing with a British rifle?" It actually can be quite educational.
But I like how the article groups the errors into categories, such as the Bad Setup, or the Deep Cut. And of course, everybody's favorite, the Dramatic Checkmate:
This blunder occurs when one opponent surprises another by winning out of nowhere—or, similarly, when some extra-smart character walks by a game in progress and points out a checkmate opportunity the players didn't spot.
I'm disappointed they didn't mention the one specie of Dramatic Checkmate I hate the most. I haven't thought of a good name for it, but it goes like this: the hero has been roped into playing chess with the villain. Both are staring intently at the board. The villain smiles evilly, moves a piece, and says "check!" in a sinister voice. Then the hero looks at the board for a bit, moves one of his own piece and triumphantly declares, "No. Check MATE!" and the villain's face dissolves into a scowl. So. Dumb.
Another one that is not all that common is the use of anachronistic pieces. This one is hard to spot, but once I did see an episode of A&E's Revolutionary War spy drama Turn where General Washington was illustrating troop movements on a large map using chess pieces. Which is fine, but the pieces were the familiar (to us) Staunton design pieces, which weren't invented until 1849. Something like this would have been a more appropriate choice. Those pieces are from what is known as a 'Washington' set because George Washington owned one very much like it. But non-Staunton sets tend to be spendy and hard to come by, so I guess I can understand why a TV show wouldn't want to spend extra money just to placate a few chess nerds.
By the way, I snatched the Washington set pic from this web page, which describes antique English chess sets, 1750–1850, and the way the photos are arranged, you can sort of see the evolution of chess piece design from the early sets to the Staunton style.

Problem 4 - White To Play (BWTC 198 )
Hint: White can force a mate in, at most, 6 moves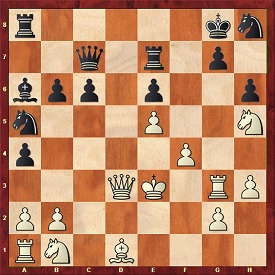 r5kn/2q1r1p1/bpp1p2p/n3P2N/p4P2/3QK1RP/PP4P1/RN1B4 w - - 0 1



Endgame of the Week (437)
It's White's move. Looks like Black is a step ahead in the queening race. What can White do about it, if anything?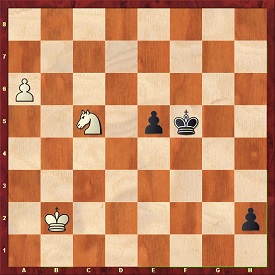 8/8/P7/2N1pk2/8/8/1K5p/8 w - - 0 1



___________
Solutions Update
Problem 1 - Black To Play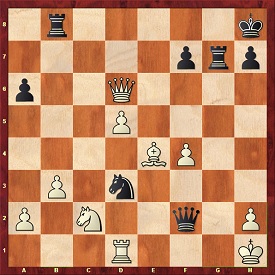 1r5k/5prp/p2Q4/3P4/4BP2/1P1n4/P1N2q1P/3R3K b - - 0 1


Shouldn't be too difficult:
1...Qg1+
2.Rxg1 Nf2#

Problem 2 - White To Play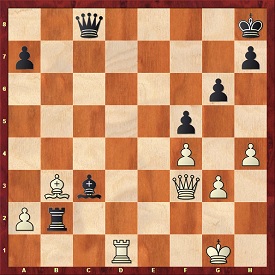 2q4k/p6p/6p1/5p2/5P1P/1Bb2QP1/Pr6/3R2K1 w - - 0 1


1. Rd8+!
Killer move. Black dare not take the rook. Because it'll be an early evening for him if he does: 1...Qxd8 2.Qxc3+ Qd4+ 3.Qxd4#
So Black will have to give up his queen to avoid checkmate:
1...Kg7
2.Rxc8
Black can fight back a bit with:
2...Bd4+
But White has nothing to fear. He says "Hold my beer..."

3.Kf1!
Black: wtf?
3...Rf2+
4.Qxf2 Bxf2
5.Rc7+ Kf8
6.Kxf2
And Black has been simplified right out of the game.

Problem 3 - White To Play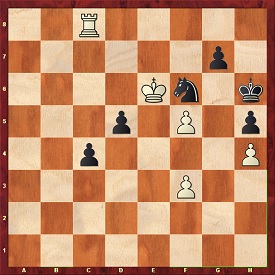 2R5/6p1/4Kn1k/3p1P1p/2p4P/5P2/8/8 w - - 0 1


1.Rh8+ Nh7
Black's king and knight are stuck right where they are. All White has to do now is move his own king over to help the rook take the knight, which Black will be unable to stop.
2.Kf7 d4
There's not much else for Black to do. There is no hope in pushing the 'g' pawn: 2...g6 3.fxg6 c3 4. Rxh7#. Similiarly, 2...g5 3.fxg6 d4 4.Rxh7#
3.Kg8 c3
4.Rxh7#

Problem 4 - White To Play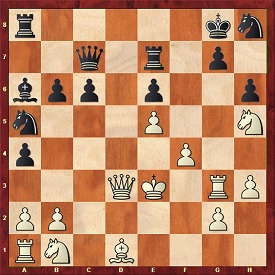 r5kn/2q1r1p1/bpp1p2p/n3P2N/p4P2/3QK1RP/PP4P1/RN1B4 w - - 0 1


1. Qh7+!
There are 3 responses possible for Black:
a) 1...Kf8 2.Qxh8+ Kf7 3.Rxg7#
b) 1...Kf7 2.Rxg7+ Ke8 3.Qxh8+ Kd7 4.Nf6#
c) 1...Kxh7
Holds out the longest. The rest is forced:
2.Rxg7+ Rxg7
3.Nf6+ Kg6
4.Bh5+ Kf5
5.g4+ Rxg4
6.hxg4#

Endgame of the Week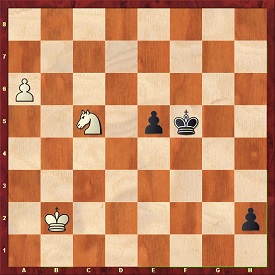 8/8/P7/2N1pk2/8/8/1K5p/8 w - - 0 1


1. Ne4!
White wants to clog up the diagonal to hinder the mobility of Black's queen, when he succeeds in getting one. Also, there's always a chance he might fall for this trap:
1...Kxe4?
2.a7 h1=Q
3.a8=Q+
Note how the queen attacks the king, but also indirectly, the queen on h1. This kind of an attack is called a 'skewer'. This came up in a thread earlier this week.
3...Ke3
4.Qxh1 winning.
But Black will most likely see the trap and avoid it by playing
1...Kf4
Which gives White enough time to use his knight to stop the queening pawn/
2.Nf2 Kf3
3.Nh1 Kg2
At this point, the knight has served its purpose and may be sacrificed to queen the pawn.
4.a7 Kxh1
5.a8=Q+ Kg1
White isn't out of the woods yet. The black pawn on h2 is still dangerous and White's strategy is to either force Black's king away from it so it can be picked off, or into the corner where it can be threatened with checkmate. He does this with a series of checks that brings the queen closer and closer.
6.Qg8+ Kf2
7.Qd5 Kg1
8.Qd1+ Kg2
9.Qg4+ Kf2
10.Qh3 Kg1
11.Qg3+ Kh1
Black doesn't want to move to h1, but he has to, otherwise White will take the pawn. But now the king is locked in and all White has to do is set up the mate.
12.Qf2 e4
13.Qf1#
Hope to see you all next week!
___________
Note: that cryptic line of letters and numbers you see underneath each board diagram is a representation of the position in what is known as "Forsyth-Edwards Notation", or F.E.N. It's actually readable by humans. Most computer applications nowadays can read FEN, so those of you who may want to study the position, you can copy the line of FEN and paste into your chess app and it should automatically recreate the position on its display board. Or, Windows users can just "triple click" on it and the entire line will be highlighted so you can copy and past it into your chess app.
___________
So that about wraps it up for this week. Chess thread tips, suggestions, bribes, rumors, threats, and insults may be sent to my yahoo address: OregonMuse little-a-in-a-circle yahoo dott com.

posted by OregonMuse at
05:09 PM
|
Access Comments