« Gun Thread: Because We Haven't Had One In Awhile!
|
Main
|
Still Winning? (MJ) »
March 19, 2017
Food Thread: Incisors, Canines And Idiots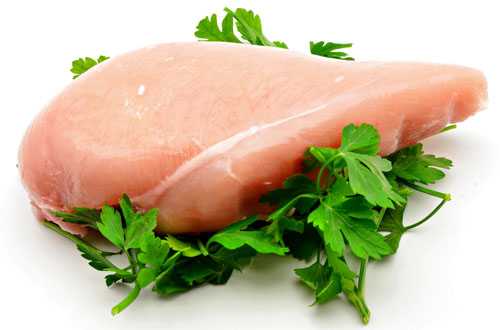 Say Hello to Finger-Lickin' Lab-Grown Chicken
Fried chicken will never be guilt-free. But you may soon be able to remove at least part of the remorse the next time you chow down -- because it might not have required a single bird to be harmed.
Hey ass-hat! I don't feel guilty when I eat the flesh of animals. I don't feel remorse. I don't feel anything other than happy that I am on the top of the food chain. And of course the pleasure of a good meal.
The explicit assumption that our omnivorous behavior is in some way unseemly, that it is an anachronism in a modern and enlightened society is a dangerous attitude that needs to be slapped down whenever it rears its pointy little idiot head.
Don't you dare try to make me feel guilty for being sentient, for being a part of the natural world (check those canines and incisors in your inbred idiot mouth) yet being able to control it to satisfy my needs and, yes, wants. We are at the top of the food chain and unique because of millions of years of evolution, and/or God's plan. Either one is an acceptable explanation. I have no desire or masochistic need to return to a less advanced time. You however are welcome to....and while you are at it, stop taking antibiotics; they kill bacteria! And those vaccines you were given? They destroyed the natural habitat of innocent viruses! How dare you!
If you want to be a vegetarian or a vegan? Have at it. But here are the rules. First; don't injure your children with your stupid diet choices. Second; don't preach to me about what I choose to eat and how I choose to spend my money. Otherwise I will mock you and poke fun at your tiny little brain, and its inability to synthesize the information that is literally staring back at you every morning when you shave that pathetic hipster peach-fuzz on your face into some semblance of a political message. Yeah...those teeth again. Pick up a comparative anatomy text book and learn something. Idiot.
[Hat Tip to artisanal'ette for winding me up with this]
******
These are great. No way around making them. Just do it.
Peanut Butter Stuffed Cookies
. A few changes are in order. chill the dough, otherwise it is difficult to handle. And flatten the filling a bit so that it is spread out in the cookie dough. That ball of filling is too much of a mouth-full, and if you make it more of a disc it will make the cookie better. And the biggest change is to add chocolate chips to the cookie dough. This was suggested by commenter Bluebell and my wife. Hmmm....what is it with chicks and chocolate?
******
This sounds convenient for the home kitchen!
Decontamination of Food and Food Contact Surfaces From Human Norovirus GII 4 Using a Novel 2D Air Based Microdischarge Cold Plasma Array
******
What's that? Why is Dildo obsessing over cookies? I have no idea. I don't even eat many of them when I bake, but for some reason they are lots of fun and satisfying to make.
Chocolate Chocolate-Chip Cookies
sounds like a fine recipe, and David Lebovitz is a solid chef, so my bet is that these will be a success. I'll tell you next week.
******
What to do with those large chunks of pig leg that are ridiculously large, and ridiculously cheap? I used to follow recipes for pulled pork, and there are some wonderful ones out there. But then I realized that it's pretty much a slam dunk no matter what I do, so now I just toss in stuff that I think will taste good.
The one cooking right now has....um....stuff. Lime juice, the last of some garlic-chili paste, onions, olive oil, parsley, salt, pepper, brown mustard. I think. There might be something missing, but damn, it smells good, so I can't have screwed it up too badly. Oh...a bottle of beer. Because it looked thirsty.

******
Yes, this sounds weird. I had it at a friend's house several years ago and when I saw the recipe I thought he was nuts. But it is strangely good. And it will undoubtedly work quite well with frozen corn, so it's a year-round dish.
Roasted Corn with Lime, Parmesan and Chili


3 medium ears corn

1 1/2 tablespoons olive oil

Salt and freshly ground black pepper

1 tablespoon mayonnaise, at room temperature

1 tablespoon sour cream, at room temperature

¼ cup milk, at room temperature

Juice of 1 large lime, plus wedges for serving

3 tablespoons grated Parmesan

Generous pinch of cayenne
Heat the oven to 400 degrees. Shuck the corn and cut the kernels from the cobs, tossing them in a bowl with the olive oil and plenty of salt and pepper. Spread the kernels evenly on a large rimmed baking sheet and roast for 15 to 20 minutes, scraping and turning over the kernels once or twice, until they're tender and lightly caramelized.
Put the corn back into the bowl and stir in the mayonnaise, sour cream, milk, lime juice, Parmesan and cayenne. Taste and adjust any of the flavorings, including salt and pepper, if necessary. (If the corn is at all sticky, just add some more milk.) Serve immediately, with lime wedges, while still warm.

******
Food tips and assorted blather to: cbd dot aoshq at gmail dot com

posted by CBD at
04:00 PM
|
Access Comments