« Overnight Open Thread (17 Mar 2017)
|
Main
|
Saturday Morning Weird News Dump »
March 18, 2017
EMT 03/18/17 Day after St Patty's Day
A small sample of last evening's two corned beefs.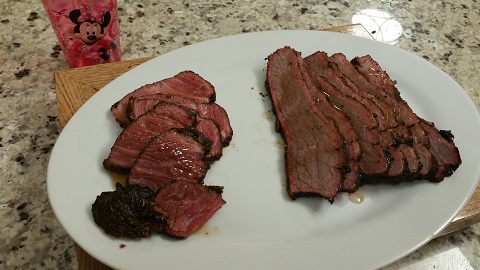 On the left: Store bought corned beef brisket. It's so PINK! Leprechaun magic, right? Or maybe it's just KNO2. Which everyone knows comes exclusively from the end of a shillelagh dipped in a rainbow, so yes, Leprechaun sorcery it is!
On the right: Home brined brisket. The only pink is in the finely developed smoke ring, which is a bit of misnomer. The pink ring is not smoke exactly, rather, NO2 released in the burning of wood (or charcoal) binding the myogloben in the meat, keeping it from changing color.
Add in some home-made colcannon, and it was the jubblies.
Cooked on the PBC. I say again: maybe the best 300 bucks I've spent in my life.
Bonus St Patty's day trivia below the fold.
I got hooked on this program while traveling to UK a while back. Binge watched it several nights after work on BBC13tiventy0. Or maybe it was BBC15tiventy2. The station names all blend together in my memory for some reason.
You can catch a bunch of them in part or in whole on YouTube.

posted by krakatoa at
06:00 AM
|
Access Comments