« Emergency Relief Thread [KT[
|
Main
|
Feeding Status: Frenzy (MJ) »
March 05, 2017
Food Thread: Aliens And Cocktails And BBQ
[Oops. Phone died. Couldn't post on the run...]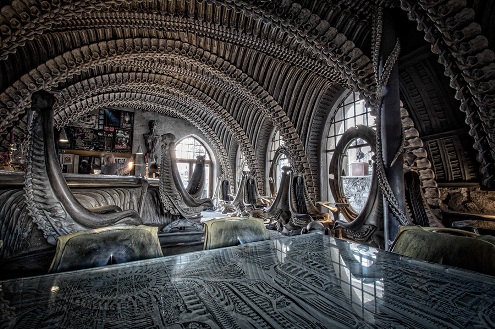 This is the H.R. Giger Bar in Chur, Switzerland
The interior of the otherworldly environment that is the H.R. Giger Museum Bar is a cavernous, skeletal structure covered by double arches of vertebrae that crisscross the vaulted ceiling of an ancient castle. The sensation of being in this extraordinary setting recalls the tale of Jonah and the whale, lending the feel of being literally in the belly of a fossilized, prehistoric beast, or that you have been transported into the remains of a mutated future civilization.
Yeah...I'm not sure about that, but it is odd and weird and were it close to me I would stop in for a drink. I think. Maybe not.
Restaurants and bars with over-the-top decorations seem to me to be struggling. The more crap on the walls, the more suspicious I am that the food and the drinks are crappy, and they are trying to make up for it by wowing the patrons with other stuff.
******
Why? What is the point?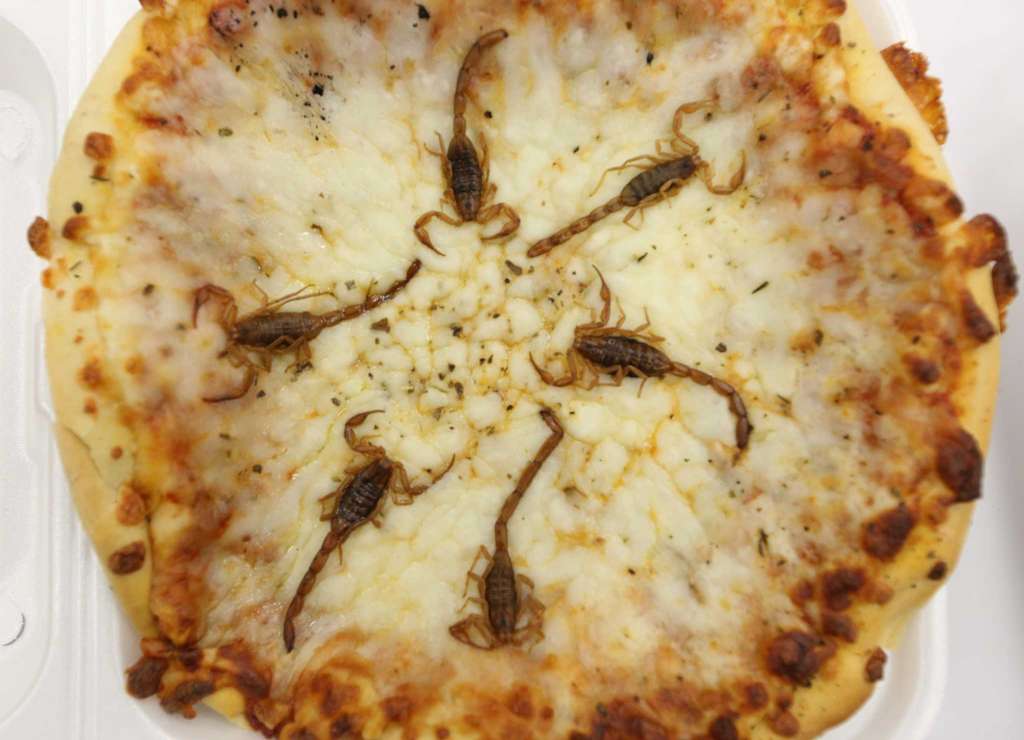 I get being shocking, but this is pizza!
[Hat Tip artisanal 'ette]
******
Gordon Ramsey has quite the reputation as someone who is difficult, combative, arrogant, and another dozen descriptors, none of which are flattering.
But....he can cook. He is without a doubt one of the greatest chefs in the world, and here he shows one reason why that is: technique. Being brilliant and innovative and shocking is all well and good. But if the rice is mushy and the salmon has bones in it nobody is going to eat your food.
And maybe I am reading into it, but he seems genuinely interested and excited by these simple techniques.

******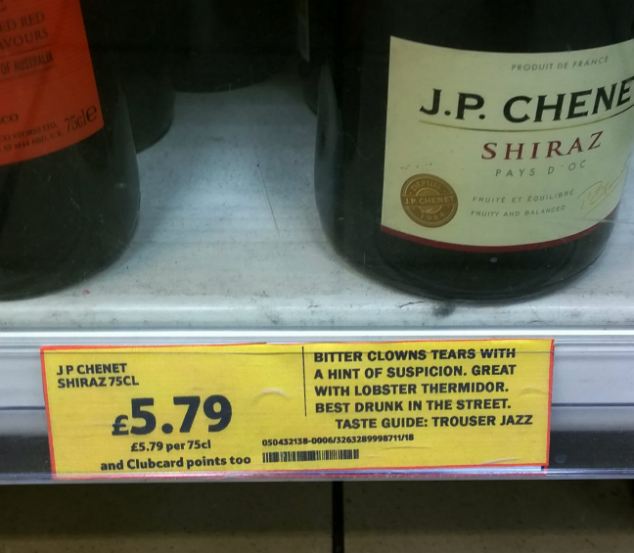 'Made by actual blue nuns in sea caves': Joker replaces supermarket wine descriptions with his own funny versions in acts of 'vin-dalism'
Damn...I wish I had thought of doing this. Wine reviews, whether provided by the wineries for ads, or by professional wine reviewers to sell their magazines, are almost always ridiculously pompous and rarely of much help. The vernacular is so chaotic that it is almost impossible to figure what the hell they are blathering on about. I read one reviewer when I need some help, but it's only because he is consistent. I know that when he uses particular words I will like the wine. His ratings are unimportant.

******
So,
here is a company
that hits all the buzz-words and hipster douche-bag ideals and blah, blah, blah. If I hear about sustainability one more time I am going to cut a bitch.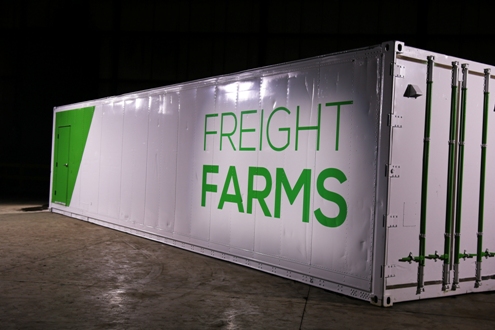 But, am I the only one who realizes that there is one crop in particular that would benefit from a completely mobile growing system...one that can be parked in out-of-the-way places and moved periodically?

******
Food Safety News is a web newsletter published by a plaintiff's attorney. But his recent editorial is an excellent example of how it is done.
Publisher"s Platform: The president and safe food
is clearly written from a point of view, but it is respectful, cites the facts, and doesn't impugn the motives or integrity of anyone.
******
Rillettes is a sort of mashed, spreadable meat. Think of chunky pate and you will have a rough idea. I make it occasionally with pork, but here is
Hank Shaw's recipe for duck or goose rillettes
, and it sounds fantastic. I will modify it for pork, but eventually I will make it with duck. As for "rue?" I have no idea what that is. Anyone in the Moronosphere have any idea?
******
Here is Jacques Pepin on
following recipes,
and what can go wrong.
"If the recipe had been followed to the letter, the finished dish would have been a disaster!"
I am not a big fan of his recipes, although his attitude toward cooking and eating, and his unparallelled technique are worthy of strict attention. I have several of his cookbooks, and will consult them for ideas, and I will often use his simpler recipes. But he hearkens back to a kind of French cooking that has lots of stuff I simply don't like very much. That is not a criticism, simply an observation of my taste and his cooking aesthetic.

******
There used to be a marvelous barbecue joint in Oakland called Flint's Barbecue. It is long gone...apparently they could 'que but they couldn't run a business. The meat was always good, but it was the sauce that kept me coming back for years.
Here is a version I dug up on the intertubes. I haven't made it yet, but I would love some feedback from The Horde about it and their favorite sauces.
Oakland-Style Barbecue Sauce
[courtesy of Doug Detling]
2 tbsp. vegetable oil (I substitute 2 tbsp. 100% organic coconut oil)

2 cups finely chopped onions

1 cup finely chopped celery

1/2 cup finely chopped carrots

3 tbsp. chopped garlic (fresh cloves are best, but minced garlic in jars works fine too)

1/4 tsp. salt (I substitute A. Vogel's Herbamare seasoning)

2 tsp. freshly ground black pepper

1 cup red wine (any vintage will do)

6 cups beef stock (I use ones with a low salt content)

2 cups catsup (I use Hunt's catsup, containing no high fructose corn syrup)

1/3 cup Worcestershire sauce

1/4 cup soy sauce (I recommend the low-sodium version)

3 tbsp. apple cider vinegar

1-2 tsp. Liquid Smoke (I use applewood flavor though hickory flavor also works well)

1/4 cup packed dark brown sugar

3 tbsp. dry mustard, preferably Colman's

2 tsp. dried thyme

1 tsp. dried oregano

1-2 tsp. cayenne pepper (optional) If you prefer "spicier" sauce, use 2 tsp.

4 bay leaves

1/4 tsp. Tabasco or other hot sauce (I use Mc. Ilhenny Co. Buffalo version)

Heat oil in a large, heavy saucepan over medium heat. Add onions, celery, carrots, garlic, salt and pepper. Cover and cook, stirring occasionally, until vegetables are soft and beginning to color (approximately 10-15 minutes).

Add wine, bring to a boil and let boil for 2-3 minutes.

Add all other ingredients except Tabasco sauce, and stir until well blended. Reduce heat to simmer, and cook uncovered for 45 minutes to one hour, or until sauce has thickened but can still be poured. Add a bit of water if it seems too thick.

Taste the sauce for salt and pepper, and add Tabasco sauce or other hot sauce to taste (Based on experience, I just add 1/4 tsp. without tasting). Remove bay leaves.

This sauce may be stored in a refrigerator, covered, for up to 30 days. (If you like to barbecue, it will be used within 21 days).

Additional instructions based on experience
After the sauce has cooled, store covered in the refrigerator overnight. After 12 hours, bring sauce to a boil for 10 minutes, run through a blender for a few minutes, and run through a course strainer. Discard strained solids. The liquid should be thick but easily spreadable with a brush. I use a silicone brush to
add to the meat about 3-5 minutes before meat is thoroughly cooked, so as not to overly char the meat. This will be a personal choice, however, as some people like to begin cooking with the meat covered in barbecue sauce.


&topic=world_news">

posted by CBD at
05:55 PM
|
Access Comments