« EMT 03/05/17
|
Main
|
Emergency Relief Thread [KT[ »
March 05, 2017
Sunday Morning Book Thread 03-05-2017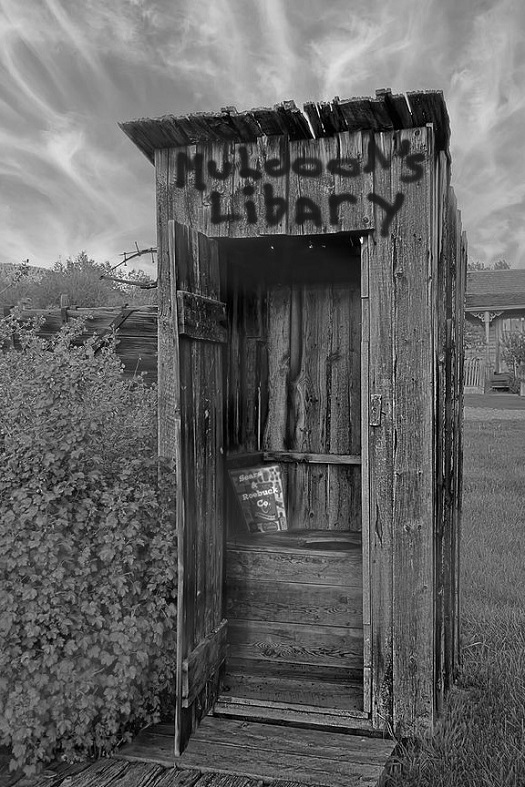 Where Muldoon Does All of His Deep Thinking

Good morning to all you 'rons, 'ettes, lurkers, and lurkettes. Welcome once again to the stately, prestigious, internationally acclaimed and high-class Sunday Morning Book Thread, where men are men, all the 'ettes are hotties, safe spaces are underneath your house and are used as protection against actual dangers, like natural disasters, or a Trump SOTU speech, and special snowflakes are laughed at. And unlike other AoSHQ comment threads, the Sunday Morning Book Thread is so hoity-toity, pants are required. Even if it's these pants, which should be consigned to the flames.

Pic Note
Seamus Muldoon actually did send me today's pic. He tells me:
I have previously been reticent to send you a picture of my library in light of all the wonderful scenes you have posted over time. Recently though, I have completed some much needed upgrades and feel that my library is much more worthy than before. Hopefully you will agree.
I see that Muldoon's library does have a book in it, but I don't think it's for reading, IYKWIMAITYD.

Nice Work If You Can Get It
$60 million. That's the amount of money Random House will be paying Barak and Michelle Obama to write books:
The former president and first lady are writing separate books, but selling them together, according to the Financial Times.

Penguin Random House did not reveal any titles, publishing dates or other details about the works also were not immediately available.
$60 million is one whopping big advance. I don't think I've seen one that yuuge before.
By contrast, publishers only plunked down $15 million for Bill Clinton's 2004 autobiography "My Life" and $10 million for George W. Bush's memoir "Decision Points," according to past reports.
I just don't see how Random House is going to make back all of that advance money. Are people really that interested in what those two have to say? Even with a supine, compliant media that has constantly stroked them, ran interference for them, and propagandized for them, that doesn't necessarily translate into book sales. Don't know if they made their money back on Bush's book. And Hillary's book tanked, because Hillary.
Plus, in the past, Obama has submitted books late, or not at all, so that's something R-H is going to have to keep an eye on. Of course, for $60 million, Obama could easily peel off $1 million and pay a ghost (Bill Ayres?) to write for him.

Science!
This week somebody on twitter pointed me toward an interesting review of a book that examines attacks on science by, get this, progressive activists.
Galileo's Middle Finger: Heretics, Activists, and the Search for Justice in Science is written by Alice Dreger, a progressive historian who nevertheless
...became interested in the broader world of scientific controversies, and began investigating them as thoroughly as possible — interviewing hundreds of people, chasing down primary documents, and so on. What she found, over and over, was that researchers whose conclusions didn't line up with politically correct orthodoxies — whether the orthodoxy in question involved sexual abuse, transgender issues, or whatever else — often faced dire, career-threatening consequences simply for doing their jobs.
The reviewer discusses two examples of this, the first involving anthropologist Napoleon Chagnon and his work living with and researching the Yanomamö, an indigenous tribe in the Amazon rain forest. His crime was that he did not present them as "noble savages" but rather as bloodthirsty, violent despoilers of the rainforest, and for that he was pilloried by his progressive peers. The second is a Northwestern University psychologist and researcher of human sexuality who wrote about gender confusion in ways that the "trans" activists did not like.
The notion that there might be a cultural component to the decision to transition, or that sexuality, rather than a hardwired gender identity, could be a factor, complicates this gender-identity-only narrative. It also brings sexuality back into a conversation that some trans activists have been trying to make solely about gender identity — roughly parallel to the way some gay-rights activists sweep conversations about actual gay sexuality under the rug, preferring to focus on idealized, unthreatening-to-heterosexuals portrayals of committed gay relationships between clean-cut, taxpaying adults.
That one's gender identity is caused by complex (and perhaps abnormal in some cases) psychological factors and not just because someone can be born in a body that doesn't match their preferred gender identity is an idea that the "trans" activists are trying desperately to stamp out, and they're using every trick in the SJW playbook (character assassination, phony "ethics" charges, attempts at career destruction, fake science, etc.) to do it.
Here's the book in question, The Man Who Would Be Queen: The Science of Gender-Bending and Transsexualism by J. Michael Bailey. And look at all the 1-star reviews. The social justice wankers really hate this guy.

Smashwords Week-Long 'Read An Ebook' Promotion Starts TODAY
From their promotional e-mail:
The ninth annual Smashwords Read an Ebook Week promotion kicks off this Sunday March 5 and runs through end of day March 11.

Each year, tens of thousands of Smashwords authors, publishers and readers participate in this global ebook celebration which offers FREE and deep-discounted ebooks.
The details:
Authors and Publishers: Enroll now open at https://www.smashwords.com/dashboard/sitewidePromos With a few clicks, you can enroll your books into coupon categories of 25% off, 50% off, 75% off or FREE.
Readers: When the promotion goes live on Sunday, you'll find the promotional catalog on the Smashwords home page (or just go to https://www.smashwords.com/books/category/1/newest/1), and be sure to check back often because thousands of new books will join the promotion during the week.

The special home page catalog enables readers to browse by coupon discount and filter by category, bestseller status, word count and multiple other factors. We also note the title's coupon on individual book pages to encourage browsers to become customers.

Call for MAGA Fiction
The CLFA (Conservative Libertarian Fiction Alliance) is asking for submissions of "Flash fiction, Poetry, Short Stories (2,000 6,000 words)" for anthology it will call, ahem, Trumptopia:
Create a Utopian future that was brought to us by President Donald J. Trump. How big will the wall be, and will it make things better? ... Looking for the futurist perspective, peering years ahead, give us your take on what America will be like after Trump PUTS AMERICA FIRST. Will he unify the nation despite attempts to undermine his Presidency, restore America's economy, end partisan politics, or maybe connects us with extraterrestrials? But this is a positive perspective on Trump being President, so don't be negative.
Well, I don't know. This assumes that (a) Trump will be successful and (b) subsequent (Republican?) presidents will build on his success and be even more successful. OK, (a) is at least plausible. But knowing how much the GOP is packed full of idiots and cowards, (b) just doesn't seem likely.
To support this, I've got a bit of history on my side. As they used to say on those after-game sports highlights programs, let's go to the tape:
[Legenday science fiction author] Jerry Pournelle had a quiet inside network of conservative contacts inside the Reagan White House, promoting things like ballistic missile defense.

He recalls what happened in the one week following the inauguration of Poppy Bush in January of 1989 -- the sweeping purge. Every single one of Pournelle's conservative contacts were *gone*, replaced by what he terms "the country club set".

Fast forward a couple of decades to a GOP wondering where it all went so terribly wrong. Well, perhaps the inflection point was just where Dr. P says.

Posted by: torquewrench at June 07, 2016 01:58 PM (noWW6)
I remember the 1988 election. We were voting for a third term of Reagan. That was basically what we were promised. I knew that in the 1980 primaries, Bush called Reagan's proposed recovery program of tax cuts and regulatory reduction "voodoo economics." I should've taken that more seriously. Because 8 years later, immediately after he crushed Michael Dukakis, Bush started babbling about wanting "a kindler, gentler America" and "a thousand points of light" and that was when I knew we had gotten screwed. Despite all of Reagan's successes, Bush just peed it all away. And then we got the Clintons. Oh, joy.

Moron Recommendations
My chess bud Bonedaddi is reading Ayn Rand's book, The New Left - the Anti Industrial Revolution.
The first essay, about the so-called "Free Speech Movement" that started at the University of California (Berkeley) in 1964 is worth the price of this book, which, unfortunately, appears to be the only Ayn Rand work not to have been converted to e-book format.
Bonedaddi observes
It is a collection of essays compiled in 1971, it could easily have been written today.
As an historical account of one of the first SJW attacks in modern times, it is obvious that nothing has changed. All of the usual elements are there: a well organized program of subversion, a weak and vacillating university administration, faculty members who were mostly on the other side, near complete capitulation to the demands of the protestors that only resulted in more demands, and, from a letter that appeared in the New York Times in March of 1965:
"...some of these activists who liken their movement to a revolution want to be called radicals. Most of them, however, prefer to be called 'organizers.'"
"Organizers - of what?", Rand asks. "Of 'deprived people.' For what? No answer. Just 'organizers.'"
Somewhere, Barak Obama is smiling.
Also, there were clear-eyed observers even back them who saw the Free Speech Movement for what it really was, i.e. an attempt to seize power.
Fun fact: the governor of California at that time was Edmund G. 'Pat' Brown (Moonbeam's dad) and since the protestors cloaked their agenda with high-minded but vague words such as 'tolerance' and 'fairness', he had no idea what to do. Ronald Reagan knew what to do, but it wasn't until he was elected in 1966 was he able to implement his own "free speech" program, which consisted mainly of tear-gassing protestor mobs from helicopters and sending in the riot squad to bust hippie heads.

___________
CBD recommends a one-off novel by Bernard Cornwell, Gallows Thief, a murder mystery set in Regency England:
The year is 1820. Rider Sandman, a hero of Waterloo, returns to London to wed his fiancée. But instead of settling down to fame and glory, he finds himself penniless in a country where high unemployment and social unrest rage, and where men—innocent or guilty—are hanged for the merest of crimes.

When he's offered a job as private investigator to re-open the case of a painter due to be hanged for a murder he didn't commit, Sandman readily accepts—as much for the money as for a chance to see justice done in a country gone to ruins.

Soon, however, he's mired in a grisly murder plot that keeps thickening. Sandman makes his way through gentlemen's clubs and shady taverns, aristocratic mansions, and fashionable painters' studios determined to rescue the innocent young man from the rope. But someone doesn't want the truth revealed.
CBD's thumbnail synopsis is: "Solid author who is always worth a read, especially at $1.99!". At least, this novel is $1.99 as I'm typing this (Sat. nite). Let's hope it still is on Sunday.

Books By Morons
Moron author right wing yankee has just published a YA novel, her first. The Garia Cycle: A Kingdom of Glass, which is the first of a projected series. She informs me, "If you like medieval fantasy with a touch of romance and an epic family feud, this is the book for you".
From the blurb:
Zara hasn't seen her family in eleven years, but she doesn't mind. They sent her to live in a neighboring kingdom when she was small, and she's adopted her foster parents in their place...[S]he's summoned home, to a prospective marriage she doesn't want, family she doesn't remember, and a poisonous royal court that threatens everything she's ever known...Zara struggles to find her place among the scheming Morlander aristocrats...But secrets abound in the glittering palace, and Zara must discover who she can trust as she fights for her life and freedom."
Now available as a Kindle ebook from Amazon for $2.99.

___________
Lurkette author 'artemis' has just published the 5th installment of her Doyle and Acton Scotland Yard Mysteries. Murder in All Honour
On the heels of a nasty corruption scandal, the CID must now contend with a killer who is murdering pregnant women, so as to steal their babies. Chief Inspector Acton doesn't want Doyle anywhere near this case, of course, but she can't shake the feeling that there is more to his concern than his usual over-protectiveness—and more to this case than the usual psycho-killer.
$5.99 on Kindle, which is a pretty good price, all things considered.

___________
Don't forget the AoSHQ reading group on Goodreads. It's meant to support horde writers and to talk about the great books that come up on the book thread. It's called AoSHQ Moron Horde and the link to it is here: https://www.goodreads.com/group/show/175335-aoshq-moron-horde.
___________
So that's all for this week. As always, book thread tips, suggestions, bribes, rumors, threats, and insults may be sent to OregonMuse, Proprietor, AoSHQ Book Thread, at the book thread e-mail address: aoshqbookthread, followed by the 'at' sign, and then 'G' mail, and then dot cee oh emm.
What have you all been reading this week? Hopefully something good, because, as you all know, life is too short to be reading lousy books.

posted by OregonMuse at
08:55 AM
|
Access Comments