« Thread below the Gardening Thread: 4 Mar 2017 [KT]
|
Main
|
Ace of Spades Pet Thread »
March 04, 2017
Saturday Gardening Thread: The Color Purple [KT]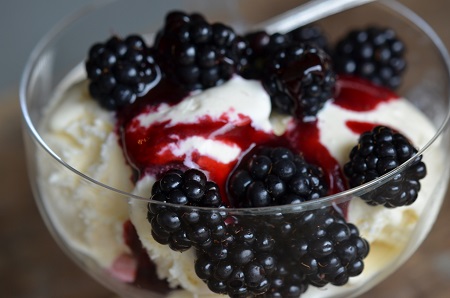 Homemade vanilla ice cream with fresh antioxidant sauce
This week, I ran across a great motivational article about growing blackberries with less pain. And a butterfly organization pegged mauve and yellow as the favorite colors of many butterflies. This got me thinking about the color purple. Is mauve a shade or tint of purple? When you say "purple", what is the first color you actually think of?
In the gardening world, many purplish flowers or leaves are called either "blue" or "red". Or even "black". Why is that? Conversely, have you ever wondered why there are so many songs with "purple" in the title? O.K., I know I have a hole in my cultural literacy here. I understand "blue" being in the title of songs, but why "purple"? Deep Purple, Purple Haze, Purple Rain, etc. Have you ever seen really purple rain? Do gardening people look at the world differently than music people? Something to think about as you read about this week's plants.
Should you grow your own blackberries?
Whilst waiting for a friend at an AT&T store, a piece by Lee Reich about growing blackberries came up unbidden on one of their displayed iPads. It was about growing blackberries without the blood. I figured that this was a sign that someone in The Horde was thinking about planting blackberries.
Blackberries grow wild in many parts of the country. Foragers in The Horde can attest to the tastiness of most of these wild berries, even from the nasty, pestifrous Himalayan and Evergreen Blackberries.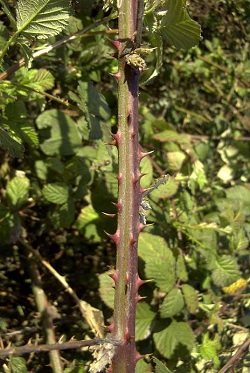 But many garden cultivars are better. From the Reich article:
Growing blackberries can be intimidating because of their thorns. Most blackberry plants are thoroughly armed, even on their leaves, with ferocious thorns that grab, stab and hold you.

Many gardeners are willing to put up with the pain because the fruit is so delicious.

Not I. I grow thorn-less varieties of blackberries, horticultural wonders with pretty much all the qualities of their thorny relatives except the thorns.
And why should you grow your own?
Most important is that each blackberry hangs on the plant just beyond its showy, glossy black stage, until it is dead ripe. At that point, blackberries are dull black, as if sullenly crying out to be plucked, an impression reinforced by their readiness, at the slightest suggestion, to part from their stalks and stain the fingertips.

To withstand the rigors of shipping, commercial blackberries are picked when black but still firm -- and tart. Fruit allowed to develop full flavor on the plant cannot tolerate being carried more than about 3 feet, the distance from hand to mouth.
Basic instructions for growing and pruning blackberries follow. If you are in the West, I would recommend checking out the variety descriptions in the latest Sunset Western Garden Book. They classify cultivars into trailing Western types, generally hardier Midwestern and Eastern upright types and semi-erect types. Consider disease resistance. You might want to grow early, midseason and late types.
I am personally glad that Boysenberries, Loganberries and Youngberries come in thornless versions now. 'Black Diamond' is classified as a thornless Marionberry type.
Do you have a favorite blackberry (or blackberry hybrid) cultivar? Does it have thorns?
There are also a few new "primocane" types that bear fruit at the tips of branches on new growth, like everbearing raspberries. If you are willing to forego the first crop of the summer (from year-old wood) you can mow the plants to the ground every year instead of pruning them.
Are blackberries purple? Is this ice cream a bluer shade of purple than this ice cream, and if so, why? Maybe the berries had different phytonutrient contents. Antioxidants and other nutrients vary by cultivar.
Those who must eat under-ripe, store-bought berries may console themselves with the thought that, at least in the case of blackberries and strawberries, antioxidant content is highest at the green stage. Of the fruits in one trial, black raspberries and (thornless) blackberries had the highest antioxidant content at the ripe stage. You know, when you would actually want to eat them. If you can't grow your own, a farmers market is the next best choice, especially for delicate berries like boysenberries.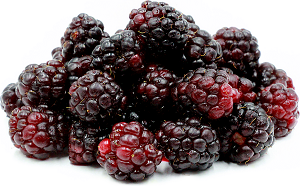 Boysenberries put Knotts Berry Farm on the map
Purple flowers that attract butterflies
There has been some discussion in the comments recently about flowers to attract butterflies. One of the most famous of these is the Butterfly Bush, Buddleja (or popularly, Buddleia) davidii. It is getting to be about time to plant or prune these in some parts of the country. There are other plant in this genus that also attract butterflies. Maybe you would like to grow one of those.
Is it legal to say "Butterfly Bush" in Oregon?
Well, you can say the words, but you can't sell a butterfly bush as a "Butterfly Bush". The ones that are legal must be sold as "Summer Lilac" or "Seedless Butterfly Bush" or something. That's because B. davidii has become invasive in parts of Washington and Oregon. Sort of like Himalayan and Evergreen Blackberries. You gotta change your evil ways, baby.
Another species, the powerfully-fragrant, winter-blooming B. asiatica, has colonized moist lava fields in Hawaii. After it flowers, the seed heads turn kind of an ugly brown. The local name for this plant in Hawaii is dog tail. Scroll down to see why you should dead-head spent blooms on this plant. Especially where it is invasive.
Sunset lists it for my zone (in the Central Valley of California). But it is very tender to frost. The Mountain Valley Growers site carries some other unusual Buddleia species and hybrids, like Orange Sceptre, "everblooming in our zone", attractive to both hummingbirds and butterflies. Not a real looker from a distance, but if you're in a mild-winter area and want to attract some winged creatures . . . .
But back to the Northwest: Here's a discussion of butterfly bushes that are legal in Oregon. One of the first cultivars legalized is Miss Ruby, described as nearly seedless. She is larger than her little brother, Blue Chip LO AND BEHOLD, "small enough to be used as a flowering ground cover or in containers". They were both bred at the JC Raulston Arboretum at NCSU. There is also a Blue Chip Jr.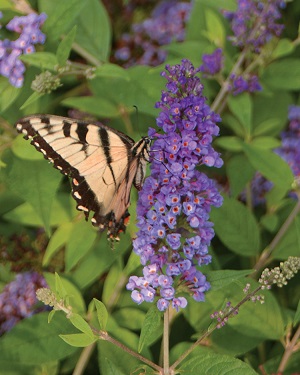 Blue Chip. Does that flower look blue to you?
Evidently, most of these non-invasive cultivars come from complex inter-species crosses, like Buddleja (B.davidii x (B. davidii x B. globosa)) x (B. davidii x B. globosa) 'Miss Ruby'. Doesn't that white hydrangea pop the color? Anybody know which species of hydrangea it is?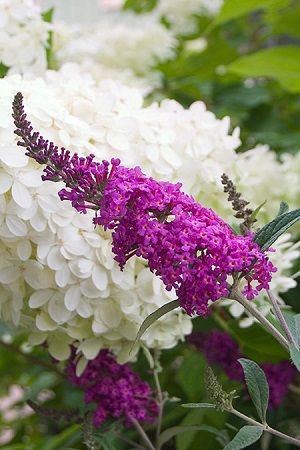 Miss Ruby
There is also a Miss Molly. She is also approved for sale in Oregon and Washington, but "Fragrant flowers are a rich sangria-red color. Red color may be more pronounced in the South." The South will rise again. Good golly.
Buddleia pikei 'Hever Castle' is an older interspecies hybrid that blooms in early spring where it doesn't die back to the ground in winter. It is legal in Oregon.
Hever Castle was the childhood home of Anne Boleyn who was queen of England in the 1500s and was beheaded by King Henry the 8th. Today this historic castle is the home of a marvelous English garden and this beautiful butterfly bush.
This style of topiary seems kind of menacing to me. It kind of fits in with the home of a woman whose head was later cut off:
Tudor Garden, near the Yew Maze at Hever Castle
Butterfly Bushes Outside Oregon and Washington
There is additional controversy in the plant world about whether you should plant non-native Buddlejas to attract butterflies. Rodale takes an absolutist stance against butterfly bushes in the USA. WHAT ABOUT THE CATERPILLARS?
Butterfly Gardener takes on the great butterfly bush debate in a special issue. The PDF is in a double-page format, so it might be hard to read from a phone, but it includes a lot of information. The "native only" view is balanced by another piece by a Midwest butterfly gardener:
. . . Butterflies easily access the copious nectar with a high concentration of sucrose. Reportedly, even the sterile hybrids are nectar-rich, but my experience is limited to the Buddleja davidii species, since my less vigorous hybrids died long ago in this unforgiving Kansas climate.

Native Plant Absolutists gnash their teeth in frustration, but butterflies are not ideologues. They are pragmatists at the molecular level. If their foot's chemical receptor and the molecule match, the plant's origin is irrelevant. Why be so rigid? Our Regional Director of the Kansas Native Plant Society has a greenhouse and raises hundreds of butterfly bushes to sell at area Master Gardener plant sales. My sense of justice is offended by Americans who eat predominantly non-native foods, but would refuse that same pleasure to butterflies.
Heh. Remember to deadhead your butterfly bush if you live in an area where seedlings escape into the wild.
Little Butterfly Bushes
Here is a typical plant of one of the newer dwarf butterfly bushes. You can get Lilac Chip via the AoSHQ Amazon Store. Would you consider growing it as a tall ground cover? Maybe with a couple of companion plants?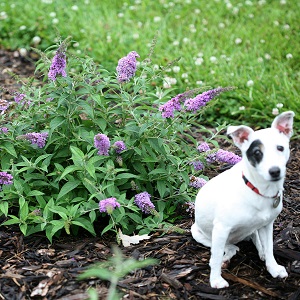 Lilac Chip
I've always thought the flowers on most butterfly bushes looked sort of . . . droopy. Why not take them all the way from "droopy" to "weeping"? Wisteria Lane seems like a good choice for large containers. Might require some extra winter protection in the North if grown in pots. It would also be nice draped over a low retaining wall. Listed as hardy to Zone 5. Reportedly does well in hot Texas sun. I've seen it described as 2' x 2' up to 5' x 5' (in the ground). What would you grow near it?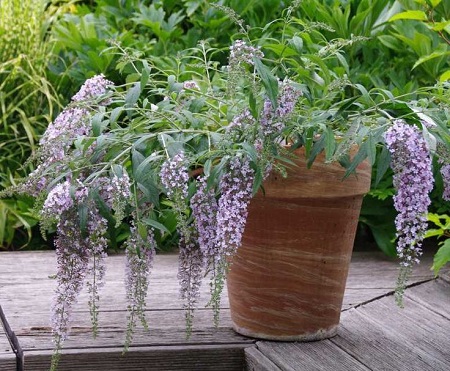 Wisteria Lane
Medium-sized to big butterfly bushes
Here some pruning advice for regions where B. davidii does not freeze to the ground in winter:
Buddleias need savage pruning, especially the taller varieties, and this should be carried out in late winter or early spring. Pruning in autumn may result in the death of your plant. Cut away the previous years growth to two or three buds from their base. Unless you want to remove a branch entirely, to reshape buddleia, do not cut back into the older wood, which is usually thicker and darker coloured, as this may not readily sprout new shoots. The pruned shrub will have a low framework of branches from which shoots will grow rapidly to produce flowers in summer. If you're dealing with an overgrown buddleia take one half down in one year ( in March) and the second half in the following year (again in March).
Butterfly bushes come in a wide range of colors. Some have variegated foliage that look especially nice in afternoon shade. Perhaps the most famous of the older cultivars is Black Knight. It does have a distinctive purple color, but the flower form is not my favorite.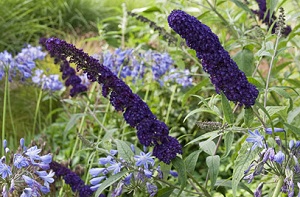 Dartmoor, my favorite big butterfly bush
Dartmoor is the only butterfly bush I know of that has branched flower heads. It looks more like a lilac than other butterfly bushes do. It has an interesting history. From a Canadian site:
This fantastic butterfly bush has giant clusters of warm purple flowers that dwarf all other cultivars. The plant that was to become Buddleia 'Dartmoor' was found in Devon in 1971 by Mr. Hayles, a retired gardener. Walking with his wife he spied an unusual buddleja flowering on the edge of a ravine. With his trustworthy wife clinging onto him, Hayles valiantly reached down to collect a few branches. 'Dartmoor' was released to the gardening public just a few years later.
Dartmoor is for people who want a big shrub that will attract a lot of butterflies. If left unpruned, it can reportedly reach 16 feet in friendly climates. Best with some spring pruning, which increases branching of the flowers.
A couple in the UK set out to determine which kind of butterfly bush was most attractive to the local butterflies. Of the 211 plants surveyed (some not yet mature) Dartmoor was the cultivar which attracted the most butterflies the first year of the trial. Volunteer butterfly recorders visited over several months. Quite a project!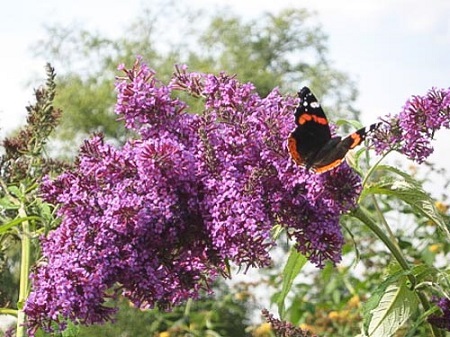 Dartmoor with a Red Admiral Butterfly
Another favorite of butterflies in the trial above was 'Autumn Beauty' (lavender, good for planting near schools, as it is still in bloom when school starts). 'White Profusion' did pretty well with the butterflies, too. Yellow to orange B. weyeriana was not the most popular plant with butterflies during the trial, but bloomed very late into the season.
Rock Cress and other purple butterfly flowers
The organization for which the "most attractive Buddleia" survey was done recommmended some other plants with little purple flowers as butterfly nectar sources. These include Aubrieta, Sweet Rocket (hesperis matronalis), Perennial Wallflower (Erysimum 'Bowles Mauve'), and Verbena bonariensis.
A garden writer for the Sunday Express is apparently doing a "Purple Haze" series, with advice on growing plants like lavender. About Aubretia, he wrote:
Do you remember when every front garden had a rockery? When each year in late March and April these mini Mont Blancs would erupt with a brilliance that took you by surprise?

The reason was that they were planted with one of the most obliging carpeters ever known to man – aubrieta.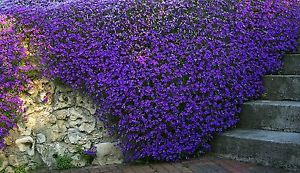 "When the deep purple falls over sleepy garden walls..."

When I was growing up, one our our neighbors had a bank of aubrieta rising from their driveway to the upper level of their split-level home. It was spectacular in spring. Didn't notice it much the rest of the year.
Aubrieta comes in several colors from pink to rose to purple to purple-blue. It is available both as cutting-grown named varieties and as pretty nice seed strains.
You might think that Bowles Mauve Wallflower would also fall over sleepy garden walls, but it is quite upright. The famous fragrant biennial wallflowers do best in cool summer climates. Bowles Mauve will survive in Central California, but not in the desert, except as a winter annual. It has a very long season of bloom in cool-summer areas. Here, it blooms from winter into spring and does not live very long.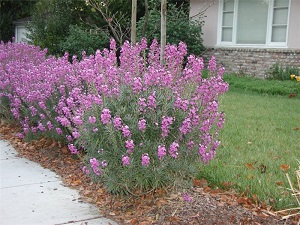 Gardens of The Horde
Last week in the comments, nice things were said about the dramatic Ocotillo for the Desert Southwest. This plant can be breathtaking when backlit at night. Our Butterfly Gardener reference today turned up a native Butterfly Bush which could be a good partner for Ocotillo in the garden, the Woolly Butterfly Bush. They both provide nectar for hummingbirds. The Butterfly Bush blooms later. The Ocotillo gets much larger, so eventually the Butterfly Bush would be a foreground plant. What do you desert denizens think?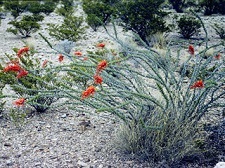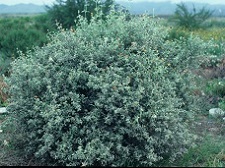 Here is a bloom detail for the Woolly Butterfly Bush.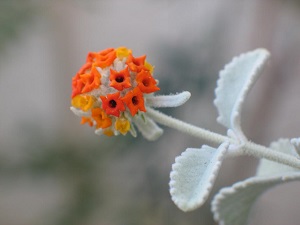 Woolly Butterfly Bush
Some members of The Horde are interested in growing plants for butterflies and hummingbirds from seed. Often, heirloom selections make the best choices. Two good sources are Diane's Flower Seeds and Select Seeds (seeds and plants). The latter has an interesting search function that allows you to choose characteristics you want in the plants you choose.
CORRECTION: A few weeks ago, I noted that, once again, I had been unable to locate the order form for the Crosman Seed Company. But this time, it is because they had started online ordering with a shopping cart and everything. Didn't occur to me to check, because of past experience. In other words, profiling. If you want to order some cheap seeds to attract butterflies and hummingbirds, they have several time-tested selections. The tall annual Phlox, Balsam and Mourning Bride (annual Scabiosia) are kind of unusual today. They have a good selection of Zinnias. While you're at it, you might want to order some Romanette Green Beans and Fordhook limas (if you like limas). A nice site if you want to send some seeds to a kid just starting to garden.
Diane's has lists of butterfly and hummingbird flowers. Diane notes that in addition to having flowers that attract hummingbirds and many butterflies, Verbena bonariensis is one of the host plants for the Common Buckeye Butterfly.
Resident in the southern United States and north along the coasts to central California and North Carolina; south to Bermuda, Cuba, Isle of Pines, and southern Mexico. Adults from the south's first brood migrate north in late spring and summer to temporarily colonize most of the United States and parts of southern Canada.
A gardener in Virginia noted one August:
I was just astounded at the number of nectar-sippers hovering around the Verbena bonariensis this weekend in the country. Just in casual observation, I counted at least six different species of butterflies - Tiger Swallowtail (both light and dark forms), Spicebush Swallowtail, American Lady, Zabulon Skipper, other skippers (names still elude me - sorry), and a new one for me: the Common Buckeye. If it's so common, how come I never saw one until this weekend?
Buckeye on Verbena bonariensis
V. bonariensis creates an airy purple haze among other plants in the garden. Although the flower stalks get quite tall, it can be used in the foreground of a border as well as in the background, because you can see through the plant.
Don't kill those slightly spiky little caterpillars on your verbena, snapdragons or ruellia.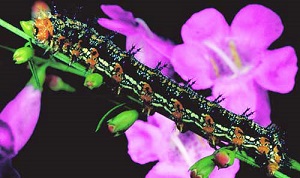 Common Buckeye Caterpillar
Here in the Valley, tomato and pepper plants are starting to appear in nurseries. Gotta get going. What's happening in your garden world?
Hope you have a great week.

posted by Open Blogger at
12:18 PM
|
Access Comments