« Ace of Spades Pet Thread
|
Main
|
Trump: I'm Not Going to the White House Correspondent's Dinner »
February 25, 2017
Saturday Afternoon Chess/Open Thread 02-25-2017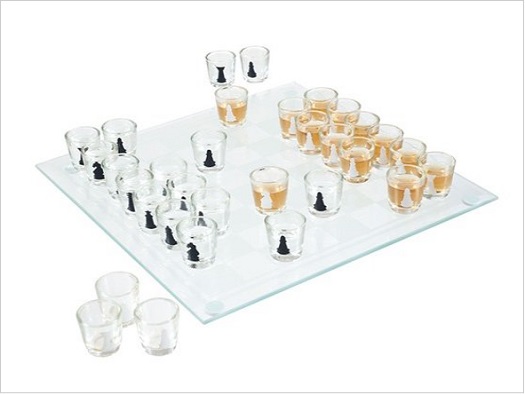 Looks Like They're Playing The Dewars Gambit

Good afternoon morons and moronettes, and welcome to the Saturday Afternoon Chess/Open Thread, the only AoSHQ thread with content specifically for all of us chess nerds who pay homage in the temple of Caïssa, goddess of the chessboard. And, for those of you who aren't nerdly enough for chess, you can use this thread to talk about checkers, or other games, or politics, or whatever you wish, only please try to keep it civil. Nobody wants to get in the middle of a tactical tomato melee. Unless you're Italian and could use the extra sauce.
"Many have become Chess Masters, no one has become the Master of Chess"
--Siegbert Tarrasch

Pic Notes
The chess set in the pic (h/t tsrblke) is on sale at woot for only $11.99. How can you afford *not* to buy it?
I've never played drunk chess ("capture a piece, do a shot"), and I don't think I ever will. After 3 or 4 captures, I doubt I'd be able to focus my eyes enough to tell the pieces apart. Which I guess is the point.
A friend of mine back in the day told me he once went with a buddy to a bar in San Jose, drank margaritas and played chess until closing. He remarked that the quality of their playing started out bad, got worse, and toward the end of the evening, they were throwing the pieces at each other.
Problem 1 - White To Play (412)
Hint: White mates in 2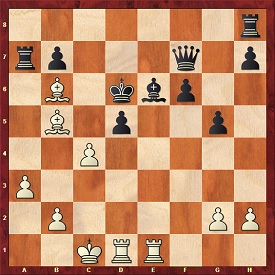 7r/rp3q1p/1B1kbp2/1B1p2p1/2P5/P7/1P4PP/2KRR3 w - - 0 1


Problem 2 - Black To Play (408)
Black can catch the white queen in a nasty pin, by moving 1...Re8. The only question is, which rook does he use? Does it matter?

k1r4r/pppRQqpp/5p2/8/2P5/1P3P2/P4PPP/4K2R b K - 0 1



Problem 3 - White To Play (BWTC 166)
There is more than one way to mate. How far can Black stretch it out?
Hint: Black can hold out for 4 moves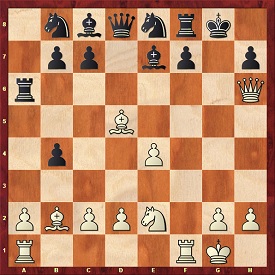 1nbqnrk1/1pp1bp1p/r6Q/3B4/1p2P3/8/PBPPN1PP/R4RK1 w - - 0 1



To Hijab Or Not To Hijab
In its continuing efforts to regress back to the 7th century, Iran is again making a fool of itself:
Dorsa Derakshani flouted Iranian law by refusing to wear the traditional Muslim headscarf while competing as an independent player at the recent 2017 Tradewise Gibraltar Chess Festival. Her brother, 15-year-old Borna Derakshani, was also banned from the chess team for competing against an Israeli player in the same tournament.

Both siblings are now prohibited from competing in future international competitions.
And this after U.S. Women's Champion Nazi Paikidze-Barnes and other players refused to play in the WWCh. tournament in Tehran.
Why? Because
Iran is notoriously anti-Semitic, prohibiting its sports athletes—including chess players like Derakshani—from fraternizing with and competing against Israelis.
OK, fine. Then Iran should be booted out from and all international sports federations that it is a member of. Screw 'em. If that country wants to act like a petulant child, it should be treated like one.
About her boycott of the WWCh., Ms. Paikidze-Barnes said:
I think it's unacceptable to host a WOMEN'S World Championship in a place where women do not have basic fundamental rights and are treated as second-class citizens. For those saying that I don't know anything about Iran: I have received the most support and gratitude from the people of Iran, who are facing this situation every day.
This seems more clear-eyed than Magdalena Andersson, the Finance Minister of Sweden and proud-n-fierce feminist who donned the hijab for her earlier visit to Iran, and then insulted pretty much every woman in that country when she said something like "what's the big deal, it's just a hat."
(h/t CBD for this story)

Problem 4 - Black To Play (CTFS 244)
Black is at a material disadvantage. What can he do here?
Hint: Black can win back the material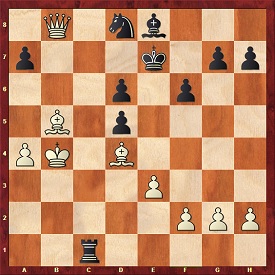 1Q1nb3/p3k1pp/3p1p2/1B1p4/PK1B4/4P3/5PPP/2r5 b - - 0 1



Endgame of the Week (416)
This is a won game for White.
How does he win if it's Black's move?
How does he win if it's White's move?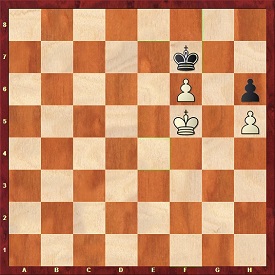 8/5k2/5P1p/5K1P/8/8/8/8 w - - 0 1



___________
Solutions Update
Problem 1 - White To Play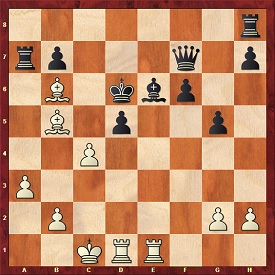 7r/rp3q1p/1B1kbp2/1B1p2p1/2P5/P7/1P4PP/2KRR3 w - - 0 1


White's 2 bishops combine to cut off the Black king's escape:
1.Rxd5+ Ke7
2.Bc5#
Update:
Also possible is
1. Rxd5+ Bxd5
2.c5#
Thanks to Jeff Lebowski and Off the reservation.

Problem 2 - Black To Play

k1r4r/pppRQqpp/5p2/8/2P5/1P3P2/P4PPP/4K2R b K - 0 1


Yes, it does matter. If 1...Rce8, White can wiggle out of the pin with 2.Rd8+! (deflecting Black's rook), which was pinning the white queen:
1...Rce8
2.Rd8+ Rxd8
3.Qxf7
So using the 'h' rook is the better choice:
1...Rhe8
2.Qxe8 Rxe8+
3.Kf1 Qxd7

Problem 3 - White To Play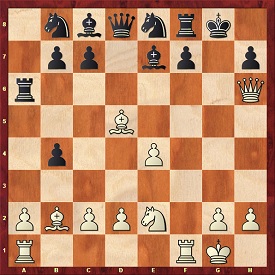 1nbqnrk1/1pp1bp1p/r6Q/3B4/1p2P3/8/PBPPN1PP/R4RK1 w - - 0 1



1.Qxf8+! Kxf8
If 1...Bxf8 White mates immediately with 2.Bxf7#
2. Rxf7+ Kg8
3. Rg7+ Kf8
4. Rg8#
Or 3...Kh8 4. Rg8#
So with proper play by Black, White will have to settle for a mate in 4.

Problem 4 - Black To Play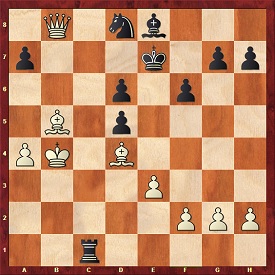 1Q1nb3/p3k1pp/3p1p2/1B1p4/PK1B4/4P3/5PPP/2r5 b - - 0 1


1...Nc6+
2.Bxc6 Rb1+
3.Ka5 Rxb8
This is the main line. Black skewers the White queen, and is now up the exchange. However, White isn't forced to take the knight on move 2, but if he doesn't, the result is a bit worse.
2.Ka3 Nxb8
3.Bxa7 Bxb5
4.axb5 Nd7
In this line, White is down an entire Rook. So it's best to let the queen skewer go through.

Endgame of the Week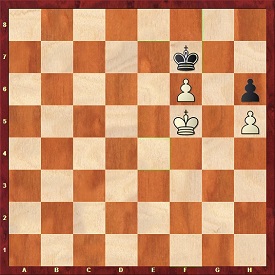 8/5k2/5P1p/5K1P/8/8/8/8 w - - 0 1


The answer to the question "whose move is it?" is very important in the endgames. Sometimes you get a position that would be completely awesome and you can win it easily - if only it were the other guy's move, because then he'd have to retreat, or do something equally disadvantageous.
Of course, we all know the word for this, when it's your move, but you really don't want to me because any move you make will fatally destablize your position: zugswang.
This is one of those positions.
First, with White to move, he won't be able to directly march his king up and force Black out. If he tries that, it'll be stalemate:
1.Ke5 Kf8
2.Ke6 Ke8
3.f7+ Kf8
4.Kf6 stalemate

If Black moves first:
1...Kf8
2.Kg6 Kg8
3.Kxh6 Kf7
4.Kg5
White should not be hasty with 4.Kh7 Kxf6 and now he won't be able to move his king off of the 'h' file to make room for his pawn to queen.
4...Kf8
5.Kg6 Ke8
6.f7+ Ke7
7.h6 Ke6
8.f8=Q and wins
So, given that it's a win for White if it's Black's move, can White force this same starting position, only have it be Black's move?
Yes, he can, and this is how he does it:
1.Ke5 Kf8
2.Ke4
So White doesn't advance his king just yet. He has to bide his time, and now it's Black's move:
2...Ke8
Black must also bide his time. Wrong is 2...Kf7 because 3.Kf5 and now White has achieved his objective: it is now Black's move, and it's the starting position.
3.Kf4 Kf8
Still biding...
4.Ke5 Kf7
And now Black must bring his king up to prevent the incursion: 4...Ke8 5.Ke6 Kf8 6.f7 Kg7 7.Ke7
5.Kf5
But now, we're back at the starting position, and would you look at that, it's Black's move. So now he has to back off, and White can push forward:
5...Kf8
6.Kg6 Kg8
7.Kxh6 Kf7
8.Kg5 Kf8
9.Kg6 Ke8
10.f7+ Kd7
11.f8=Q and wins
White's method of forcing the position with Black to move is called "triangulaton", because White must move his King in a triangular pattern to lose the tempo. Sometimes in endgames between grandmasters, you see both players making seemingly aimless king moves, but what they're doing is trying to jockey for the position and the tempo that is most favorable.
Hope to see you all next week!

___________
Note: that cryptic line of letters and numbers you see underneath each board diagram is a representation of the position in what is known as "Forsyth-Edwards Notation", or F.E.N. It's actually readable by humans. Most computer applications nowadays can read FEN, so those of you who may want to study the position, you can copy the line of FEN and paste into your chess app and it should automatically recreate the position on its display board. Or, Windows users can just "triple click" on it and the entire line will be highlighted so you can copy and past it into your chess app.
___________
So that about wraps it up for this week. Chess thread tips, suggestions, bribes, rumors, threats, and insults may be sent to my yahoo address: OregonMuse little-a-in-a-circle yahoo dott com.


posted by OregonMuse at
05:00 PM
|
Access Comments