« "Unprecedented" Number of Migrants Leaving United States for the Safety of Canada
|
Main
|
Wednesday Night ONT: I'm Back! »
February 22, 2017
A Post That is Both Genuine & Credible (MJ)
A few years ago I attended a two week training class for executive development that centered on statistics and also the softer skills that are necessary to be successful in a global corporate world. Most of the sessions were related to math, stats and running big ass, soon to be over budget projects, but in addition, the Director of the American Shakespeare company in Prague flew in to help the group loosen up a little--like regular people. You'd be surprised at what tight ass phonies most executards are. Oh wait, no you wouldn't. It's every bit as bad as you can imagine.

So imagine a group of execudorks doing acting exercises in an attempt to be more relatable--silently laying on the floor with your eyes closed to just...be, taking giant deep breaths and sighing to release the tension, having the group tear apart your presentation and rate your body language as you fidget or squirm, standing across from a partner and looking them in the eyes while you compliment them on...something.
At one point the group had to list out a bunch of great actors coupled with their less accomplished brethren to flush out a core lesson. Jack Nicholson--great actor. Elizabeth Berkley--not so much. It was really trippy and weird and many of the execugeeks couldn't break character--or they really are boring, soulless automatons. You decide which is true.
It took a few weeks to settle in but the lesson of the good/bad actor finally settled in. The instructor, Guy, went on to talk about what makes actors great--they are both genuine and credible. Jake Gyllenhall might be a pretty good actor but there is no way on this godly earth he could pull off Colonel Jessup. It takes a Jack Nicholson to do that.
So I started applying this very simple lifehack to politics and used it to figure out who would win each little skirmish occupying endless loops on cable. It's not always right but in personal contests it's a good indicator of who will come out on top.
Would Obama beat Romney? Yep, he sure would because Romney simply wasn't genuine while Obama was both genuine and credible as President. Would Assad fire off a few gas bombs in an effort to win his civil war? Yep' he was gonna because Obama isn't credible as a guy who draws red lines and it was obvious that he didn't give a rat's ass about Syria. ESPN, baby. The second replay of SportsCenter isn't going to watch itself.
To test the theory I put together this chart to see if each President since Ike possessed both qualities going in. Surprisingly, there were/are Presidents that don't have both qualities.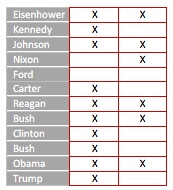 So how did they win? How is it possible that they could become President without being both genuine and credible? Simple: when compared to their opponents, they were both more genuine and credible or the one trait they could claim as their own outweighed the one they lost.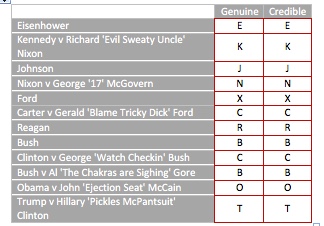 You could quibble with a few of the assumptions but there are some that simply aren't debatable.
1. Eisenhower. Supreme Allied Commander. 'Nuff said.
2. Johnson could have beaten almost anyone in 64. Living embodiment of a recently assassinated President.
3. Reagan was the real deal.
4. Bush represented the continued Presidency of Reagan' who was truly transformative.

Was Trump more credible than Clinton? I'm not really sure about that. He was certainly more genuine but there was an impression that she could be President, it just wasn't worth it to put someone so disingenuous in the Oval Office. America chose to roll the dice. Trump wins.
Was Gore more credible than Bush? I'd say they were about even, but Bush was so much more genuine that it didn't matter. Close ass election.
You get the point. It's a fun thought experiment based on what I'm convinced are the only two characteristics that matter. If you're honest with yourself about who is more genuine or credible, you'll be able to bypass the bullshit polls, the daily horserace, and just enjoy the pure spectacle of an election or political fight. And besides, you've only seen the rerun of That 70's Show where Eric pulls down Donna's pants during a basketball game three times. It won't watch itself.

posted by Open Blogger at
08:30 PM
|
Access Comments