« People Who Butcher History Are Doomed To Be...Uh...Stupid
|
Main
|
Ace of Spades Pet Thread »
February 25, 2017
Saturday Gardening Thread: Gearing Up [KT]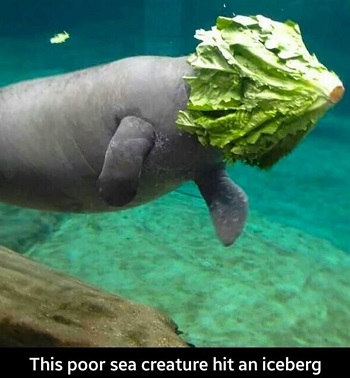 Or, "That manatee was master of his Romaine"
Hello, Horde! Gardening and farming are really gearing up in the Central Valley now. And there are big things going on in a few other parts of the country, too. It's still a tough month for gardening in most of the country, though. Here's a Regional Gardening Guide for February. Spring will arrive. There's a pretty photo of grape hyacinths in the snow at the link.
Lettuce visit Yuma, Arizona today for a preview of spring. Winter lettuce harvest is underway. Weather may impact lettuce supplies across the country sometime in March or April. They have had a warmer and wetter than normal winter in Yuma, and some issues with mildew. And the Salinas Valley in California has been hit hard by flood conditions in the fields. I think the coordination of the lettuce harvest between the two growing areas is interesting. Something we don't usually think about when picking up produce at the supermarket.

"Yuma will end ahead of schedule and Salinas will start behind schedule. We are anticipating a gap in production," Antle said. The harvest is split between April through November in Salinas Valley and the remainder in Yuma County, AZ.

Yuma, nicknamed the "winter vegetable capitol of the world," is known for year-round sunny weather, but the region has also seen a warmer than usual winter.

Tim York, president of Markon a Salinas-based coop that provides, delivers and markets fresh produce, said the impact will likely be a seven to 10-day production gap. Growers can either "harvest Salinas earlier or hang on in Yuma a little longer and stretch it out," he said.

York said the next 45 days are critical for a more accurate picture on industry impact.
This video shows how the lettuce harvest is supposed to go in Yuma.
Anybody got a good recipe for Hearts of Romaine salad? Do you have lettuce started in your garden or on a windowsill? I'm partial to romaine, though I like some of the butter lettuces, too. Loved "Tom Thumb" growing up. With a little vinegar and salt, right in the garden. Do you have a favorite variety?
They harvest lettuce seed in summer near our house. By hand. Last summer it was a very dark-leaved cultivar. It may have been the same one that grew all over our yard one winter after a friend spread chaff from seed processing over the garden. Lettuce is definitely a cool-season crop here if you want to eat it rather than gather seeds.
Tractors
To grow a field of lettuce like the one above, you need some big equipment. I didn't go to the World Ag Expo in Tulare, California this year, but I heard a few reports, some of them about advances in tractor design in recent years. And about how much easier they are to operate than tractors in days of yore. They start farmers young there.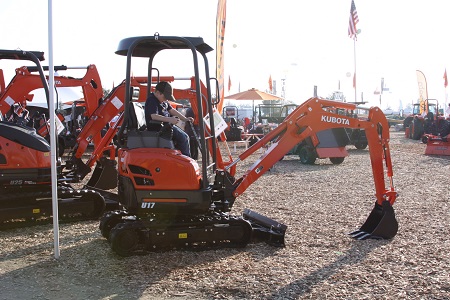 Child Labor?
Not Child Labor
Thinking about getting a farm grant, like Weasel? Why not think big? What to check for if you are in the market for a used crawler tractor. Don't you think it would be fun to drive one?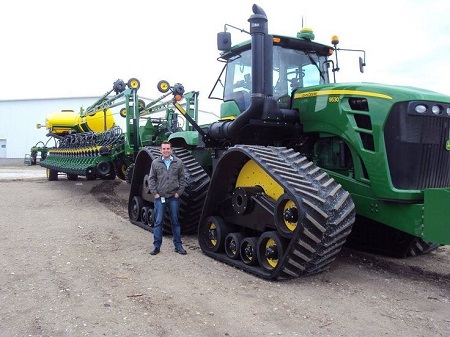 Love big machines?
Antique tractors still have their admirers, too. Below is an old steam tractor in a show in Illinois. From the owner of the tractor:
We run at 150 psi. The Engine weighs around 42500 lbs loaded with coal and water. Torque is 3000 ft lbs at 240 rpm. The sled was definitely weighted and i know from experience first hand that the engine can drag the sled with the weight box all the way up and the bars dropped. Don't worry about the fire hazard. What you see is a very exaggerated amount of burning embers coming from the smokestack. The sparks are created as a night spectacle for entertainment. Before this pull, sawdust was added to the firebox to enhance the night "spark show."

Having said that back in the day there was always a risk of fire. There was less of a risk during plowing season. The highest risk was during harvest when the steam engines returned to the fields to thresh (separate) the grain from their stalks, in typically dry fields. Weeks before the steam engines arrived the grain was cut and bundled by binders. These mechanized machines looked the front of modern "combines" but binders only cut and a bound the grain. . .

One day, I hope to make a video of these separate processes that are now preformed by a single combine. As for now, if you watch the movie "Of Mice and Men" with Gary Sinise and John Malkovich you can see threshing in action. . .
There are several additional videos featuring steam tractors and other steam-powered vehicles at Jay Leno's Garage. Maybe we shouldn't have whacked down our weeds this week. We could have used them to power a tractor! Renewable energy!
More Spring Bulbs!
Today seems like a good day to feature an additional wild bulb from Kindltot's native plant photos. This is the Camas Lily.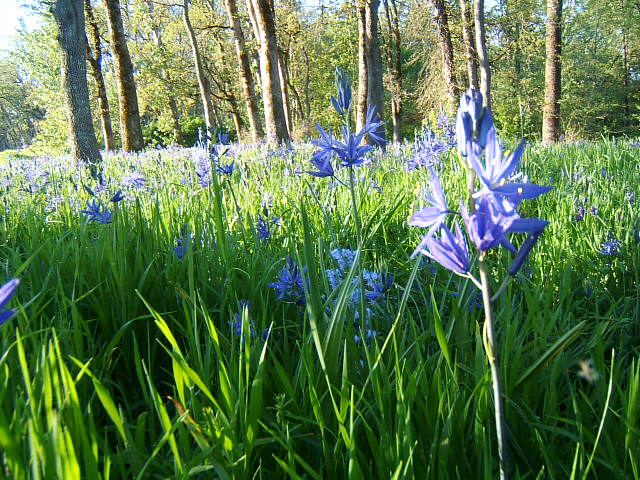 My books tell me that the pink fawn lily was used as a sometimes food source for coastal Indians, but the real food source for the Indians in this area was the Camas lily, Camassia quamash. The Lewis and Clark expedition mentioned when they came to patches of it under the trees it looked like expanses of water through the trees. If you go to the right places at the right time, like along Hwy 240 in Yamhill county you can see broad fields turned blue at the boggy parts. These shots are from Bush Park in Salem. Traditional rights to harvest certain plots were guarded jealously by the indians, since not harvesting those meadows would mean the groups would starve, and some of the early serious disputes between the settlers and the Indians in The Dalles area was over settlers setting their pigs on the Indians camas fields.

The bulb is edible, and rather sweet, but they had to be steamed black to convert the inulin sugars that give you gas

The bulbs themselves are easy to transplant, but I am told it is hard to get them to reseed. There are a number of nurseries that sell these bulbs mail order.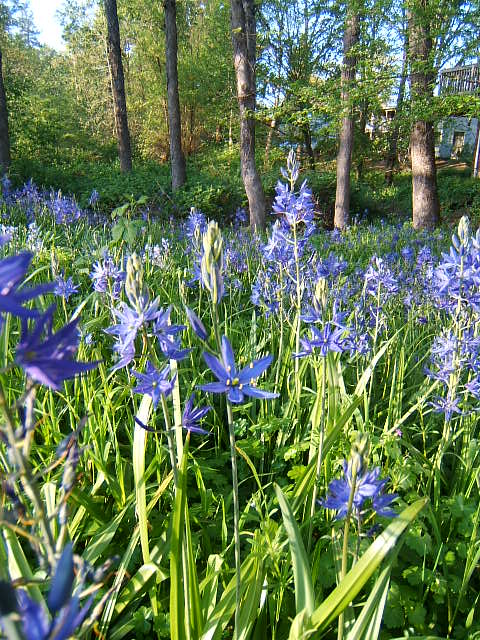 Thanks for the beautiful photos and the information, Kindltot. The list of bulbs that will grow in boggy soil is not a long one. The list of edible flower bulbs is not a long one, either.
I think those camas lillies would look beautiful in the garden with one of the daintier narcissus varieties blooming on a little higher ground. These are Narcissus 'Trevithian' blooming with Leucojum aestivum in the foreground. Trevithian is one of the fragrant selections of Narcissus Division Seven, the Jonquilla Daffodils (Jonquils). Several examples in different colors, blooming at different seasons, are shown at the link. Many jonquils are popular in milder-winter areas where they may naturalize more readily than some other types of narcissus.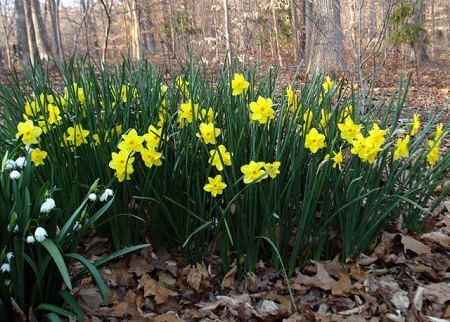 Anybody got daffodils or jonquils blooming? Other bulbs?
For something more dramatic, how about some Crown Imperial?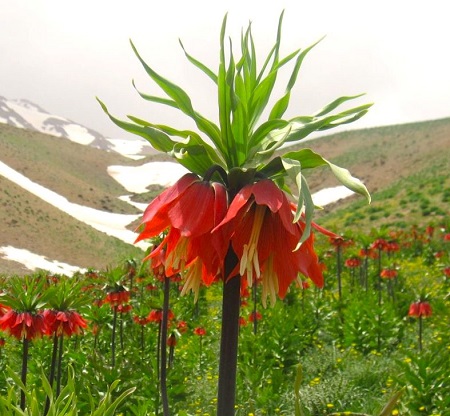 These plants are said to have a skunky or foxy odor that repels mice. Unusual flower. The Royal Horticultural Society was the only site I saw that recommended companion plants. Foxtail lilies might be a nice partner. Both plants need excellent drainage. Crown Imperial is sometimes planted on its side to keep water from invading the bulb from the stem end.
Gardens of The Horde
Well, well, well. Ace has taken up gardening with his purchase of jars and seeds to grow broccoli sprouts! Next thing you know, he'll be doing some sunflower shoots or (shudder) wheatgrass for juice. Then, it could be microgreens. Or we could read that he's been out foraging chickweed in the park. Any tips for our Fearless Leader?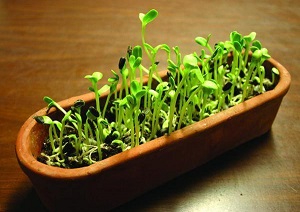 How about some nice sunflower shoots, Ace?
Earlier this month, Kristen in Kentucky asked for some tips on plants up to the 3 or 4 foot range to attract butterflies and hummingbirds to her new yard. She is also interested in growing heritage flowers.
There are several sages that would fit her criteria. As an annual filler the first year, I would recommend Salvia coccinea (Scarlet Sage). It can persist as a perennial in Zones 8 - 10, but probably not in Zone 6 Kentucky. The species grows from 2 to 4 feet tall, though several popular cultivars are shorter. It is cheap and easy to find in stores, ready to bloom. I like the bicolor pink and white ones.
Any other suggestions for her?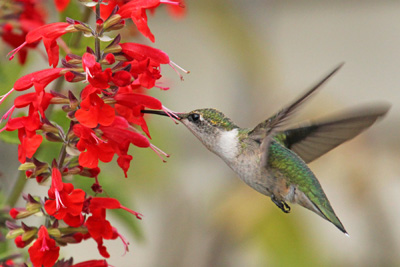 Salvia coccinea with a rubythroat
Have a great week.


posted by Open Blogger at
12:15 PM
|
Access Comments