« Thread below the Gardening Thread: Swamp Thing [KT]
|
Main
|
Three Step Process to School Girl Giggles (MJ) »
February 18, 2017
Saturday Gardening Thread: Something for everyone, I hope. [KT]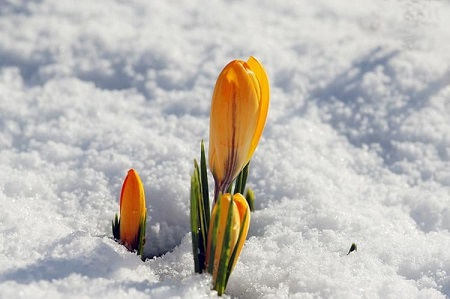 Hello, Horde! We are still having some weather in the country, aren't we? Hope your garden is doing O.K. Anybody have something wonderful to report?
For members of The Horde starting to see a thaw:
Here's a pretty thorough rundown on common species and cultivars of crocus. There are other bulbs that bloom through the snow, but crocuses are my personal favorite. Are you partial to a different "snowmelt bulb"?
Snowmelt bulbs are normally found in the mountains of Europe. Their characteristic is that they start bloom when there still snow nearby. In fact, they sometimes bloom right through the snow. As I speak, the snow banks in my yard are melting back towards the shadier spots, and as they retreat, flowers spring up. Not a few weeks later, or a few days later, but the same day, literally an hour or so after the snow melts. It's as if the flowers were pushing the snow back, forcing it to retreat.

How is that even possible? How can you go from ice to bloom in just minutes? . . .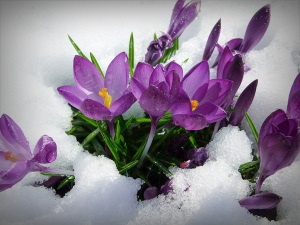 Crocus tommassinianus
For mild-winter and indoor gardeners
I like the Canadian blog linked just above. Here's a nice beginner's guide to starting seeds indoors. The most recent post is on the Burro's Tail Sedum, which, surprisingly, has been recently seen in the wild for the very first time. Can you identify its companion plants?
I recently received a link to photos of the Obamas chilling in the Caribbean, but I didn't have the heart to post any of them. Now that the Obamas have taken their chillin' effect elsewhere, it should be a little warmer. Some of us might want to visit the Caribbean. All of the plants below should do well there. And with frost protection, in warmer-winter parts of the USA. Or indoors.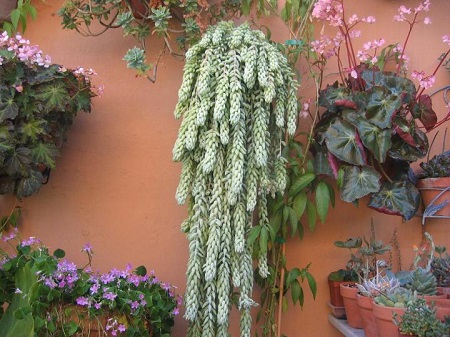 Sedum 'Burro's Tail' has two impostors, Sedum burrito and X sedeveria. I kinda like the name "Sedum burrito".
On the subject of the Caribbean, some people might be surprised to find plants suited to arid, salty conditions there. I have heard of some you might not want to touch, but I don't recall the details right now. Here are some dryland plants in the Caribbean.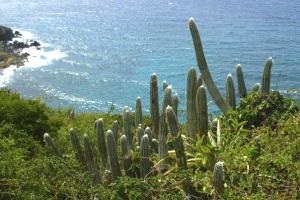 Anybody still facing drought?
Insty has linked a piece on the mild exaggerations which are "part and parcel of English language humor." Here's an example. Heard any other good ones lately?
I was in an airport in southeastern Iowa waiting for a passenger to arrive and a storm line to depart. Several older gents, farmers active and retired, had gathered to drain the coffee pot and pass the time of day. "Well, I knew it's been dry but I didn't know how dry," a voice stated.

I pricked my ears, sensing a great story in the offing.

"Couple of nights back, I was locking up and heard the dogs barking down by the sweet corn patch. I went that way and heard rustling. Do you know what I saw?" Dramatic pause.

"What?"

"It's been so dry, the raccoons had formed a bucket brigade and were watering the sweet corn!"
Still icy where you are?
Caught out in the cold? You could make a Swedish Torch, or Canadian Candle.
And here are some tips on How to start a gas snow blower in any weather.
'
Power out due to wind?
If there are broken branches around town like there are here, you could make a Dakota Fire Hole for a "semi-stealthy" cooking fire. Right in your own back yard. It is also recommended for cooking away from a campground, in order to avoid attracting bears to the camp.
Gardens of The Horde
The 50th Annual Ag Expo is over, and I am hearing stories about what it is like to drive a massive "crawler" tractor. Maybe I can find some photos of interesting farming equipment for next week.
The latest "atmospheric river" to hit California seems to have brought more wind than rain to our area. Tree branches everywhere. A few overturned vehicles. One man electrocuted. Power out in half of our town. At our house, it blew over a pot of baby broccoli. Ravaged the new little blossoms on our Flavor Delight Aprium and Arctic Star Nectarine. And the rain makes conditions ideal for brown rot blossom blight. Time to get out the copper spray.
Could have been worse here. What's happening in your garden?

posted by Open Blogger at
12:36 PM
|
Access Comments