« The Morning Report 2/14/17
|
Main
|
Quick Insomnia Update Plus Flynn's Resignation and Why I'm Reasonably Happy About It »
February 14, 2017
Mid-Morning Open Thread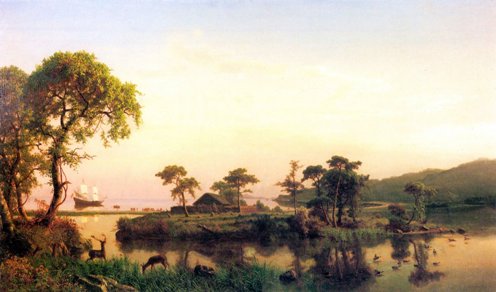 Bartholomew Gosnold at Cuttyhunk
Albert Bierstadt
Cuttyhunk is an island, and Gosnold is its town. Populated by angry, brutish Red Sox fans, they are kept from the slightly less brutish mainland by their inability to form coherent sentences and not being able to swim, like all good whalers.
Just kidding. The painting is at the New Bedford Whaling Museum, so one could assume that this island and possibly its small population had some relationship to the whaling industry. Judging by the idyllic description, Bierstadt may have taken some liberties, but Bartholomew Gosnold led the first expedition to Cape Cod. And why did he go? Syphilis.
In this early view of the island of Cuttyhunk a tranquil landscape is depicted with a focus on the natural life with trees, four deer, a rock partially submerged, and three turtles in the left foreground. On the right is a flock of ducks moving in the water and grass. Reflections in the water draw the eye to a small island on which stands a log cabin with a thostaed roof, and fence. A beach is beyond and a three masted ship, with a British flag and eight figures on board is seen in the distance. A party of Englishmen are on shore greeting a party of Indians.
He was looking for Sassafras, considered to be a possible treatment or cure for syphilis.


posted by CBD at
09:45 AM
|
Access Comments