« Why Was Molly DeVos At Jefferson Middle School?
|
Main
|
The Vicious, Hateful, Racist, Misogynistic, Classist, Nationalistic Voter ID....And Open Thread »
February 12, 2017
Food Thread: Chicken Murder, Potatoes And Booze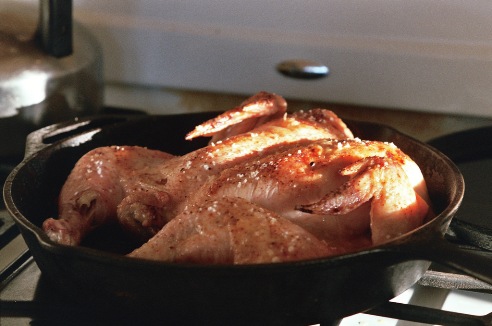 A few weeks ago I mentioned that I had subverted the dominant paradigm of chicken roasting and tried, instead of the usual high-heat method, something a bit different. And it worked, but no better than my usual method. Never one to be deterred by...you know...evidence, I tried another non-standard technique, because I am all about FIGHTING THE POWER!
America's Test Kitchen sends me regular e-mails with their videos and equipment reviews and such. Nothing earth-shattering, and their business plan is a bit irritating. One has to pay to see some of the written recipes and reviews, but the videos are free. And now that Chris Kimball is no longer the face of the company, I am less amused by their videos...
But they had an interesting recipe for roast chicken that required a preheated cast-iron pan and a Horde favorite spatchcocked chicken! So off to the poultry farm I went.
[Insert gruesome photo of defenseless chicken being slaughtered by man with hostaet]

But....mass-market chickens can be a bit scrawny, and that's one reason why I drive the extra few minutes to Goffle Road Poultry Farm, and so should you. Well, not this one in particular, but if you have a source for high quality fresh-killed poultry, give it a try. One of the differences is the thickness of the legs and thighs, which as you all know is the best part of the chicken. Breasts are wonderful things, but on chickens they are boring, unless covered in some yummy sauce or stuffed with cheese and ham.
To make a long and tedious story slightly shorter, the robust and meaty chicken I picked up didn't fit nicely into the cast-iron skillet. The preheated 500° skillet that was itching to burn the hell out of me. The recipe called for spatchcocking, then salting, and then a nice rubdown with a bit of olive oil. What it should have called for was a few seconds between two cutting boards and some elbow grease. Next time I will pound the chicken, or compress it more than usual, so there is maximum skin contact with the hot pan.
450° for 30 minutes, then another 10-15 minutes after flipping the chicken to skin-side up and dressing it with a garlic-rosemary-olive oil mixture. Take it out, let it rest, and serve. I made a pan sauce by deglazing with white wine and lemon juice, then finishing with butter, but that is definitely optional.
It's an easy recipe, and worth adding to your rotation.

******
Does anyone cook foods appropriate for holidays that we don't normally associate with food? Artisanal 'ette does!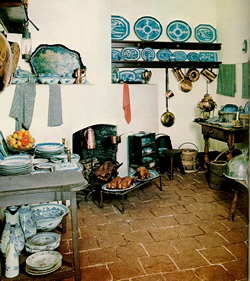 I was looking stuff up to make this week for Washington's Birthday. My mother always makes a cherry pie in remembrance, but I wanted to see what was out there.

George Washington's Favorite Foods
(nice picture of the kitchen at Mt. Vernon, and some links to is favorite recipes, like Hoe Cakes)

George Washington was extremely fond of fish, served in many ways. He ate it almost daily, often at breakfast with the Hoe Cakes he loved. Hoe Cakes, (originally having been baked on a hoe that had been heated in a fire,) are basically a pancake made with corn instead of wheat flour. The original ones that Washington would have eaten were leavened with yeast. The recipe I have provided here used baking powder. He ate them with melted butter and honey.

Favorites of his that appeared on the Mount Vernon table frequently were Mashed Sweet Potatoes, String Beans with Almonds, Steak and Kidney Pie, and Fish Muddle. Favorite desserts were Tipsy Cake, also known as Trifle, and Martha Washington's Whisky Cake . He was very fond of Porter, a dark ale, but Madera and Wine were usually present at the table as well. He loved pickles and other condiments, particularly Mushroom Catsup. And as mentioned in the beginning, he loved cherries, in any form but particularly Cherry Pie. Like in England, pies were a favorite food on the early American table, both sweet and savory.
Here are a few more of her links....
American presidents' food favorites
Hoecakes!
George Washington's Thursday Suppers
Lunch With Libby: A Founding Father's Favorite Food. And a more modern version of hoecakes.

******
J. Kenji López-Alt over at Serious Eats has a bit too much of the hipster aesthetic for my taste. I picture him with wry facial hair and a "Eat Local Or Die" t-shirt. But the guy has very few preconceived notions about cooking, and his techniqes are almost always interesting. Here, his modestly titled recipe for crispy potatoes sounds like fun.
The Best Roast Potatoes Ever Recipe
uses a parboil with sodium bicarbonate (baking soda) to increase the pH of the water slightly and break down the skin of the potatoes, which, according to Mr. Hipster increases surface area and starch, which then makes crisping the potatoes in fat very productive.
Yeah...I'll reserve judgement on why it works, and simply eat the crispy potatoes. As a very smart man once said:
"It doesn't matter how beautiful your theory is, it doesn't matter how smart you are. If it doesn't agree with experiment, it's wrong."
-- Richard Feynman
******
For whatever reason this recipe reminds me of my childhood. I grew up eating a fair amount of weird and gross shit (calves brains anyone? How about tripe?), but this one sounds very nice. I haven't made it, but I am a big fan of cooking with mustard, so it will be on the top of the pile of recipes to try.
Dijon and Cognac Beef Stew
******
Scones. I love them. But I haven't found a great recipe. The one I use is very good, but the scones are just a bit crumbly for my taste. Not dry...the copious quantities of butter and heavy cream make sure of that.
Anyone have a great recipe?

******
Cocktails are cooking that requires both precision and knowledge of one's ingredients. That's why good bartenders are tough to find....
Here are two classic drinks from my favorite bartender, who has alas, moved on to a much less respectable profession. Yeah, I'm pissed.
Old Fashioned


3 ounces Bulleit Rye

1/2 ounce Maraschino Liquor

1/2 ounce brown sugar simple syrup (1:1)

2 dashes Angostura Bitters

2 dashes orange bitters
Stir in shaker with ice for 20 seconds.
Serve over large ice cube in rocks glass with Orange twist and black cherry garnish
Martini


3 ounces excellent gin

1.5 ounces Carpano Bianco Vermouth

2 dashes orange bitters
Shake with ice for 20 seconds.
Strain into Martini glass with lemon twist

posted by CBD at
04:05 PM
|
Access Comments