« Ace of Spades Pet Thread
|
Main
|
Pat Condell Tells It Like It Is In Europe, And How It Could Be In America With Open Borders »
February 11, 2017
Saturday Afternoon Chess/Open Thread 02-11-2017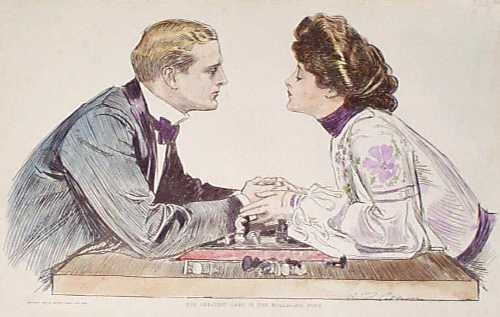 (I've forgotten where I got the pic from, but I thought it would a fitting one for Valentine's Day this coming Tuesday.)
Good afternoon morons and moronettes, and welcome to the Saturday Afternoon Chess/Open Thread, the only AoSHQ thread with content specifically for all of us chess nerds who pay homage in the temple of Caïssa, goddess of the chessboard. And, for those of you who aren't nerdly enough for chess, you can use this thread to talk about checkers, or other games, or politics, or whatever you wish, only please try to keep it civil. Nobody wants to get in the middle of a hockey brawl on a Saturday afternoon. Except maybe hockey fans.
"That's what Chess is all about. One day you give your opponent a lesson, the next day he gives you one"
--Bobby Fischer

Problem 1 - White To Play (BWTC 35)
Hint: White mates in 3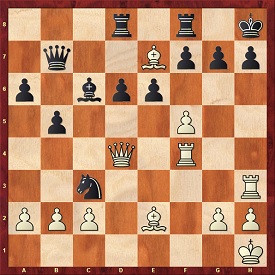 3r1r1k/1q2Bppp/p1bpp3/1p3P2/3Q1R2/2n4R/PPP1B1PP/7K w - - 0 1


Problem 2 - White To Play (395)
This one was sent to me by one of you morons from one his games. He tells me Black just took the pawn on d4. He immediately recaptured, but as it turned out, there was a better move. What move would result in a better line of play?
Hint: White wins the exchange

1r1q1k1r/4pp1p/p1p3p1/2Np1n2/3b4/1P2BQ1P/P1P2PP1/R4RK1 w - - 0 16


I encourage all of you morons to send me positions from you games that you think might make a good puzzle. And if I like it, I'll use it.

Early Fischer
So the United States Chess Federation has digitized a large number of back issues of its flagship magazine Chess Life (also Chess Review, and also the issues when it was merged as Chess Life & Review) as pdf documents onto a 2 DVD set collection and made it avaiable for purchase. The collection spans the years 1946 to 1975 and sells for $39.95. I was able to use some membership discounts to get the price down a bit, and have spent some time perusing the issues. The quality of the pdf scans are kind of meh, but they're at least readable and they provide a fascinating glimpse into American chess history.
And much of it is downright depressing
It's depressing to see how thin the American chess "scene" was, especially back in the early 50s. Chess Life published the ratings list every year, and back in those days, the complete list of U.S. players actively involved in tournament chess down to the 'C' level took up maybe 6 or 7 pages at most. With the departure of Reuben Fine from chess in 1950, the United States only had one active International Grandmaster, Sammy Reshevsky. Larry Evans, Donald and Robert Byrne, Arthur Bisguier, Isaac Kashdan and other famous names were present, but only as national-level masters and senior masters.
And where was Bobby Fischer?
Short answer: not quite there yet.
Bobby was born in 1943. But he really wasn't a child prodigy as such. It wasn't until he was about 12 or 13 that he began kicking serious butt. His first chess teacher Carmine Nigro, first noticed him at a simultaneous exhibition in Brooklyn when Fischer was 8 years old. Bobby was crushingly defeated and burst into tears.
Fischer admitted to being crushed, or at least losing, but denied the tears.
The first time Fischer shows up in the Chess Life ratings list is 1956, and his rating is given as 1726. This seems oddly low, because 1956 was also the year he played The Game of the Century against Donald Byrne, the game where he pulled off an awesome queen sac. So obviously, he had already started his rapid ascent and so the 1726 rating at that point had to have been very old news.
The following year, 1957, Fischer's rating was 2231, and in 1958, 2626, kaboom, grandmaster. He was 15, the youngest grandmaster in chess history (at that time). He was finally reaping the rewards of his previous years of hard work.

Problem 3 - White To Play (396)
Hint: White wins material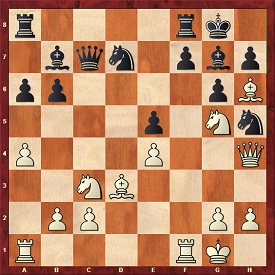 r4rk1/1bqn1pbp/pp4pB/4p1Nn/P3P2Q/2NB4/1PP3PP/R4RK1 w - - 0 1



Problem 4 - White To Play (397)
Hint: White mates in 5
Here is a position from one of my recent games: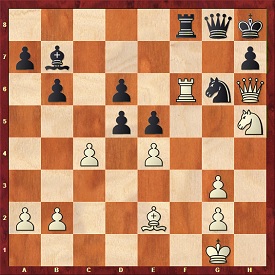 5rqk/pb5p/1p1p1RnQ/3pp2N/2P1P3/6P1/PP2B1P1/6K1 w - - 0 29
After 28...Rf8


Machine Bites Man
One of the cobs reminded me that it was this week, 21 years ago, that a computer first defeated a reigning world champion under normal tournament conditions. This was game 1 of the first Kasparov vs. Deep Blue match, played on Feb. 10, 1996. Garry would go on to win the match by a score of 4-2. He would lose the controversy-clogged rematch a year later.
Kasparov's book on the subject, Deep Thinking: Where Machine Intelligence Ends and Human Creativity Begins, will be release later this year (May).
In this breakthrough book, Kasparov tells his side of the story of Deep Blue for the first time-what it was like to strategize against an implacable, untiring opponent-the mistakes he made and the reasons the odds were against him. But more than that, he tells his story of AI more generally, and how he's evolved to embrace it, taking part in an urgent debate with philosophers worried about human values, programmers creating self-learning neural networks, and engineers of cutting edge robotics. He surveys the serious questions facing a world that is becoming increasingly reliant on AI, creating an essential guide for the business readers and educators he speaks to by the thousands every year.
In a podcast late last year, Kasparov said:
While writing the book I did a lot of research – analyzing the games with modern computers, also soul-searching – and I changed my conclusions. I am not writing any love letters to IBM, but my respect for the Deep Blue team went up, and my opinion of my own play, and Deep Blue's play, went down. Today you can buy a chess engine for your laptop that will beat Deep Blue quite easily.

Endgame of the Week - White To Play (398 )
Another basic endgame.
Hint: White can force a stalemate

8/8/p7/8/8/6k1/P5p1/6K1 w - - 0 1


___________
Solutions Update
Problem 1 - White To Play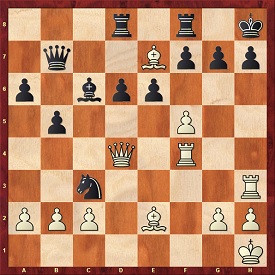 3r1r1k/1q2Bppp/p1bpp3/1p3P2/3Q1R2/2n4R/PPP1B1PP/7K w - - 0 1


All moves are forced. The decision tree for this problem is basically a stick with no branches.
1.Qxg7+ Kxg7
2.Rg4+ Kh8
3.Bf6#

Problem 2 - White To Play

1r1q1k1r/4pp1p/p1p3p1/2Np1n2/3b4/1P2BQ1P/P1P2PP1/R4RK1 w - - 0 16


16.Ne6+! fxe6
The only way to bust up the knight fork.
17.Bxd4 Kg8 If 17...Rg8 then 18.g4 pinning the knight.
18.Be5 c5
19.Rae1 Rc8
20.Bxh8 Kxh8
White wins the exchange.
21.Rxe6 Nd4
22.Qc3 Kg8
And White should go on to win.

Problem 3 - White To Play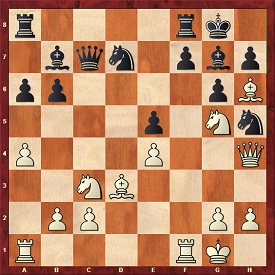 r4rk1/1bqn1pbp/pp4pB/4p1Nn/P3P2Q/2NB4/1PP3PP/R4RK1 w - - 0 1


1.Bxg7 Kxg7
There is really no avoiding the recapture. But not 1...Nxg7?? because of 2.Qxh7#
2.Rxf7+ Rxf7
Again, pretty much forced. The alternative is worse: 2...Kh8 3.Rxh7+ Kg8 4.Ne6 Qd6 5.Rg7+ Kh8 6.Rxg6 and Black's position is pretty much shot. But now:
3.Ne6+
Knight fork for the win!

Problem 4 - White To Play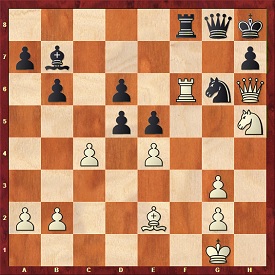 5rqk/pb5p/1p1p1RnQ/3pp2N/2P1P3/6P1/PP2B1P1/6K1 w - - 0 29
After 28...Rf8

The game actually concluded like this:
29.Rxg6 Qxg6
30.Qxf8+ and Black resigned here, but it would have continued:
30...Qg8
31.Qf6+ Qg7
32.Qxg7#
Against my chess app I played:
29.Rxg6 Qf7
30.Rf6 Qxf6
31.Nxf6 Rf7
32.Nxh7 Kg8
33.Qg6+ Rg7
34.Nf6+ Kh8
35.Qe8+ Rg8
36.Qxg8#
Then I had the app play White:
29. Rxg6 Qf7
30. Rg7!!
I saw this move, but didn't think it would go anywhere, so I played 30.Rf6 (above) instead. But it's a killer move. There is no defense against Qxh7#, so the app just makes a series of spite checks until it runs out of pieces to throw away.
30...Qf2+
31. Kh2 Qg1+
32. Kxg1 Rf1+
33. Bxf1 dxe4
34. Qxh7#

Endgame of the Week - White To Play

8/8/p7/8/8/6k1/P5p1/6K1 w - - 0 1


1.a4!
It's all about the timing. If instead 1.a3 then 1...Kf3 2.a4 Kg3 3.a5 Kf3 and White must give way. What you need is this position only with Black's turn to move. 1.a4 will get you that.
1...Kf3
2.a5 Kg3
Stalemate. If faced with this position OTB, you'd have to work out the timing in your head before you made your first move.
Hope to see you all next week!
___________
Note: that cryptic line of letters and numbers you see underneath each board diagram is a representation of the position in what is known as "Forsyth-Edwards Notation", or F.E.N. It's actually readable by humans. Most computer applications nowadays can read FEN, so those of you who may want to study the position, you can copy the line of FEN and paste into your chess app and it should automatically recreate the position on its display board. Or, Windows users can just "triple click" on it and the entire line will be highlighted so you can copy and past it into your chess app.
___________
So that about wraps it up for this week. Chess thread tips, suggestions, bribes, rumors, threats, and insults may be sent to my yahoo address: OregonMuse little-a-in-a-circle yahoo dott co


posted by OregonMuse at
05:05 PM
|
Access Comments