« Ace of Spades Pet Thread
|
Main
|
The News In 4 Tweets »
February 04, 2017
Saturday Afternoon Chess/Open Thread 02-04-2017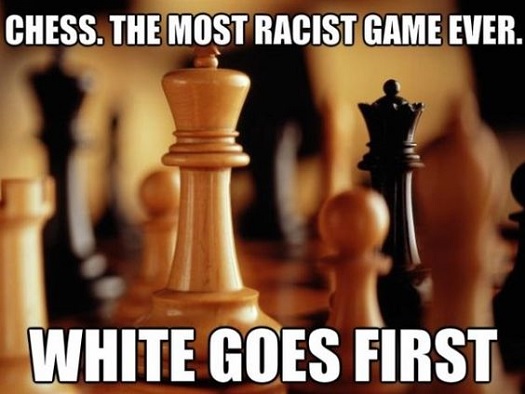 Of Course It Is
Good afternoon morons and moronettes, and welcome to the Saturday Afternoon Chess/Open Thread, the only AoSHQ thread with content specifically for all of us chess nerds who pay homage in the temple of Caïssa, goddess of the chessboard. And, for those of you who aren't nerdly enough for chess, you can use this thread to talk about checkers, or other games, or politics, or whatever you wish, only please try to keep it civil. Nobody wants to get in the middle of a conga line of bears on a Saturday afternoon. Unless that's the way you swing. And there's nothing wrong with that. Mostly.
"Of Chess it has been said that life is not long enough for it, but that is the fault of life, not Chess"
--William Ewart Napier

Problem 1 - Black To Play (394)
Hint: Black wins material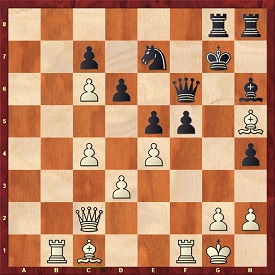 6rr/2p1n1k1/2Pp1q1b/4pp1B/2P1P2p/3P4/2Q3PP/1RB2RK1 b - - 0 1


Problem 2 - White To Play (BWTC 43)
Hint: mate in 3

r1bq1rk1/pp2np1p/2n2Bp1/3pp3/3R3Q/2P5/P1P2PPP/2K2BNR w - - 0 1



Go So!
American Grandmaster Wesley So is now ranked #2 in the world:
There is no end in sight for Wesley So's meteoric rise. Last weekend, he won the Tata Steel Masters section, winning a super-tournament ahead of the World Champion for the first time.
And he's got a pretty good win streak going:
In addition to winning one of the strongest tournaments of the year, Wesley So reached 56 games in his undefeated streak, gained 14 rating points, and reached a new peak live rating of 2822.

Because Fabiano Caruana suffered a loss to Nigel Short in the ongoing Gibraltar Open, this was enough to make So the clear number 2 in the world, within 16 points of Carlsen.
Here's the current Top 10 list: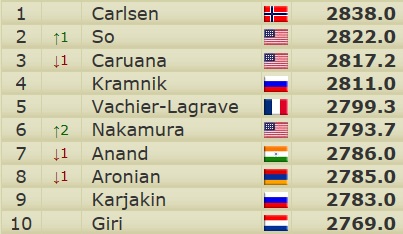 I wasn't aware that chess ratings were measured to the tenth of a point. This is the first time I've seen that.

Problem 3 - White To Play (136)
White can force a won position for himself by using this one weird trick.
Hint: Underpromote!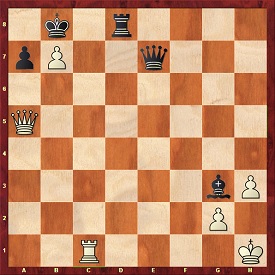 1k1r4/pP2q3/8/Q7/8/6bP/6P1/2R4K w - - 0 1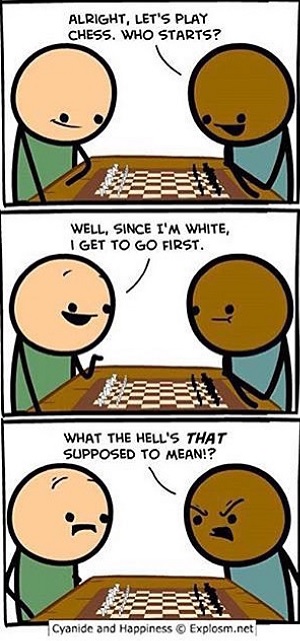 I wonder if you can make joke about chess being racist that doesn't mention anything about White moving first.

Problem 4 - White To Play (222)
Hint: White Mates in 5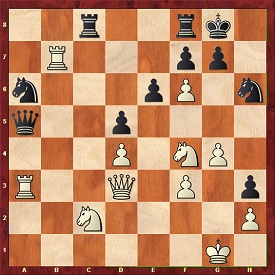 2r2rk1/1R3pp1/n3pP1n/q2p4/3P1NP1/R2Q1P1p/2N4P/6K1 w - - 0 1



Weird Tournament Pairings
Women's world champion Hou Yifan withrew from the final round of the Tradewise Gibraltar Chess Festival:
The world's top female chess player has given up her last game to protest being paired against mostly female players at a major tournament where male contestants outnumbered them.
Did she think they were doing it on purpose?
Tournament founder Brian Callaghan said he understood Hou's concerns, but said the pairings were "100 per cent correct."
In one of my tournaments years ago, I had to play Black 3 rounds in a row. Yeah, that was unpleasant, but what would have been the basis for lodging a complaint? I can't imagine that the tournament director had it in for me. Sometimes in the Swiss system where winners are paired with winners and losers with losers, the pairings just work out oddly. Plus, these days, the pairings are done by computer, which don't care which gender you are.
Which brings up another point; In competitive chess, there are only 2 genders. There are masters and grandmasters, and women masters and women grandmasters, and that's it. There's no bi-fluid gender-queer masters and mostly-female-but-sometimes-cis-male furry grandmasters. And they don't let men put on a dress and play in the women's section. It's always fun to watch progressive fantasies collide with reality. They lose every time.

Endgame of the Week (Endg. 191)
Nothing tricky here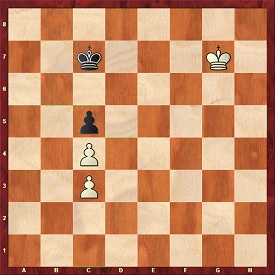 8/2k3K1/8/2p5/2P5/2P5/8/8 w - - 0 1



___________
Solutions Update
Problem 1 - Black To Play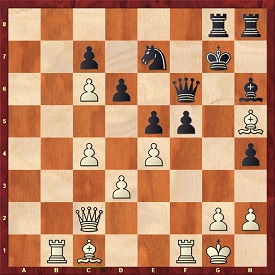 6rr/2p1n1k1/2Pp1q1b/4pp1B/2P1P2p/3P4/2Q3PP/1RB2RK1 b - - 0 1


1...Bxc1
2.Rbxc1
Or White could try to get cute with 2.Bg4, but 2...Bf4 maintains the lead in material.
2...Rxh5 and Black is up a bishop.

Problem 2 - White To Play

r1bq1rk1/pp2np1p/2n2Bp1/3pp3/3R3Q/2P5/P1P2PPP/2K2BNR w - - 0 1


1. Qxh7+!
This is no time to be shy. If 1.Qh6? (trying to set up Qg7#) then Nf5!
1...Kxh7
2.Rh4+ Kg8
3.Rh8#

Problem 3 - White To Play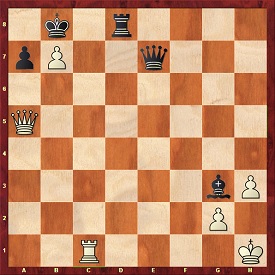 1k1r4/pP2q3/8/Q7/8/6bP/6P1/2R4K w - - 0 1


1. Rc8+ Rxc8
2. Qxa7+ Kxa7
3. bxc8=N+!
Did you see that one coming? Maybe you didn't. Just don't play 3.bxc8=Q? because 3...Qe1#.
3...Kb7
4. Nxe7 Kc7 and the two connected pawns ensure White's victory.
In fact, according to the Shredder Endgame Database Table, this position is a mate for White in 28 moves.

Problem 4 - White To Play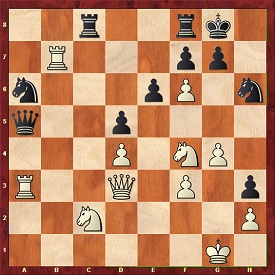 2r2rk1/1R3pp1/n3pP1n/q2p4/3P1NP1/R2Q1P1p/2N4P/6K1 w - - 0 1


This one's kind of tough because the first couple of moves aren't attacking (i.e. checking) moves:
1.Qg6!
Obviously the threat here is 2.Qg7#. White's queen is impervious to capture: 1...fxg6 2.Rxg7+ Kh8 3.Nxg6#. So Black must protect his 'g' pawn.
1...Nf5
2.gxf5
And now all Black can do is delay the inevitable.
2...Qe1+
3.Nxe1 fxg6
4.Rxg7+ Kh8
5.Nxg6#

Endgame of the Week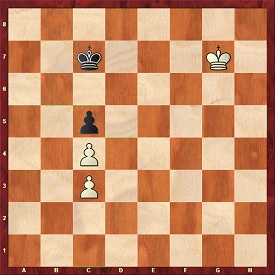 8/2k3K1/8/2p5/2P5/2P5/8/8 w - - 0 1


I don't think this one is particularly hard. The idea here is for White to use his king as a bully. First, the black king must be bullied away from his one remaining pawn. Then, he must be bullied away from the queening square.
There is not one unique solution to this problem, but most of them go something like this:
1.Kf6 Kd6
2.Kf5 Kc7
3.Ke5 Kc6
4.Ke6 Kc7
5.Kd5 Kb6
6.Kd6 Kb7
Step one is complete. White has successfully bullied Black away from his pawn.
7.Kxc5 Kc7
8.Kb5 Kb7
9.c5 Kc7
10.c6 Kc8
11.Kb6 Kd8
12.Kb7 and White has the queening square under his control.
11...Kd8 is the move my chess app chose. It isn't a move I would have made in this position. Not that mine is much better. But Black can hold out a while longer with
11...Kb8
12.c7+ Kc8
13.c4 Kd7
14.Kb7 and wins.
Hope to see you all next week!
___________
Note: that cryptic line of letters and numbers you see underneath each board diagram is a representation of the position in what is known as "Forsyth-Edwards Notation", or F.E.N. It's actually readable by humans. Most computer applications nowadays can read FEN, so those of you who may want to study the position, you can copy the line of FEN and paste into your chess app and it should automatically recreate the position on its display board. Or, Windows users can just "triple click" on it and the entire line will be highlighted so you can copy and past it into your chess app.
___________
So that about wraps it up for this week. Chess thread tips, suggestions, bribes, rumors, threats, and insults may be sent to my yahoo address: OregonMuse little-a-in-a-circle yahoo dott com.

posted by OregonMuse at
05:06 PM
|
Access Comments