« There Is No Voting Fraud In America. Really.
|
Main
|
Thursday Overnight Open Thread (2/2/17) Groundhog Day Edition »
February 02, 2017
Weaponized Empathy, the Favorite Tool of the Left [Warden]
Declination has an excellent piece about how the Progressive Left manipulates people into supporting their policies by preying upon their empathy and kindness.
Here is the heart of it, but be sure read the whole thing. The photo comparisons he uses are worth the price of admission alone.
What is Weaponized Empathy? It is the deliberate hijacking of your own moral standards, your ability to empathize with your fellow man, in order to force you to serve someone else's narrative. It is, in essence, a highly sophisticated form of guilt-tripping designed to turn you into a slave.

You might consider it an evolution of the Alinsky tactic of forcing the enemy to live up to their own moral standards. But it goes beyond that. It forces an enemy to embrace your moral standards or suffer tremendous peer pressure and socially-engineered "justice" at the whims of the mob.
Well, that sounds familiar. Have we been down this road before? I believe that we have.
The idea, of course, is to manipulate you into supporting certain Progressive policies by showing you the picture of a dead child, carefully positioned to elicit maximum sympathy. It's like the TV commercials showing starving African children, covered in maggots and flies. I've no doubt that the cameraman deliberately engineers the scene for maximum effect.

Donate or else you're a bad person who hates the starving Africans. Support Syrian refugee resettlement in your country, or else you support dead children.
The tactic is used for everything from welfare policy, to Social Security disbursement, to immigration and even climate change. Support climate change legislation, or else you want the poor residents of some tropical island to drown. Support Black Lives Matter or else you're a racist who hates black people.
The author then makes the observation that Progressive empathy stops at exactly the point where their policy preferences end. Obamacare, he notes, was gravely injurious to millions of people who saw their premiums skyrocket while their coverage was degraded.
And what was the Progressive Left's response to their suffering? Suck it up and quit complaining. Poor people needed insurance coverage. If you lost your coverage, it was sub-par. We did you a favor, actually.
It's an excellent example.
I like this one better, if only because it's more timely.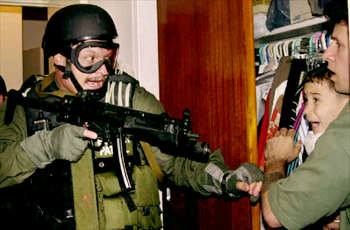 That's Elian Gonzalez being ripped from his extended family here in America at gunpoint at the direction of Clinton Attorney General, Janet Reno, after Gonzalez's mother died helping him escape from the horrors of a Castro-controlled Cuba.
Today, progressives are crying big crocodile tears over a few immigrants getting held up over security checks. Back then? Crickets. Bill Clinton was their boy. So what if some 5 year old got shipped back to a Communist hellhole instead of being allowed to live with loving relatives?
Every single day, multitudes of horrors and injustices play out across the globe. No one can address them all. No one can save all the victims. Human nature is fixed and there will always be suffering.
What the Progressives do, as do we all, is a pick a few to focus on and put their energy to. The difference is, they try to force the rest of us into their choices, screaming at us that we are their moral inferiors if we don't share their priorities.

posted by Open Blogger at
08:05 PM
|
Access Comments