« Did Facebook Win Donald Trump the Presidency? [Warden]
|
Main
|
Wednesday Night's ONT Needs Coffee »
February 01, 2017
'Let Those Cowards Come'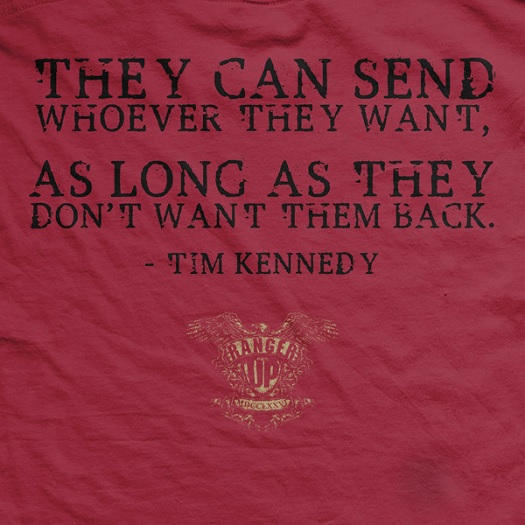 After Deadspin editor Tim Marchman was owned by Ted Cruz, he went nuts and challenged random individuals to a fight in the "UFC octagon." Big mistake. He got a "anytime, anywhere" response from Tim Kennedy, an actual MMA fighter, former Special Forces guy, and all around badass. Marchman slunk away with his tail between his legs, with hoots and derisive laughter ringing in his ears. And the funny part is, none of his abject humilation and uber-pwnage had to happen: after Ted Cruz sent him that basketball pic, all Marchman had to do was say "ha ha" or "good one", and that would have been the end of it. Nobody would have known that he is a cringing, cowardly little toad of a man, compared to which Gríma Wormtongue is a tower of strength. Well, we all kind of suspected that, but thanks to his maladroit response to Cruz, and his subsequent doubling-down on stupid, now the whole world knows it.
And speaking of cowards, Tim Kennedy's Special Forces experience has made him a target of ISIS last year. So much so that the FBI actually had to warn him about it. And Tim blogged about it:
"We have credible intel suggesting that ISIS wants to kill you, Mr. Kennedy."

This is what the FBI told me last week. I don't think they were too thrilled when I responded:

"Let those cowards come."

They fail to realize that this is absolutely nothing new to me. This is part of my life.

And I'm good with that.
I'm not sure how the FBI wanted Tim to respond. By hiding under his bed? Tim is not the kind of guy who is going to hide from ISIS because he thinks
...they are nothing but cowardly and impotent murderers who prey on the weak. They look for soft targets who don't know how to defend themselves. They seek out the most defenseless in order to make themselves appear stronger than they really are.

I'm not a soft target—and they hate that.

These Daesh hate the fact that I'm better than them in every possible way. They hate the fact that I'm not some weasel college student who runs for their "safe space" or gets offended by empty threats.

People in places like Paris, France or Cologne, Germany who have tried to show them tolerance have received no sanctuary from the hate and rage from these terrorists. All of Europe has attempted open-arms, hyper-politically-correct approaches in trying to assimilate their culture into their societies and the response has been murder and rape.

I stand for everything they despise and I think it kills their inner child.
Read the whole thing. It's full of win.
Tim has offered to fight any of these ISIS goofs, any time, any where. So far, none of them have taken him up on his offer. So he did what any other red-blooded American would do. He came out with a line of F U ISIS T-shirts.


posted by OregonMuse at
07:30 PM
|
Access Comments