« The Morning Report 1/31/17
|
Main
|
Letter To The President »
January 31, 2017
Mid-Morning Open Thread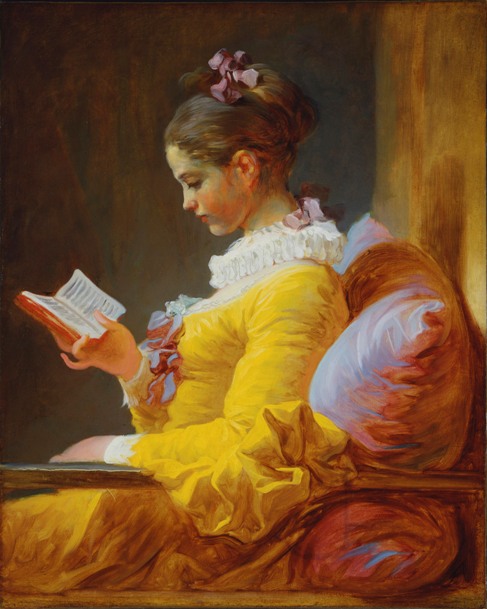 Young Girl Reading
Jean-Honoré Fragonard
The agitated prose notwithstanding, this description from our National Gallery of Art illustrates why an in-person viewing is best. Sure, I can see the brushstrokes when I blow it up, and the colors seem...okay....but of course all perspective is lost....
Perhaps more than the work of his two teachers, Boucher and Chardin, Jean-Honoré Fragonard's bravura handling of brushwork and color embodies eighteenth-century painting aesthetics. In A Young Girl Reading, the subject is shown in profile holding a book in her right hand and completely absorbed in her reading. She appears to be sitting in a window as light illuminates her face and body, casting a faint shadow against the wall. She wears a lemon-yellow dress with a white collar and cuffs accented with lilac ribbons at her bodice, neck, and hair. She is resting on fluffy pillows rendered in warm brown tones and highlighted in light purple. Each texture is rendered in a different brushstroke: her dress a thick weave of yellow and white, the pillows more loosely sketched, and her collar edged with the handle of the brush.

As in Chardin's Soap Bubbles, the viewer has the illusion he is privy to an intimate moment. However, in Fragonard's work, the bright yellow of the girl's dress and the agitated strokes clash with the solitude associated with reading.
Get thee to a museum, if for no other reason than to prove that art can be appreciated both with and without pants.
[Hat tip for the artwork to commenter Endymion cernuus]

posted by CBD at
09:40 AM
|
Access Comments