« Are Western Pluralistic Societies Incompatible With Islam?
|
Main
|
Sunday Overnight Open Thread (1/29/17) Earlier Than Normal Edition »
January 29, 2017
Food Thread: Lemon Meringue Pie: A Gloppy Mess, Or Something Better?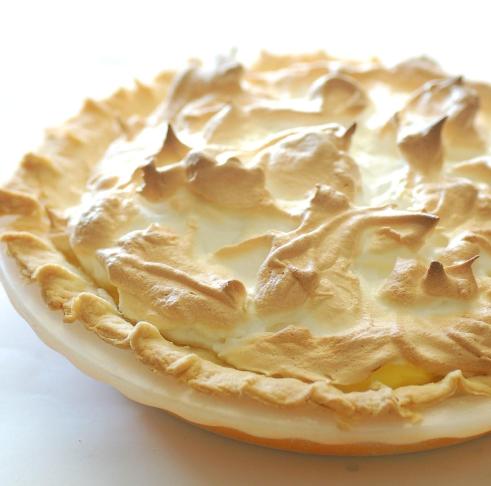 A few weeks ago a carrier pigeon dropped an urgent message on my doorstep. Arlene M, intrepid AoSHQ reader and pie-maker extraordinaire was having a pie crisis. Specifically, her lemon meringue pie filling was insufficiently firm (or totally soupy).
Unfortunately,the recipe she was using is exactly the same one used by both people I asked! So I couldn't swoop in and save the day with a different recipe, although most of them seem to be quite straightforward.
The trick seems to be cooking the sugar, cornstarch and egg at a high enough temperature to allow it to set, obviously without making sweet scrambled eggs. The empiricist in me (or is that just obsessive-compulsive?) would like a specific temperature and length of time to shoot for, but I haven't found one yet. Here's a fun looking one, or maybe it's appealing because it has lots of pictures....
Any suggestions from The Horde?
******
Well, the yearly football freak-out is almost upon us, and while I really don't care too much, this year I will be rooting for New England, simply because I want that smarmy sleazebag Goodell to have to swallow his pride and hand the trophy to Robert Kraft. And....Brady and Belichick are Trump supporters, so that will stick in the craw of the SJWs....
Oh, there is some fun food to be had as well, and this looks pretty damned good. Spicy Sriracha Chicken Wings. I like wings. I like Sriracha. What's not to like about this recipe? Well....the frying is a mess, but what the hell, it's worth it.

******
It's probably not for everyone, but the froth on a cocktail from shaken egg whites is a festive and fun treat.
Here is Robert Hess making a Ramos Gin Fizz
(a really, really good drink). He uses a technique called "dry shaking," (get your minds out of the sewer!) which I guess works well, but is probably not necessary if you are only making a few of these drinks. There are simpler recipes out there, so if you are interested, but don't want to make Hess's fussy version, spend a few seconds and find a simple one.
Regardless, it's a drink worth trying at least once....

******
There is absolutely nothing bad about a dessert called a "Chocolate Dutch Baby." Well actually, it's a profoundly stupid name, but damn! The picture looks great! It's from Smitten Kitchen, which is a fun place to go if you don't take cooking and baking so seriously that you are existentially miserable if your soufflé falls.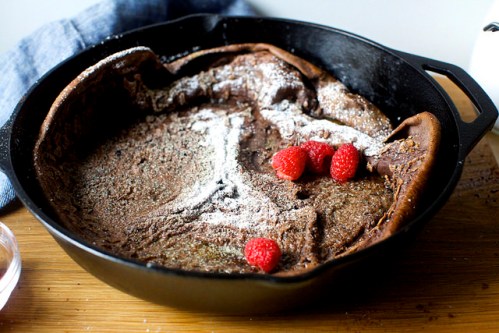 ******
From the Earthly Delights blog comes a fun recipe that is modifiable for those who can't get morel cheese or don't like truffle oil. It's the basic recipe that can be tarted up in pretty much any way you feel like....
Truffled Morel Mini Mac 'n Jacks
. Yup....bite-sized macaroni and cheese.
******
Most roast chicken recipes call for high heat until the bird is cooked and browned. So being a rebel and an iconoclast, I tried moderate heat (350° ) for about 45 minutes, then removing the bird, heating the oven to 450° and returning the chicken to the oven until it was nice and brown.
Did it work? Sure. Was it good? Sure. Was it better? No.
Shit. There goes my chance at immortality.

******
This is exactly the kind of recipe that I love.
It is simple, can be modified to my taste, and yields a pleasing and satisfying dish.
Cast Iron Skillet Potato Cake
• 1 to 1 1/2 sticks unsalted butter
• 6 large Idaho baker potatoes, washed and peeled
• Kosher salt
• 2 teaspoons dried thyme
In a small saucepan, melt the butter and bring it to a gentle simmer. Shut off the heat and allow it to sit a minute on the stove. The milk solids should start to sink to the bottom. Slowly pour the butter into a bowl, keeping as much of the white milky liquid as possible in the saucepan. Discard the milk solids; these are prone to burning and by clarifying the butter, the potato cake will be less likely to overbrown. Keep the butter warm on the stove.
Using a mandolin slicer or a sharp knife, cut all of the potatoes into thin (1/8-inch thick) slices. Transfer them to a bowl and cover them with 3/4 of the melted butter. Season with a little salt and the dried thyme and toss to coat the potatoes with the butter. Pour the remaining butter in the bottom of the cast iron skillet and swirl it around to coat the bottom and sides.
Preheat the oven to 400 degrees F.
Remember that the bottom layer with be the top when you unmold this cake so it should be done with extra care. Layer the potatoes, following the edge of the skillet, so they overlap. Start the second circle, closer to the center, of overlapping potato rounds. Continue to make circles with the potatoes until the entire bottom of the skillet is filled with potato rounds in smaller and smaller circles. Fill the skillet with another level layer of potatoes. Sprinkle a touch of salt and make 3 more layers. Press down gently on the potatoes to make sure they are starting to stick together and form a cake.
Place the skillet on high heat and cook until the water starts to emerge from the potatoes and you can see the edges browning, 5 to 8 minutes. Place the skillet in the oven and cook, undisturbed, until the potatoes feel tender in the center when pierced with the tip of a knife, 10 to 15 minutes. Remove the skillet and carefully pour off any excess butter or liquid into a bowl. Place the skillet on a flat surface and cover it with a platter larger than the skillet. Carefully turn the platter over in one deft motion. Lift off the skillet and use a large metal spatula to place it back in the skillet so it can brown on the second side. Pour the butter back in and cook in the oven for an additional 5 to 8 minutes. Remove from the oven. Pour off any liquid. Season with salt. Cut into wedges like a pie. Serve immediately in the skillet. Alternatively, lift it out of the skillet and serve on a platter or in slices on individual plates.

******
Have a food emergency? Or just have some extra fresh morels and antelope backstrap that need a good home? cbd dot aoshq at gmail dot com

posted by CBD at
04:00 PM
|
Access Comments