« Thread below the Gardening Thread: Intersectionality [KT]
|
Main
|
Ace of Spades Pet Thread »
January 28, 2017
Saturday Gardening Thread: Dreamlands [KT]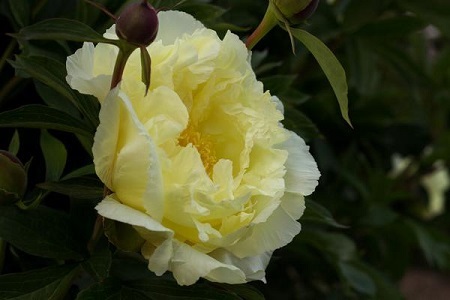 Lemon Dream Peony
Itoh intersectional peonies are a hybrid cross between a bush peony and a tree peony. They are often referred to as Itoh peonies, after the first successful breeder of these magnificent peonies, Mr. Toichi Itoh.
Does that peony make you dream of a Japanese garden? Our hot, dry climate with little winter chill is not particularly well-suited for regular bush peonies. Sunset rates this type for the same climates, including ours, where both types are said to need part shade. I don't know anyone who grows them around here. At least until the price comes down, I'm not gonna try planting them. I'll probably settle for dreaming about seeing them in a Japanese garden. Somewhere. Anybody got suggestions?
Not all dreams are pleasant. And not everyone has the same image of a dream destination. I think the plant below, and its native habitat, might rank as nightmares for some people I know.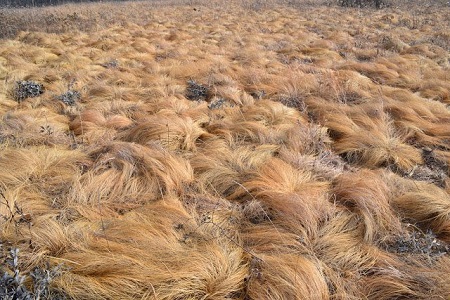 Trump Hair? I'm surrounded by Trump Hair?
I've only been to the edge of the Badlands National Park. I thought there was a good reason for its name. It's not Manhattan.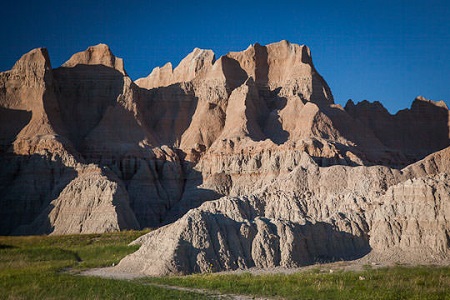 But I think it is fascinating. Even some lefties like it. Apparently, not all of the federal employees at the park are wild about Trump, though. Twitter dust-up. Heh.
Anyway, the Trumpian grass shown above, Prairie Dropseed, is also profiled by the Missouri Botanical Garden. It is a clump-forming, drought-tolerant and decorative. If you like clumps of grass in your garden.
Foliage turns golden with orange hues in fall, fading to light bronze in winter. Open, branching flower panicles appear on slender stems which rise well above the foliage clump in late summer to 30-36" tall. Flowers have pink and brown tints, but are perhaps most noted for their unique fragrance (hints of coriander). Tiny rounded mature seeds drop to the ground from their hulls in autumn giving rise to the descriptive common name.
Sound like good food for quails. Or maybe even for some larger animals. It is shown below with the tall flower/seed stalks that rise above the foliage clumps in summer.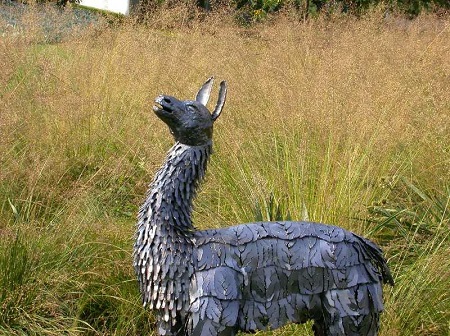 Native Prairie Dropseed with Decorative Foreign Mammal
Gardens of The Horde
I got nothin' new. We're cutting and digging weeds. Eating a few greens. I still have some wildflower photos from Kindltot, which we will be seeing soon if all goes according to plan. Anyone else want to send in garden photos?
Oranges have been excellent the last few weeks in the supermarket. Haven't seen a big jump in veggie prices due to flooding at CaliGirl's ranch. Have you?
Still battling the effects of weather in your yard or garden?
Back to Peonies
Do you grow peonies? I'm ready to visit some peony gardens. Well, maybe not right now, but soon. Herbaceous peonies are very hardy, even in Alaska. This time of year, they are buried under piles of snow along the sides of many driveways across the country. But Festiva Maxima is an old cultivar that is known for doing better where winters are warmer than most others. I think it does fine in cold-winter climates, too. There are a few others like this. Mainly early varieties. Plants can last up to 50 years in the garden.

Intersectional Peonies bloom a little earlier than regular herbaceous peonies, and may be less prone to botrytis. They come in a wider color range than herbaceous peonies. They are quite a recent development. The first ones were apparently bred in the 1960s.
Tree Peonies include one of the parent species of Lemon Dream at the top of the post. They will grow closer to mild-weather coasts than herbaceous peonies. The flowers on some cultivars are YUUGE. They grow some knock-out specimens in Australia and New Zealand. Take a look.
Tree peonies bloom earlier than herbaceous peonies. The ones in the video below are in an actual Japanese garden, wearing little straw hats for the winter. They are blooming in late January. There are some other beautiful winter/early spring flowers in the video, too. Enjoy. Have a great week.

posted by Open Blogger at
12:22 PM
|
Access Comments