« Them Dem Kickers
|
Main
|
EMT 01/29/17 »
January 28, 2017
Overnight Open Thread (01-28-2017)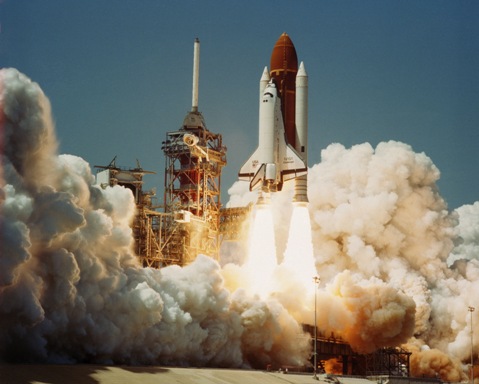 31 years ago today, the space shuttle Challenger (OV-099) broke apart 73 seconds after liftoff from Cape Canaveral. All seven crew members were killed.
The engineering and management failures that led to the catastrophe are well known, in part because of the work of The Rogers Commission, which was formed by President Reagan to examine the causes and suggest solutions to the issues that caused the mechanical failure.
One of my heroes was on the commission that examined the accident (incident?). Richard Feynman was quite the physicist, but also quite the rigorous thinker, and he brought that to bear on the commission, to the point that he began to irritate the establishment members.
******
Yeah...ignore the title of this video. "The Most Interesting Plays In MLB" it ain't. I would call it a bunch of amusing plays. An interesting baseball play, at least for me, has to include some athleticism, some good or bad baseball sense, and if you toss in a weird rule it makes it that much better.
What? Is your intrepid host pining for baseball. Is he sick of the drivel and dreck that passes for entertainment when God's game isn't being played?
Why yes...he is.
******
The traditional Inaugural Ball dance and cake cutting with members of the armed forces is a lovely tradition, and
President Trump and his elegant wife did not disappoint.....
******
Bacteria that are resistant to a particular antibiotic are common. But for many reasons -- agricultural use, overuse in the clinical setting, etc -- the number of multi-drug resistant bacteria is increasing.
Multi-drug resistant bacteria in China
is a harbinger of very bad things to come, because this particular bacteria is resistant to some very powerful drugs. Without huge investment in drug research, we may very well be in for some bad times. And that's why I never get particularly exercised by the "obscene profits" of drug companies. I want them to be awash in money. I want them to spend that money on drug research that will save our asses when we get sick.
******
Some of you may have noticed that the cataclysmic financial meltdown after a Trump victory predicted by our betters in the media wasn't quite as bad as they suggested. Here is an interesting interview with a man who is arguably America's top CEO (suck it GE!).
Jamie Dimon on Trump, Taxes, and a U.S. Renaissance.
The article is from December, but still; good stuff.
******
Orgasms used as sexual currency, research shows
Dr Diana Fleischman, a psychologist at the University of Portsmouth, says that orgasm and intense sexual pleasure are such strong forms of positive reinforcement and reward that they can motivate and change our behaviour. Evolution, she says, has trained us into using orgasm and high sexual arousal as currencies.
People will modify their own behavior in pursuit of satisfying sexual experiences? Amazing! Who knew?

******
A thank You letter
for a sizable donation to the Jack Lemmon Burn Center, written by Jack Lemmon to his friend Burt Reynolds ....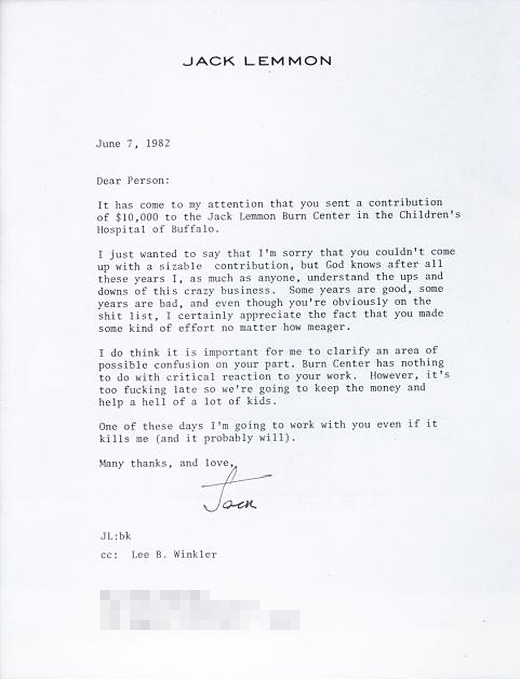 ******
Free association is part of the bedrock of a truly free society, and it has been systematically undermined for the last 100 years (at least).
Silencing The Opposition,
from a Moron no less, discusses the issue. I don't agree completely, but it's worth a read.
I would also argue that all Americans of every group should be entitled under our laws regarding free association, to exclude from their company anyone they desire, and for any reason they desire it.

Black groups should be entitled to exclude whites and vice versa. Businesses should be allowed to do the same if they're willing to pay the price for it. If a black owned business wants to exclude whites and cater to just 11% of the population with their business, I believe that is their right. White groups and businesses should be allowed to do the same.

The only exception to this rule should be government, which should be required to provide the same service to all citizens regardless of what groups they belong to. But government should not be required to provide equal service to non-citizens. They didn't legally buy it; they shouldn't get to use it. If you want to go crazy and offer government service to legal residents, I'll probably quibble on which services, but I'm open to discussion on it.
******
I am no expert, but this is fun to listen to....
Joe Satriani

©2024 by AceCorp LLC. All Rights Reserved. Please use scale at reception for maximum schadenboner size allowed through inner doors.

posted by CBD at
10:00 PM
|
Access Comments