« Report: Fox Offered Megyn Kelly $100 Million for Just Four Years, But She Was So Unhappy at the Network She Left Anyway
|
Main
|
The Morning Report 1/5/17 »
January 04, 2017
Wednesday Night ONT: Up All Night Edition
Good evening, and welcome to tonight's ONT. How goes things with all of the fine 'Ettes and 'Rons of the horde (for the Horde!)? How shall we start? I know, how about a dose of Florida Man?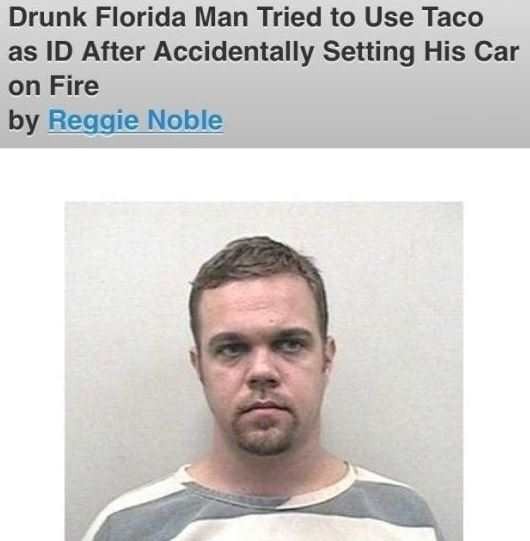 Look around you. See those Morons who are nodding sagely? Stay away from those people at parties.
Troll Level: Master Griller

Before we get to that, for the first time we have a runner up for troll of the week:
INSTEAD OF EXPELLING AMERICANS PUTIN INVITES THEM AND THEIR KIDS TO A PARTY
I have no love for Putin, he's a dangerous, evil dictator, but the way he casually bats around the incompetent in the White House is something to behold. Cats with mice look at him and say "Damn!"
And the winner is: Wendy's!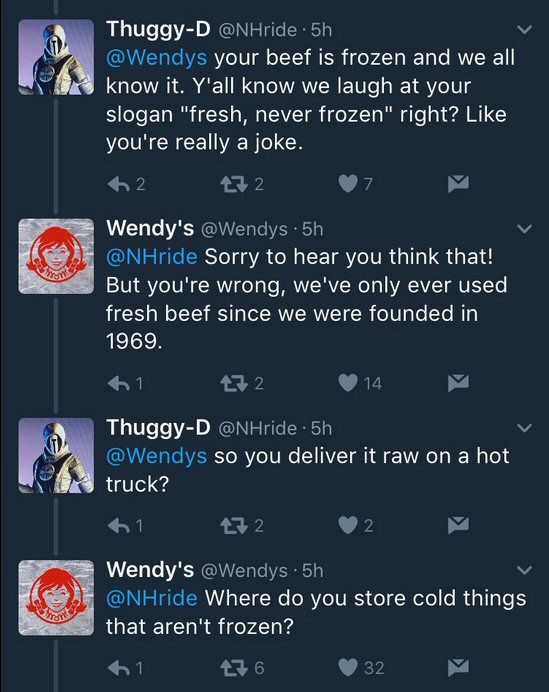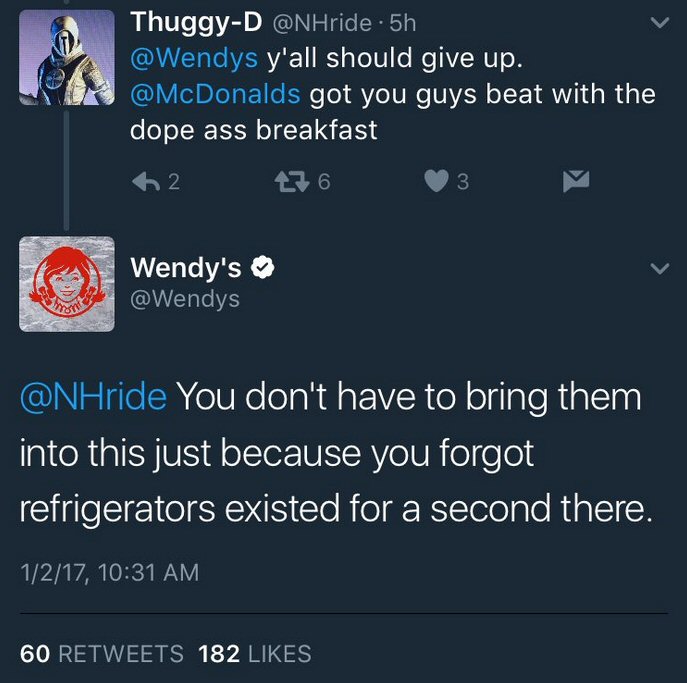 Tweeter Thuggy-D was so humiliated by the response that he deleted his account (other examples of Wendy's tweets at the link). Whoever is running the Wendy's social media account deserves a raise. Just enough bite to be amusing, not enough to be really offensive. People are tired of bland corporate pap, this is a nice change.
Racism
Excellent Op-Ed by a lady who lives in the West Bank. You are the racist, actually, not me
When I am castigated for supporting the annexation of land that some of you wrongfully identify as "occupied" (it's disputed, not occupied, based on International Law; look it up.), you are telling me that Palestinians, whose current situation is far far less than ideal and is causing anger and sadness and needs improvement, all want to live under an oppressive, dictatorial, thug-like regime that embezzles, doesn't provide girls with proper education, trains in hate, and has no democracy, because it is comprised of Palestinians. (Picking leaders by ethnicity? How racist of you!) You are telling me that "they" desire this over living in 100% freedom and democracy in a "Jewish" state that has Arab/Muslim religious rights, education, healthcare, and the ability to make change legally and effectively through serving in the government. And if you aren't telling me what they want, you are telling me that you know that this is what is best for them. That this is the best alternative of those that are out there waiting for them. It is most definitely the alternative that John Kerry just laid out. You are telling me what they want, what they prefer…. Or at least that you know, sitting over there in Massachusetts and California (and Herzliya) what they SHOULD want. What's best for them. You are taking your Western ideals and assumptions and choices and imposing them on people here without a true understanding of peoplehood, of the history. You are swallowing political rhetoric about a group of people – about them, and about me. And that is your prejudice — your racism.
There's more, you should read it all, particularly in light of the news that the GOP is considering getting squishy on standing up for Israel. Again.
Related:
How Well Do You Know Jewish Slang (Quiz). I got 10 out of 10, and I'm about as far from being Jewish as bacon wrapped oysters smothered in cheese is from being kosher. Goy vey!
Like A Boss
Wait for it.
Why I Don't Have A Fully Internet Integrated House
Not only are police seeking the authority to use data from devices like Alexis or Echo as evidence against accused criminals, but, well...Just listen:
News You Can Use

People who swear more often are more honest than those who don't
Now maybe all of you limp-dick motherfuckers will listen to what the hell I'm telling you. Assholes.
A Smart Military Blog

50 years ago Monday, Operation Bolo took place in Vietnam. Concerned about mounting bomber losses, Colonel Robin Olds conceived a plan where F-4s would fly the mission profile of F-105 fighter-bombers and ambush the MIGs when they came up to attack the Thunderchiefs. It was a rousing success.

Speaking of shooting down enemy aircraft, here's the story of a US pilot who shot down a Japanese Zero.
A bomber pilot.
After hitting the silk.
With a pistol.
You know what that takes? That takes brass balls.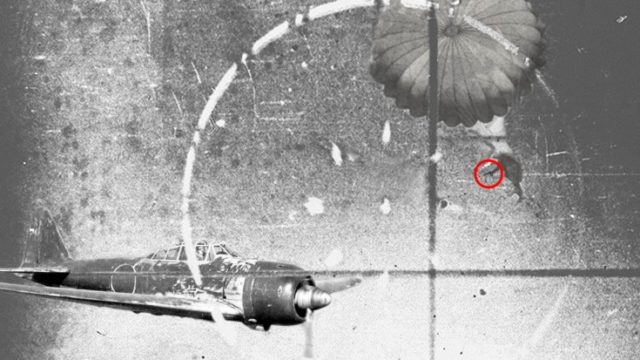 And finally, Air Force cadets stunned to learn that the janitor at their barracks won the Medal of Honor. Lots of good leadership lessons to be found. More on the story of Bill Crawford here. I am humbled to be a citizen of a country that produces men like this. (H/t @DMC_72)

Good News
Daniel Hannan writes of The glad tidings we refuse to believe. And he's right. We as humans focus on the negatives, but as CATO reminds us, a new year is the perfect Time to Celebrate Human Progress.
Amazing

Photos of Men Who Fought in the Revolutionary War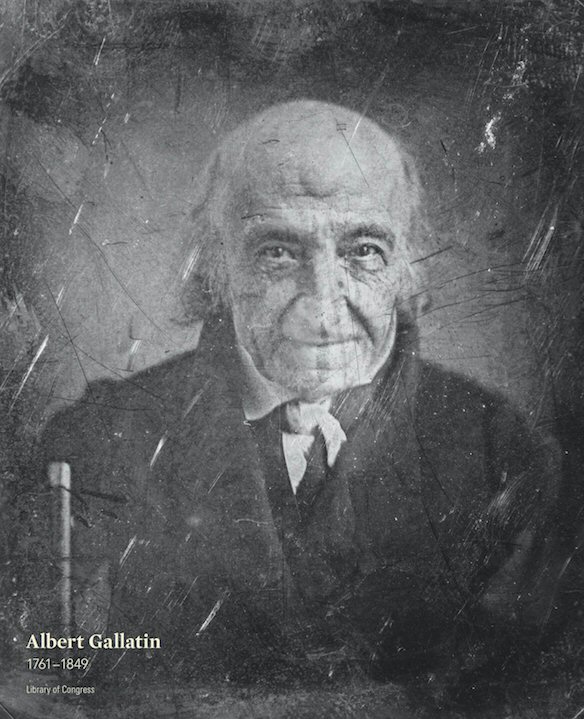 We're a young country. Amazing that photographs exist of people who participated in our founding. Even more amazing: Apparently, the First Doctor fought on our side.
Inspiring

From anger to forgiveness: How one man's shooting led to a new program for Baltimore boys
The bullet that ripped a hole in Damion Cooper's chest left him bitter and angry. He spent more than four years raging against society. He questioned his faith in God.
The last thing he wanted to think about was forgiveness.
Fourteen years later, Cooper runs a well-regarded program that teaches young boys to do what he once could not.
…

The message was from the Book of Psalms: "For his anger endures but a moment; in his favor is life: weeping may endure for a night, but joy comes in the morning."
Cooper decided that verse was meant for him.
"I knew I had to let that pain go," he says. "If I didn't, it was going to just damage me."
Cooper went back to Coppin State and earned his degree. Then he enrolled in a master's degree program at United Baptist College and Seminary. He began volunteering as a mentor inside the Baltimore jail complex.
It was there, Cooper said, that he learned the depths of forgiveness.
Over a year and a half, Cooper worked closely with one of the inmates — and memories began to come back. He had recurring dreams about his shooting.
Before, his nightmares had focused on the gun, the spark and the bullet. But with each passing dream, the teen shooter's face came into greater focus.
One morning Cooper awoke. He was now certain.
"I realized this is the guy who shot me."
The next day, Cooper asked to meet with the young inmate.
Follow the link to see how the story ends.
The Canadians Are Coming!

Tonight's ONT brought to you by dog grooming gone wrong: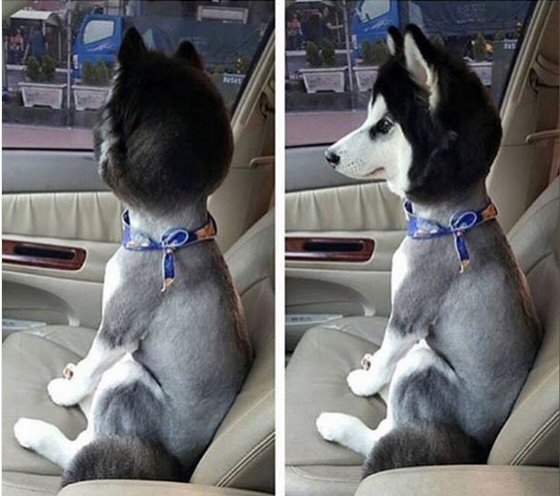 The Yahoo Group wants a bobblehead dog.

posted by WeirdDave at
10:00 PM
|
Access Comments