« Merry Christmas (With Yule Log, With Dog)
|
Main
|
Christmas Night Open Thread »
December 25, 2016
Food Thread: A Bit Of Christmas Cheer
[Insert photo of:

HILLARY CLINTON WILL NEVER BE PRESIDENT OF THE UNITED STATES OF AMERICA
written in bacon]
It has been a pleasure writing the Food Thread, and I am grateful for all of the wonderful repartee, the cooking tips, the marvelous recipes, and all of the simple pleasures of food.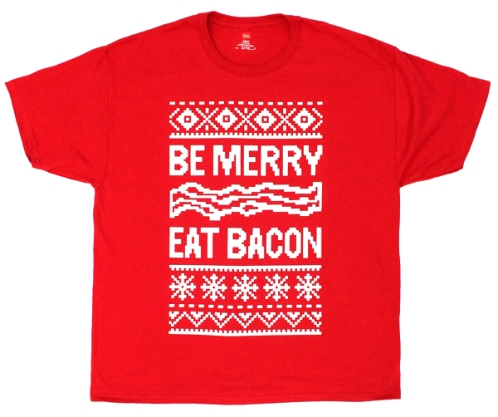 photo courtesy of BaconFreak.com
Artisanal'ette has been kind enough to write another seasonal crossword puzzle for you maniacs. She has had a hectic few months, and I appreciate the amount of time and effort she has put in for all of us....
artisanal'ette's Christmas (and Hanukkah) Crossword Puzzle, and here are PDFs of the grid and the clues.

******
This is a riff on a drink I had at an oyster bar/seafood restaurant (The Mermaid) in J.J. Sefton's back yard. They have a great Happy Hour, with fun cocktails and excellent seafood snacks, and the progenitor of this drink was served to me by a saucy and rather cute waitress who warned me, tongue-in-cheek, that I probably couldn't handle the heat.
I could, and in fact my version has the addition of some potent bitters that may be difficult to find.
The Dildo


3 1/2 ounces Gin

1/2 ounce Dry Vermouth (Carpano Bianco if you can find it)

1/2 teaspoon Simple Sugar Syrup

6 drops Thai Bitters

1/4 teaspoon Peppadew brine

1 Peppadew red pepper
Shake everything except the pepper in ice, then pour into a martini glass into which you have placed the peppadew.

******
So...as is required by Judaism, we had Chinese food last night, and we weren't the only ones...the restaurant was packed! We ordered far too much, and for whatever reason I have the lion's share (Dildo's share seems odd...) of it. Now, lamb with cumin over rice is a fine breakfast, although following it with coffee was a bit strange.
Anyone else have a penchant for strange breakfasts after holiday meals?

******
Snoop Dog and Martha Stewert make mashed potatoes

Tips and extra elk steaks: please contact me at: cbd dot aoshq at gmail dot com

posted by CBD at
04:00 PM
|
Access Comments