« Food Thread: La Cuisine De L'Amérique Est La Meilleure Du Monde
|
Main
|
Sunday Overnight Open Thread (12/11/16) Getting Into The Holdiay Spririt Edition »
December 11, 2016
Take off, eh? It's the Canadian Football League!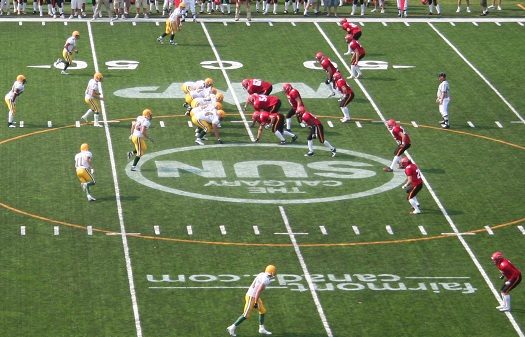 I heard in passing a week or so ago that the 2016 Grey Cup (the CFL's equivalent to the Super Bowl) went into overtime for the first time in its history. The teams that made it to the Grey Cup this year were the Calgary Stampeders and the Ottawa Redblacks. I have no idea what a "redblack" is, but it sounds pretty rayciss to me. Some Canadian "human rights" agency (perhaps the one that's been harassing Mark Steyn) probably should be to investigating this with the intent of handing out a lot of extra-judicial fines, prison sentences, and other punishments in the name of the people.
So I had to check out the replay. I've never actually sat down and watched an entire CFL game.
0. The biggest difference is that the offense only has 3 downs, not 4, to advance the ball 10 yards. You might think this makes for a lot of 3-and-out (actually, 2-and-out) possessions, but I think there may be compensation for this, which I'll discuss a bit later.
1. The field is bigger. It's 10 yards longer and I think it's a bit wider, too, but I don't know how much. It's kind of weird to hear the announcer say "first down on the 53 yard line."
2a. Unlike the NFL's piddly 10-yards-deep end zones, CFL end zones are yuuge and luxurious, 25 yards deep. So if your offense gets into a passsing situation inside the red zone, you're not necessarily limited to short-yardage plays.
2b. The goal posts are up in the front of the end zone, like you see in vintage NFL and college games. I would think that's more dangerous for the players, even with all the padding wrapped around the support, since football being a much faster, harder game than it used to be. They're just asking for injuries, I'd say, but what do I know, I've only watched one CFL game.
3. The refs are dressed pretty much the same as their NFL counterparts, but the penalty flags they throw are bright orange rather than bright yellow.
4. There is a challenge system, similar to the NFL. Not sure of all the differences, but one that figured quite prominently in the game is that penalties can be challenged. Also in this category are non-penalties, i.e. penalties that should have been called, but weren't. Coaches can actually challenge the non-calls. But, like the NFL, the video evidence must be clear and indisputable.
I kind of like this additional challenge and would like the NFL to consider it.
5. A lot of the plays looks weird. That's because, unlike the NFL, more than one man can be in motion as the ball is snapped, at least on offense. I don't know if there's an upper limit, but what I saw a lot of is 3 or maybe 4 wide receivers starting running from 20 yards back and the ball is snapped as soon as they're just about to blow past the scrimmage line at top speed. I think this makes them a bit harder to cover and gives them an edge so that having effectively only 2 downs to advance the ball 10 yards isn't so limiting.
This year's Grey Cup was quite a game, and definitely worth waching. You can see it on YouTube, or do what I did: use one of those free YouTube downloader apps to download it to your HD, then make it visible via Plex and a Roku box to your main TV set and watch it in the comfort of your living or family room.
The 1989 Grey Cup Game is reportedly the best ever. It's also available to watch on YouTube, in 2 parts.
Also, let this be an Open Thread.

posted by OregonMuse at
06:44 PM
|
Access Comments