« Feminist: Sex Will Be Less Fun During a Trump Administration
|
Main
|
Just When You Think That "Reason" Writers Aren't A Bunch Of Vox Writers With Hash Pipes, They Write Something Like This... »
December 07, 2016
On Media Lies and Political Lore
The media wants to talk about Fake News. Okay, let's talk about it.
Let's talk about what this really is -- lore.
lore1

noun

a body of traditions and knowledge on a subject or held by a particular group, typically passed from person to person by word of mouth
Lore is kind of communal bullshit -- bullshit about your family legacy (how many people have "family lore" that tells them they're one thirty-second Cherokee, for example*), bullshit about sex, bullshit about how not to get pregnant, bullshit about how to increase your sexual potency (oysters! powdered rhino horn! gorilla dick jerky!).
There is of course political lore -- a tradition of bullshit passed from one partisan to another, never really sourced to anything a rationalist would call an authority or proof. Just stuff that "everyone knows."
Everyone knows if you have sex with the woman on top you can't get pregnant.
Everyone knows Mikey from the cereal commercials died when he drank soda while eating Pop Rocks.
The media is always on patrol to debunk such bullshit political lore coming from the right side of the political aisle -- and make fun of right-wingers for believing such nonsense, and claim such nonsense has real consequences in life, so if you're spreading such lore, you may be killing people, for real!
That's why they're currently in such orgasms over the #PizzaGate shooter. #PizzaGate sure sounds like Internet Detective nonsense to me, but the media has seized on this one story as a way to deflect from the fact that they've been pumping out their own FakeNews all year -- and all decade, in fact. **
Criticizing amateur news-sleuths is a lot more fun for the media than explaining why so-called professionals are so amateurish and biased.
But back to the lore: the media wants to find every piece of rightwing bullshit, rightwing lore they can and show how totally false fake falsity-false Lie it is.
But notice they never challenge any leftwing lore.
In fact, they're the most prominent purveyors of such fare.
And of course they don't want to talk about that.
"Hands Up, Don't Shoot" -- the lore that Michael Brown was an innocent bystander, raising his hands in surrender as an Evil White Cop executed him for being black -- was a lie from the start, concocted by Brown's partner-in-crime (literal partner in crime -- he was present during the bodega robbery earlier that day) and then spread by a media just looking for stories that would illustrate their Narratives that we need to elect Democrats.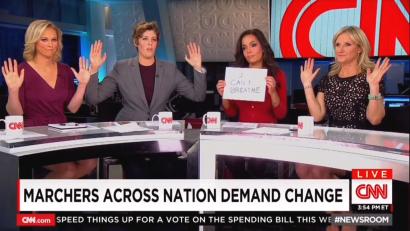 CNN spreading the Hands Up Don't Shoot #FakeNews
Michael Brown's mother was invited by the Democratic National Convention to speak at Hillary's four-day nominating commercial -- and she stood with parents with sons who arguably or even probably had been killed in questionable circumstances.
Michael Brown had not been killed in questionable circumstances -- even Obama's corrupt DOJ had to admit that. Yet there she was, because leftwing political lore still deemed Michael Brown a Gentle Giant and Innocent Victim, and it didn't matter what the actual facts of the matter were.
The media said nothing about it. They praised the folks on stage for their strength. They did not criticize Hillary Clinton for putting on a pageant containing Fake News and provable lies.
Lore that excites conservatives -- and which may be necessary for building party unity among conservatives -- must be eradicated. Michael Flynn's son must be chased off of transition teams for believing such Vicious Lies that Have Consequences.
But lore that excites parts of the progressive coalition -- and which may be necessary sops to some sectors of the progressive coalition to animate them into voting for an old broke-down white lady they don't even like very much -- gets a total pass.
The media blesses such lies with silence, tacitly approving of the lie.
There were no fact-checkers on the DNC Tragedy Pageant.
And note that cops are being assasinated in the street -- this is no "lore," cops are being killed on the street in 2016 at a rate far exceeding that seen in 2015.
And this is all based partly on the #FakeNews that Michael Brown himself was assassinated by cop.
Fake news has consequences, Media -- or do those consequences not matter when they are visited upon people outside of the progressive coalition?
The SPLC, recently cited all over the media as an objective resource for cataloguing hate, refused to report the 2,000 teached reports on whites being harassed due to election anger, because that fact was inconvenient to the narrative it wanted to push that minorities were being targeted.
The SPLC put the Family Research Council on its "hate organization" list, claiming they "hated gays." This claim -- more #FakeNews -- sent a shooter to the Family Research Council's door -- the shooter shot (but did not kill) a guard.
#FakeNews has consequences, Media. Or do those consequences not matter when they are visited upon people who disagree with you politically?
Shockingly, the media actually had on the disgraced High Priest of Fake News -- Dan Rather himself -- as an expert voice to explain how terrible other people's fake news is.
There's a still cherished bit of progressive lore (total bullshit, I mean) -- that Jared Loughner was "inspired" by Sarah Palin's rhetoric, and went out to kill Gabby Giffords because he'd heard Sarah Palin say "Don't retreat-- RELOAD!" or saw some bullseyes on a map showing which House seats in swing districts she thought Republicans should "target."
This is false. Jared Loughner was a psychotic with no known sympaties for Palin or the GOP or the Tea Party; his chief obsession was, if you remember, his idea that the syntax of language was some kind of means to control people's minds. Apparently he had tried to get Giffords to investigate this Conspiracy of English Syntax and she had passed, and that -- and not any ideas about the 10th Amendment -- is what motivated his shooting spree.
Amazing, the Washington Post, in decrying "Fake News," uses this Fake News lore -- that Palin's words caused Laughner's shooting -- as an example of Fake News having real-world consequences.
In a post which itself denounces false political lore, the Washington Post goes right back to the well and spreads false progressive political lore.
I mean, everyone knows it was Sarah Palin's hateful rhetoric that set Jared Loughner off. Citation: something my buddy told me some time when he was toking on some kind bud.
This is why conservatives hate the media: The media only notices right-wing misbehavior. If their political correligionists are spreading some Fake News themselves, some false political lore, the media is very understanding. After all, if Hillary Clinton had excluded Michael Brown's mother from falsely conveying the notion that her son was gunned down by a cop assassin, it would have conflicted with Black Lives Matter's narrative. And if she contradicted Black Lives Matter's narrative, that might have depressed black turnout and hurt her chances of winning an election.
So, you know: It's perfectly understandable and excusable that she helped package and spread some #FakeNews.
Where did the people online spreading the sorts of "Fake News" stories the media hates learn how to do this, I wonder?
Maybe they've seen the media making up stories and repeating them until "everyone knows" something that's flatly false and swinging elections thanks to those lies.
Maybe they've decided that if it works for the Democrat-Media Complex, it can work for their own purposes.
If the media wants to stop political lore from spreading, they can lead by example and stop spreading leftwing political lore themselves, and, get this, being as eager to run "Fact Checks" on leftwing political lore as they are to run days and days of stories on the Perils of PizzaGate.
But of course they don't want to stop leftists from spreading political lore, and they certainly don't want to end their own addiction to passing off their political lore as "facts" that "everyone knows."
And they will continue to wonder -- why don't people trust us?
Why do people listen to people with no track record at all in journalism on such matters?
Here are the answers to both questions:
They don't trust you because they've seen you lie repeatedly, then double down on those lies. (Check your own archives for how often you "debunked" "Republican claims" that Obamacare would cause premiums to rise, or strip people of their current doctors.)
And they trust people with no track record at all because while you have a track record, that track record is full of lies and fabrications.
Between someone who you've never heard of -- and thus has never lied to you before -- and someone who's consistently lied to you, then got arrogantly angry about why you doubt their new series of lies, people are going to trust the person they don't know for a fact to be serial liar and fabricator.
Clean up your own acts before you presume to criticize others.
No one wants to hear a pasty priest lecture about chastity and devotion when he still smells of the whorehouse and we all know he's going right back to the whorehouse the moment the pews are empty.
Go fuck yourselves in your rotten, lying heart with a knife, Media.
* An Oklahoma source tells me literally every non-Indian in Oklahoma believes that they have an Indian or two in their ancestry. It's just common Oklahoma lore.
That doesn't excuse Elizabeth Warren -- you don't represent yourself as a minority professor based on family lore that everyone in Oklahoma believes about their own family.

** I've deleted a few sentences about the inadequacy of the "evidence" I've seen for "PizzaGate" for two reasons: 1, it seems to attracting a lot more attention that I wanted it to, and I don't want people yapping about this other matter when I wrote a post about the thing I actually wanted to talk about, and 2, from what I learned from the Media, you're not supposed to call bullshit on your own side's factually-dubious Political Lore, in the interests of party unity and electing people of the party you favor.
So I'll follow the media's example here and just ignore what I think are unfounded claims being made by my political coreligionists. I'll just focus on the other side's political lore.

posted by Ace at
05:45 PM
|
Access Comments