« The Morning Report 12/6/16
|
Main
|
OMG: Social Justice Warriors Now Pushing for Seasonal Favorite "Baby It's Cold Outside" to Be Banned, Because Rape »
December 06, 2016
Mid Morning Open Thread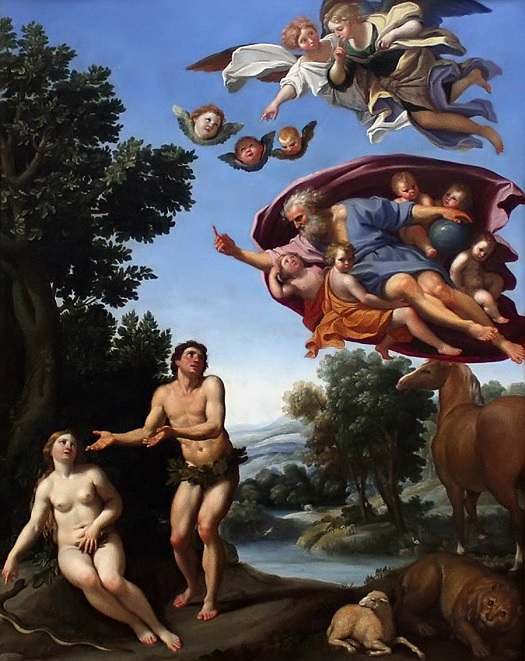 Adam and Eve
Domenico Zampieri (AKA Domenichino), 1623-1625

(CBD is off installing a new hard drive in his computer, so I'm subbing for him this morning)
Lots of things going on in this painting. You can click on it for a larger version. Adam's pose brings to mind this passage:
And the LORD God called unto Adam, and said unto him, Where art thou? And he said, I heard thy voice in the garden, and I was afraid, because I was naked; and I hid myself. And he said, Who told thee that thou wast naked? Hast thou eaten of the tree, whereof I commanded thee that thou shouldest not eat? And the man said, The woman whom thou gavest to be with me, she gave me of the tree, and I did eat.
(Gen 3:9-12)

So, in other words, "Hey Lord, don't blame me, it's your fault for giving me this dumb cluck of a wife."
And men have been trying to evade responsibility ever since.
Not that Eve is that much better. Look at her, she's pointing at the snake:
And the LORD God said unto the woman, What is this that thou hast done? And the woman said, The serpent beguiled me, and I did eat.
(Gen 3:13)
Eve: "Don't listen to that lazy bum! The snake tricked me. Stupid snake."
God looks like he's just giving the finger to the both of them.
Over there on the right, there's a lamb lying down with a lion. I think that's about to change.
And I have no idea what those floating baby heads on lettuce leaves are supposed to be. Angelic beings, apparently. Or maybe some sort of appetizer.

posted by OregonMuse at
09:49 AM
|
Access Comments