« The Conceit of The Intelligentsia That Politicans Are Intelligent
|
Main
|
They Lie About Everything: Inherit the Wind, Evolution and the Scopes Monkey Trial [Warden] »
December 02, 2016
Dictatorships And Double Standards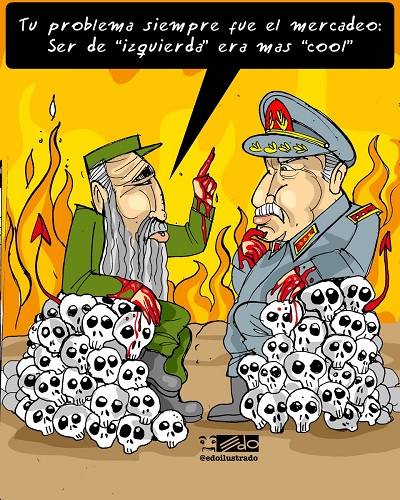 Translation: (Fidel to Pinochet: "Your problem was always marketing: Being 'left' was more 'cool'")
This should probably be yet another chapter of the continuing chronicle of "Why Trump Won". Upon hearing the news of Castro assuming room temperature, large parts of Miami erupted into a wild, joyous street party. All of those Cuban-Americans dancing in the streets had loved ones who were beaten, raped, tortured, imprisoned and murdered without trial by Castro's totalitarian thug regime. Some had escaped Cuba in leaky rafts. Others had fled using more conventional means, but like the others, they left literally everything they ever had behind, and built new lives in America, from scratch.
So, how was the hated, murderous dictator's death described by our media and ruling elites?
Here is how the New York Times, opened its Castro obituary:
Fidel Castro, the fiery apostle of revolution who brought the Cold War to the Western Hemisphere in 1959 and then defied the United States for nearly half a century as Cuba's maximum leader, bedeviling 11 American presidents and briefly pushing the world to the brink of nuclear war, died on Friday. He was 90
So, apparently the gross suffering and human rights violations Castro inflicted on the Cuban people for decades counts for nothing. Not that this knob-polishing is anything new. They've been doing it for years. So this is just more of the same. Fortunately, Donald Trump, Marco Rubio, Ted Cruz and a few other voices dissented from the nauseating stream of knob-polishing that has been filling the MSM for the past few days since Castro's death.
The point is, in the wake of Trump's election, a number of pundits have noticed a "disconnect" between the elites and the working classes. I hope they're noticing this, because I don't think anybody could have invented a better example.
Not that the NY Times is blind to human rights violations. Here is their obituary for another Latin American dictator:
Gen. Augusto Pinochet Ugarte, the brutal dictator who repressed and reshaped Chile for nearly two decades and became a notorious symbol of human rights abuse and corruption, died yesterday at the Military Hospital of Santiago. He was 91.
Pinochet's crimes were an order of magnitude less than Castro's, yet the Times uses the adjective "brutal" to describe him (as opposed to the "fiery" Fidel) and the rest of the obituary holds up every last wart and pimple of Pinochet's regime under a magnifying glass so everyone can see how ugly it was -- amplifying his failures and minimalizing his successes -- while furiously airbrushing the murderous despotism of Fidel Castro.
So, why the difference? Why does the NY Times ("The Newspaper of Record") do this? Well, probably because Pinochet gave the bum's rush to Chile's previous ruler, Salvador Allende, a two-bit commie who was trying to bring to his own country the same poverty and economic ruin as was produced by Castro's totalitarian thug regime in Cuba. But, this gets a pass because the Times implements a strict application of the "no enemies on the left" rule that is taught in j-school. So the rat bastard commies Allende and Castro are defended and romanticized while Pinochet, a staunch anti-communist, is condemned wholeheartedly.
This brings to mind the classic essay Dictatorships and Double Standards, by Jeane J. Kirkpatrick, first published in Commentary Magazine in 1979. It is a masterful analysis of the feckless, incompetent foreign policy of the Carter administration and why it was such a craptacular failure. In this essay, she notes the difference between "authoritarian" and "totalitarian" regimes:
Traditional autocrats leave in place existing allocations of wealth, power, status, and other resources which in most traditional societies favor an affluent few and maintain masses in poverty. But they worship traditional gods and observe traditional taboos. They do not disturb the habitual rhythms of work and leisure, habitual places of residence, habitual patterns of family and personal relations. Because the miseries of traditional life are familiar, they are bearable to ordinary people who, growing up in the society, learn to cope, as children born to untouchables in India acquire the skills and attitudes necessary for survival in the miserable roles they are destined to fill. Such societies create no refugees.

Precisely the opposite is true of revolutionary Communist regimes. They create refugees by the million because they claim jurisdiction over the whole life of the society and make demands for change that so violate internalized values and habits that inhabitants flee by the tens of thousands in the remarkable expectation that their attitudes, values, and goals will "fit" better in a foreign country than in their native land.
Emphasis mine.
Anastasio Somoza was a son of a bitch. Fulgencio Batista was also a son of a bitch. So was the Shah of Iran. Heck, Czar Nicholas II was, too. But is there any sane person who argues that tossing these SOBs out resulted in a better life for the people of their respective countries? For all of his whining and hand-wringing about "human rights", everything that Jimmy Carter did abroad resulted in corrupt, yet manageable authoritian regimes being replaced by fiercely anti-American totalitarian regimes that were ten times worse.
However, the NY Times, still basking in the glory of the Pulitzer Prize won by Walter Duranty, was pretty much a Fidel cheerleader for decades, so much so that an early issue of the Natioal Review published a parody ad with the NY Times advertising slogan "I Got My Job Through The New York Times" underneath a cartoon of Castro sitting on the island of Cuba and waving a gun.
And you know that if Jimmy Carter were around back in 1959, he'd be first in line cheering for Fidel.
------------------
[Addendum]: If you're a foreign policy wonk, you owe it to yourself to read Kirkpatrick's Commentary essay. But even if you aren't, you should read her wiki entry. She was an old-school conservative Democrat who so impressed Ronald Reagan (he read her essay) that he made her his foreign policy advisor for his 1980 campaign and she eventually became the first woman to serve as the US Ambassador to the United Nations.
And when she was appointed to that post in 1981, feminists throughout America cheered wildly and showered President Reagan with their hearty congratulations for allowing Kirkpatrick to break one of the glass ceilings of international politics, and Kirkpatrick herself was lauded by feminists for the rest of her days as a pioneer and a great role-model for young women everywhere.*
* No, not really.

posted by OregonMuse at
03:40 PM
|
Access Comments