« EMT 11/27/16 [krakatoa]
|
Main
|
Afternoon Open Thread »
November 27, 2016
Sunday Morning Book Thread 11-27-2016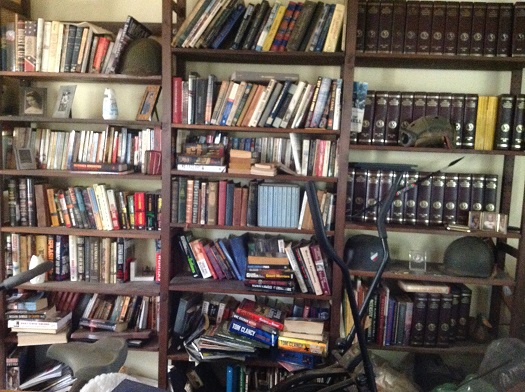 Library of Moron That SOB Van Owen

Good morning to all of you morons and moronettes and bartenders everywhere and all the ships at sea. Welcome to AoSHQ's stately, prestigious, internationally acclaimed and high-class Sunday Morning Book Thread, where men are men, all the 'ettes are gorgeous, safe spaces are underneath your house and are used as protection against actual dangers, like tornados, hurricanes, IRS audits, Donald Trump becoming president, and special snowflakes are sure to melt. And unlike other AoSHQ comment threads, the Sunday Morning Book Thread is so hoity-toity, pants are required. Even if it's these pants, which takes the concept of "camel toe" to a whole new level.
"Some books are to be tasted, others to be swallowed, and some few to be chewed and digested."
― Francis Bacon, Essays

The New Art of War
Could very well be Heinlein's Starship Troopers replaces Sun Tzu's classic book, according to this article in Popular Mechanics:
Robert A. Heinlein's Starship Troopers, published in 1959, is aging remarkably well. The tome chronicles the early military career of Johnnie Rico, who fights alien arachnids while clad in a heavily armed exoskeleton. The troopers drop from orbit one by one to wreak havoc on whatever target the Sky Marshal deems worthy of the attention. It's a cool adventure novel with a soldier's eye view that doubles as a treatise on modern warrior culture, the limits of military technology, and the awful glories of fighting infantry. There's a reason military academies like West Point recommend cadets read the book.
I've always liked it because it is so loaded with common sense, such as:
"Violence, naked force, has settled more issues in history than any other factor, and contrary opinion is wishful thinking at its worst."
So much for the old lyric "War, what is it good for? Absolutely nuthin'!" This is make-believe. We would like to think this. Heinlein's view is ugly, but undoubtedly true.
Read the rest of the article when you get a spare moment.
H/T to The Political Hat

Why Trump Won -or- The View From Manhattan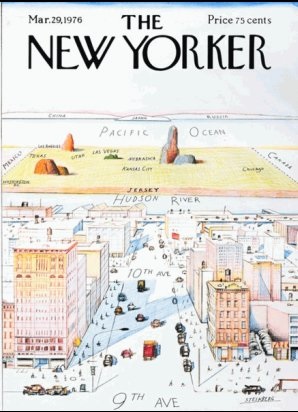 This is an oft-reprinted New Yorker magazine cover. It brilliantly captures the insularity of the Manhattan liberal hive, and how tightly their little world is circumscribed.
I just think it's ironic how all of the characteristics of fly-over country they claim to abhor, the parochialism, the narrow-mindedness, the inbred thinking, the lack of any kind of broader perspective or self-reflection, all of these characteristics the Manhattan mandarins exhibit in spades. And, other than brief, infrequent flashes (like this magazine cover), they seem utterly incapable of seeing it.

Moron Recommendations
Moron lurker fearr maidir recommends the latest by James D Hornfisher, The Fleet at Flood Tide: America at Total War in the Pacific, 1944-1945, about which he says:
An excellent read...anyone that sobs about dropping a couple nukes on Japan ought to read this book. He follows the paths of Col Tibbets, Adm Fletcher and a few lesser-knowns. Also details a few Japanese that survived the island campaigns. Maybe not new material here but he puts it all together in a readable format. I enjoyed his earlier Last Stand of the Tin Can Sailors this one is equally well written.
How would you like to be a swabbie on a destroyer during WWII and hear this from the commander:
"This will be a fight against overwhelming odds from which survival cannot be expected. We will do what damage we can."
This is what they were facing:
With these words, Lieutenant Commander Robert W. Copeland addressed the crew of the destroyer escort USS Samuel B. Roberts on the morning of October 25, 1944, off the Philippine Island of Samar. On the horizon loomed the mightiest ships of the Japanese navy, a massive fleet that represented the last hope of a staggering empire. All that stood between it and Douglas MacArthur's vulnerable invasion force were the Roberts and the other small ships of a tiny American flotilla poised to charge into history.
This is the subject of Hornfisher's earlier book referenced by fearr maidir, The Last Stand of the Tin Can Sailors: The Extraordinary World War II Story of the U.S. Navy's Finest Hour
I can't even imagine. For those brave men to put themselves in harm's way like that, I am not worthy to swab their decks.
___________
I've been reading a lovely book, A-B-C Et Cetera: The Life and Times of the Roman Alphabet, by Alexander and Nicholas Humez. It goes through each letter and then tangents off into Roman history. So yesterday I learned the word "cisvestitism," which means dressing in clothes appropriate to your sex, but inappropriate to your station, such as a king dressing as a pauper or Obama dressing as a president.
Just thought I'd share that.

Posted by: Mary Poppins' Practically Perfect Piercing at November 23, 2016 10:18 AM (X6fMO)
So here's the book he's talking about: ABC Et Cetera: The Life & Times of the Roman Alphabet. And there's nothing really I can do to improve MP4's excellent description, other than to note that the authors wrote a similar book on the Greek alphabet, Alpha to Omega: The Life and Times of the Greek Alphabet

Books By Morons
Heard from a lurking 'ette author this week, who has written her first novel, a YA fantasy romance, The Body Electric
Lena Clark, a small-town teenager, falls for a stranger with a mysterious past—and a frightening present. Before she knows it, she is a target, wrapped up in his quest to escape the wrath of a jealous queen from a world Lena never believed existed…
Allie says her novel "...would be a great Christmas gift for all the teen daughters of the AoS readership (in my super humble opinion!)."
The company that publishes her novel, Istoria Books, is unfortunately going out of business. But the editor/owner is also an 'ette, and an author. So I asked her about her own books and she said, "I think the AoS crew would probably be most attracted to my two-mystery set: DEATH IS THE COOL NIGHT and LOST TO THE WORLD (in one volume)"
DEATH IS THE COOL NIGHT: On the eve of America's entry into World War II, a tortured pianist can't remember the night his nemesis, an opera conductor, is killed. Did he do it? Or is the murderer his beautiful and troubled new love? A dramatic story with operatic overtones...

LOST TO THE WORLD: Ten years after the war, Detective Sean Reilly finds no peace. His wife is gone, he has to raise two boys on his own and solve a complicated new case: the murder of a researcher at the Johns Hopkins polio research labs on the eve of the famous vaccine trials that will save so many children while leaving current polio victims lost to the world.
And here's here retelling of Jane Eyre, Sloane Hall:
In 1920s Hollywood, young John Doyle learns the craft of cinematography when a stupid mistake costs him his job. On a tip, he heads to Sloane Hall, the estate of a famous silent screen actress, Pauline Sloane, where he lands a position as chauffeur. Sloane Hall first offers him peace as he enjoys the bounty of the luxurious home, then unrest as its beautiful namesake returns and starts preparing for her first talking picture. Despite his best efforts to resist, John falls hopelessly in love with his employer. His future brightens, however, when she appears to return his affection, leading to plans for a secret wedding—until other awful secrets intrude, leading to heartbreak and separation.
That old Hollywood setting makes this novel sound like one that our own MP4 might write.
And lasty, there's the more lighthearted romantic comedy Fire Me: A Tale of Scheming, Dreaming and Looking for Love in All the Wrong Places
Fed up with impossible deadlines and meaningless busywork, Anne Wyatt goes to work one day determined to resign. But that's the day her boss announces someone's getting laid off (and with a generous severance package). Now Anne has one day to ruin her career and convince her boss that someone should be her.

Anne's hysterical tactics are unwittingly undermined by Ken, the handsome graphic designer in the next cubicle, who has his own ideas for liberation from the corporate grind. In the end, Anne and Ken have to decide together what is important in life, and what they can discard without a second glance.
This one has been optioned for film.

___________
Don't forget the AoSHQ reading group on Goodreads. It's meant to support horde writers and to talk about the great books that come up on the book thread. It's called AoSHQ Moron Horde and the link to it is here: https://www.goodreads.com/group/show/175335-aoshq-moron-horde.
___________
So that's all for this week. As always, book thread tips, suggestions, bribes, rumors, threats, and insults may be sent to OregonMuse, Proprietor, AoSHQ Book Thread, at the book thread e-mail address: aoshqbookthread, followed by the 'at' sign, and then 'G' mail, and then dot cee oh emm.
What have you all been reading this week? Hopefully something good, because, as you all know, life is too short to be reading lousy books.


posted by OregonMuse at
09:00 AM
|
Access Comments