« Another Day, Another Media Meltdown [Warden]
|
Main
|
The Morning Report 11/23/16 »
November 22, 2016
Tuesday Night ONT - Progressive Jackpot Edition
Not quote sure who has the ONT for tonight, there's been some confusion with people on vacation, but I'm going to put this up now. Then I will add content until we have a full ONT. Check every time you refresh the thread, because there may be more stuff! Lets start with some good news from the fine folks at Vox: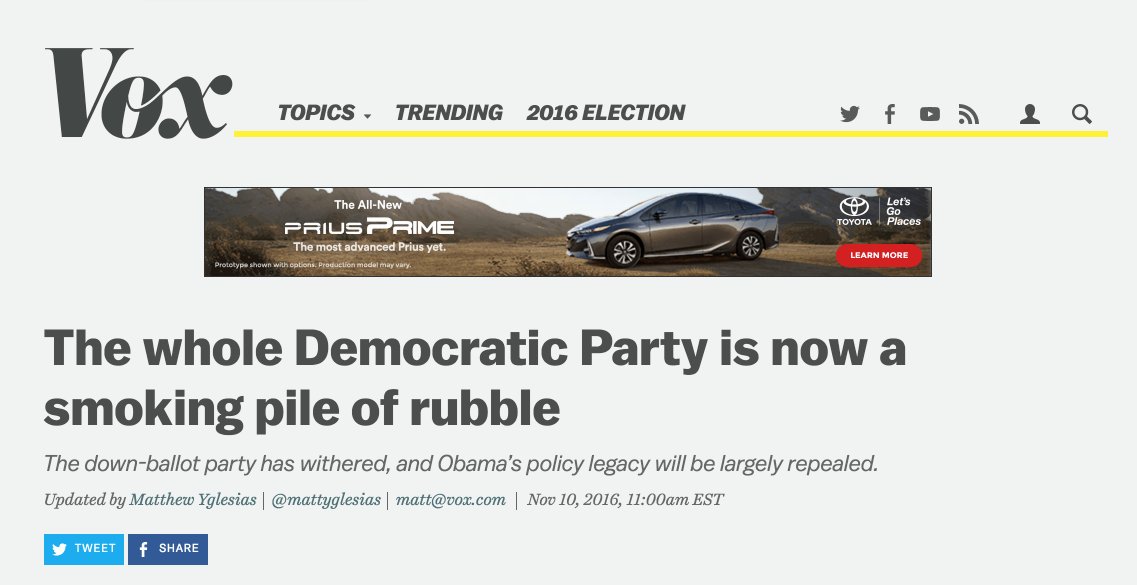 Beards
Who doesn't like a fine beard? Whether it's a well groomed goatee, or an Asian lady one pays a monthly fee to in order to keep one's parents from asking too many questions about your "good friend" Keith, everybody loves a good beard. Then there's this guy:

Rest in Peace, Marine
Tarawa is about the size of Central Park. The fight over the island was some of the most vicious of the entire island hopping campaign.
On November 24, 1943, 15000 United States Marines, under the aegis of Ol' Glory, after less than four days of bloody fighting, often muzzle to muzzle inside fortified bunkers, took the atoll TARAWA, so heavily fortified by the Japanese that they believed "a million men in a hundred years could not take it." In the stillness of the aftermath of battle, Generals Howlin' Mad Smith and Julian Smith surveyed the Japanese defenses and overcome by sheer admiration for what the American fighting men had wrought, exclaimed: "How did they do it?" Then came the answer, from the sea. For there, in the soft surfing of the waves, among the floating bodies of some 300 Marines, was one only partially claimed by the sea. His upper body had clung to land and his outstretched right hand was near a small red and blue flag. A beach marker he had planted so that those who would follow ashore would know the way. Planting it had required his last measure of full devotion and had entered him forever into the long gray line. Seeing that pure dedication to duty for the preservation of freedom, the two voiced the answer to their own question. "How can such men be defeated?"
There Are Good People Out There
Repo man felt terrible taking elderly couple's car. So he paid it off and returned it
2-year-old forms friendship with unlikely hero

Shut Up, Wesley
Except for the last line, which is pure Proggy projection, to my ear this sounds like Wil Wheaton is endorsing a Trump victory.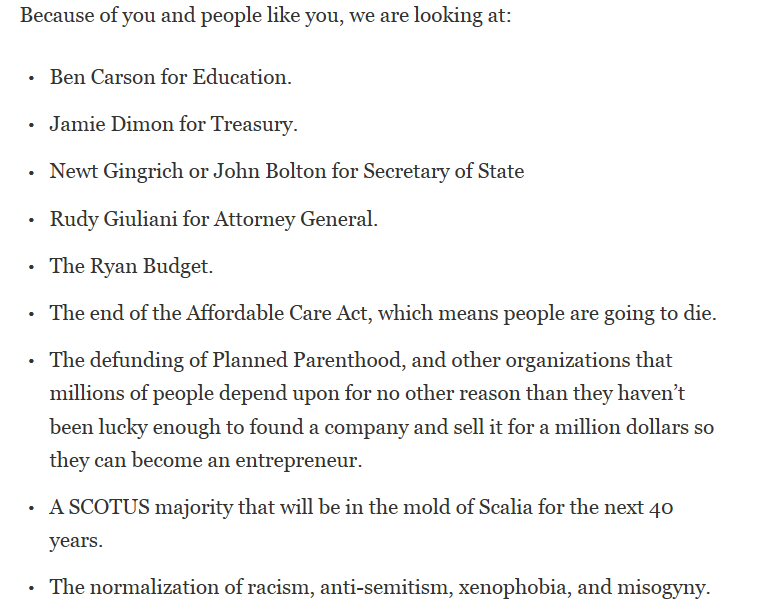 Chose Your Venue Wisely
Special Snowflakes in Portland:
Special Snowflakes in Texas:

Troll Level: Master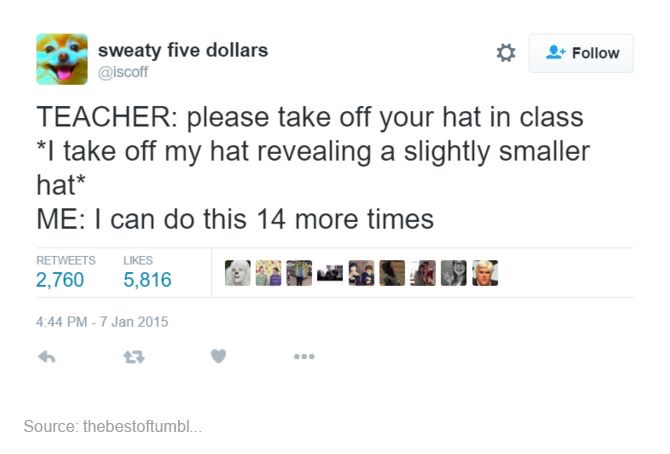 Joe Biden Memes
These have been going around since the election, and they're a scream: Joe Biden Memes Are The Best Thing To Come Out Of This Election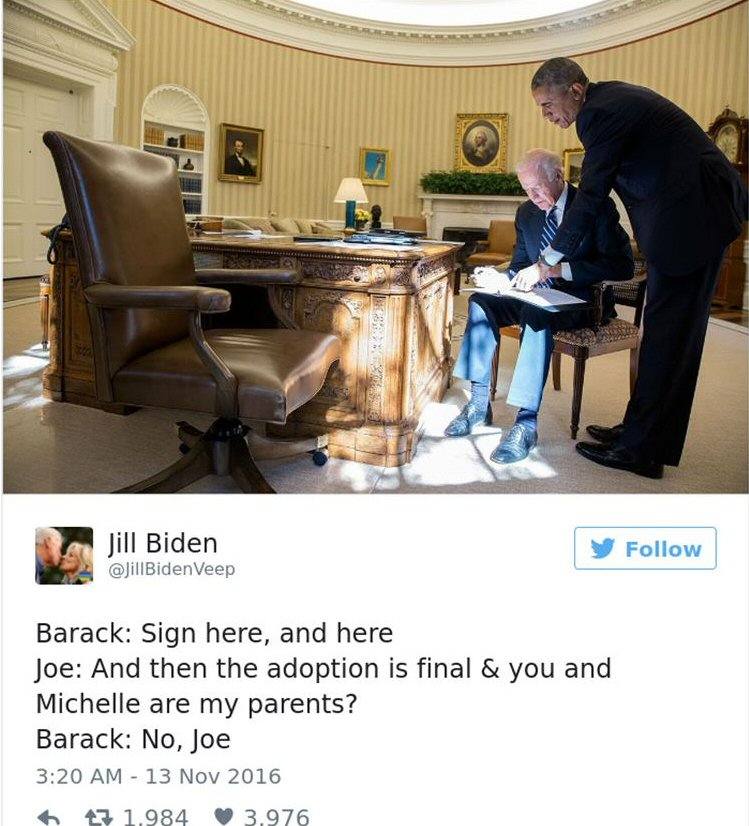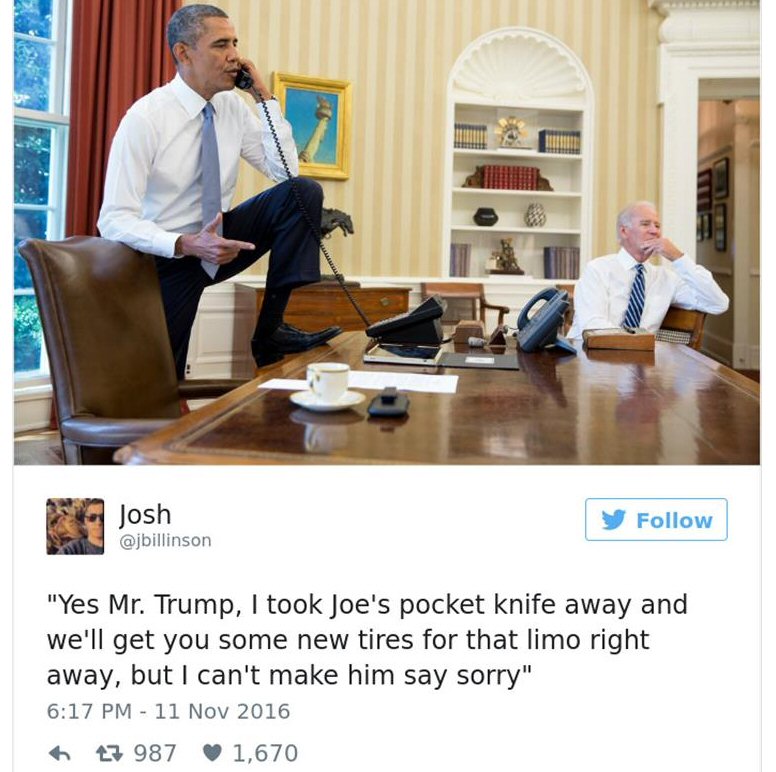 More at the link.

That should be enough content for one night. Tonight's ONT brought to you by Not a Bug: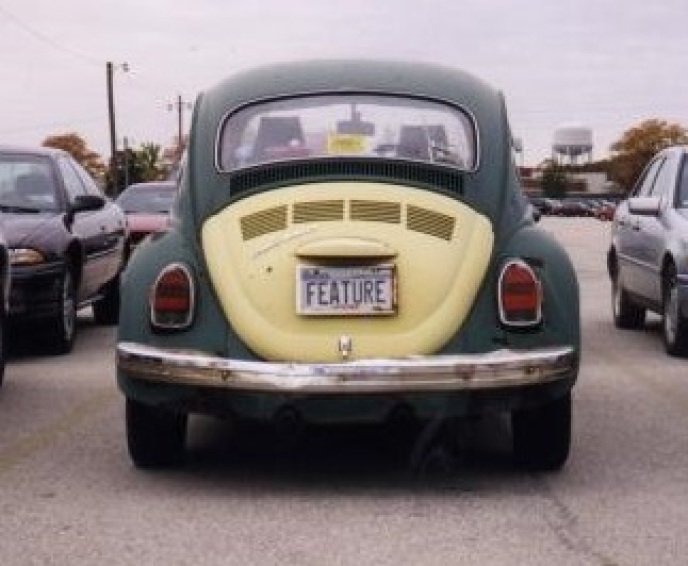 ETA: Harder to write these things when you can't proof them beforehand.

posted by WeirdDave at
11:00 PM
|
Access Comments