« Thread below the Gardening Thread: 26Nov16 [KT]
|
Main
|
Open Thread Below the Pet Thread »
November 26, 2016
Saturday Gardening Thread: Kansas? We're in Kansas? [KT]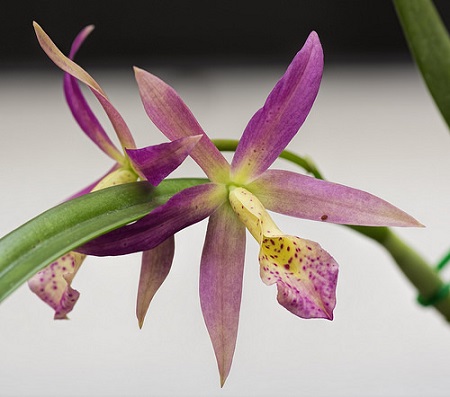 Back at the beginning of the month, Don said "I just spent half the day taking pictures of plants I didn't grow at the annual orchid show here. Some are spectacular, some are weirdos."
Who would expect Kansas to be such a hotbed or orchid culture? He is graciously allowing us to raid his Flickr account to see them!
The photo above is Brassocatanthe Exuberance. Not only do people GROW orchids, they also BREED them. Impressive. The link at his nic features a post displaying the weirdo below, Bulbophyllum Elizabeth Ann "Jean", sticking its tongues out at you. Plus more orchids, both the weird and the spectacular. You can embiggen the photos and he does some stereo photos, too!
UPDATE: Don has added some notes for AoSHQ readers at the link. Take a look around for some fun and amazing photos.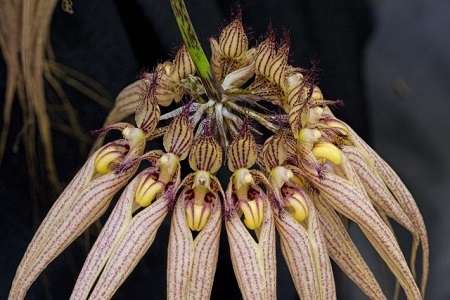 Don has done this before.
Here is a Habenaria, or bog orchid, from the Kansas Orchid Society show last year, on Halloween. Doesn't look much like and orchid to me, but I like it. Doesn't look much like it is related to H. medusae, either.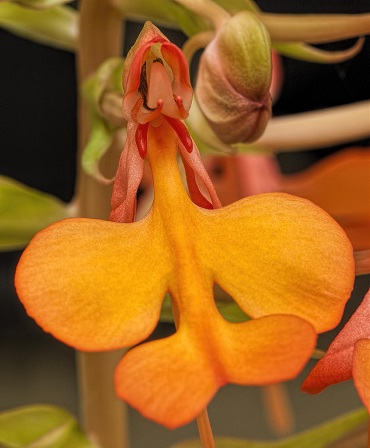 From March, 2015 here is Tolumnia Genting Orange. Dramatic.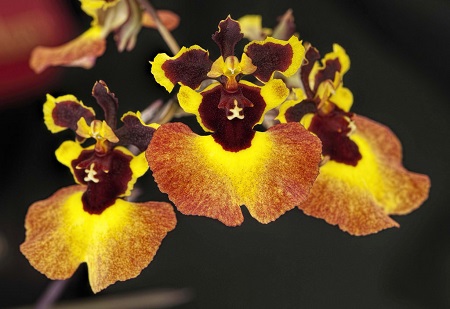 And from November of 2014, Dendrobium Den. Anucha Flare. Don't know why it makes me think of Christmas.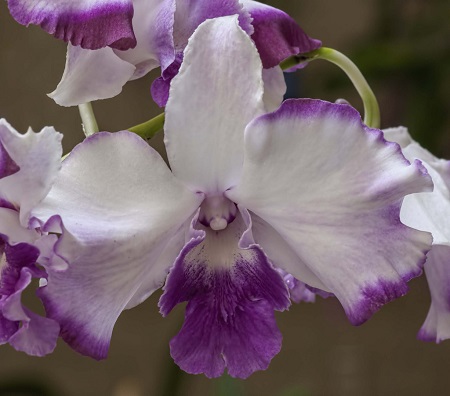 Kansas Agriculture and Horticulture
Kansas produces more wheat than any other state. But cattle and calves produce more revenue. There's oil in the ground, too. The state could be pretty much self-sufficient! According to the Kansas Historical Society, Kansas is known as the "Wheat State" and "Breadbasket of the World."
Farming has been a way of life in Kansas, impacting its politics, laws, innovations, culture, social customs, and traditions. The economy relies on many agricultural businesses including those related to storing, transporting, and processing farm products. . .

The grasshopper plague of 1874 and subsequent droughts led to the decline of corn in Kansas. Mennonite settlers arriving from Russia were accustomed to growing wheat in a prairie climate. They found success with wheat in Kansas and encouraged other farmers to plant it here thereby helping to create the wheat-state tradition. As wheat grew in popularity, technology advanced, making it possible to work larger areas in shorter periods of time.
One of the farmers prominent in the history of Kansas was the remarkable
George Washington Carver. Kidnapped by Confederate raiders as a child, moved to Kansas when he was 13 years old. What a life!
The state flower of Kansas is the common annual sunflower. It was a controversial choice because some people thought of it as a weed. Face it: wild sunflowers are easier to grow than orchids, for most people. But the sunflower is now featured on the State Flag. The State Nickname is "The Sunflower State".
The State Motto is "Ad Astra Per Aspera", or "To the Stars through Difficulty". The State Song is "Home on the Range". Here's a song for the folks who asked, "What's the matter with Kansas"?
Back to Don's photos. I think his photo albums are a great way to view them. Great on the flower closeups, as you can view tiny parts of the photo enlarged. He has lots of artful, dramatic photos of dancers on stage. I couldn't pick a favorite, but this photo of contra dancers is my favorite from his "Winfield" album. Here are some dancers in action. Start at the beginning for music, go to 50 seconds to see the dancers. Now that's Kansas. Heh.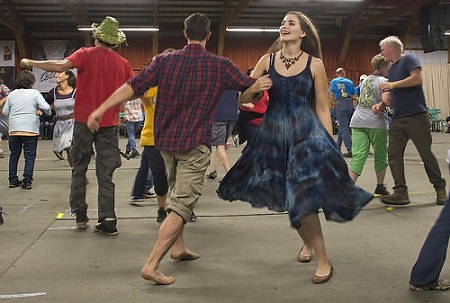 Over the River and Through the Fields
If you traveled this week, did you see any interesting agricultural or horticultural features? I took my nephew on some new-to-me country roads yesterday and was heartened to see the farms still there. Even saw some roses. Cotton has mostly been plowed down. The river was dry. Saw trucks full of oranges coming down from the foothills.
Any gardening or farming going on where you are?
Have a great week.


posted by Open Blogger at
12:59 PM
|
Access Comments