« Ace of Spades Pet Thread [Mis. Hum.]
|
Main
|
Installment #26,915 of "Don't Hold Your Breath Waiting For The Pallies To Change" [CBD] »
November 05, 2016
Saturday Afternoon Chess/Open Thread 11-05-2016 [OregonMuse]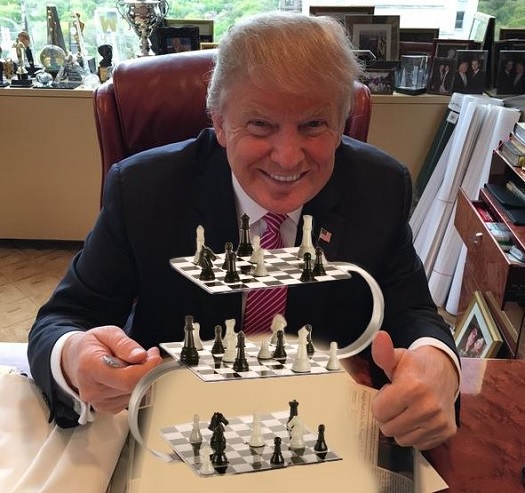 "On Saturday, I'm going to forget all about politics for a day and just hang out on the AoSHQ Saturday Chess Thread."
Good afternoon morons and moronettes, and welcome to the Saturday Afternoon Chess/Open Thread, the only AoSHQ thread with content specifically for all of us chess nerds who pay homage in the temple of Caïssa, goddess of the chessboard. And, for those of you who aren't nerdly enough for chess, you can use this thread to talk about checkers, or other games, or politics, or whatever you wish, only please try to keep it civil. Nobody wants to get into pie fight on a Saturday afternoon. Especially not on the weekend just before a big election.

Problem 1 - White to To Play (323)
Hint: White mates in 3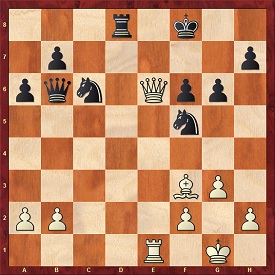 3r1k2/1p5p/pqn1Qpp1/5n2/8/5BP1/PP3P1P/4R1K1 w - - 0 1


Problem 2 - White To Play (312)
Hint: White obtains a material advantage

3r2k1/p5pp/2PbRp2/3P4/8/1P4P1/P4P1P/6K1 w - - 0 1



How Chess Got To Be There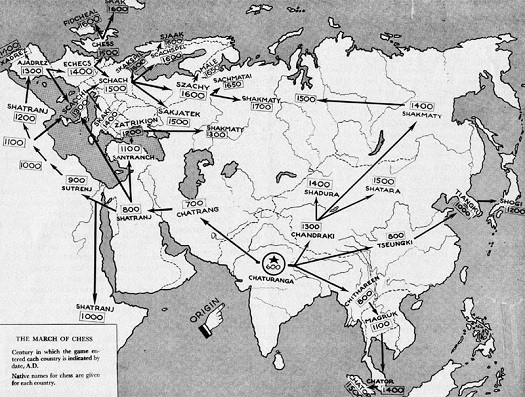 Here is a map that shows the spread of chess throughout Europe and Asia over time. And here is a discussion thread where a number of points are disputed.
(H/T to @ThePoliticalHat)

Problem 3 - White To Play (BWTC 18)
Hint: White mates in 5 moves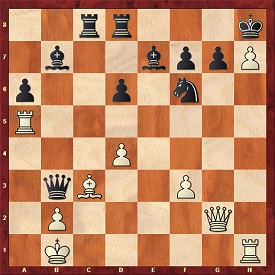 2rr3k/1b2bppP/p2p1n2/R7/3P4/1qB2P2/1P4Q1/1K5R w - - 0 1



Problem 4 - White To Play (BWTC 31)
OK, noobs, put on your thinking caps, because this one may take you awhile.
Hint: White to play and mate in 10(!)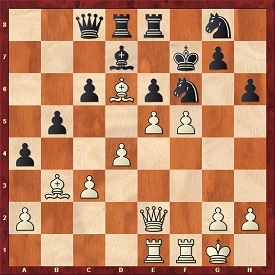 2qrr1n1/3b1kp1/2pBpn1p/1p2PP2/p2P4/1BP5/P3Q1PP/4RRK1 w - - 0 1



It's On!
World Champion Magnus Carlsen will be defending his title against GM Sergey Karjakin starting this week. The first game will be this Friday, Nov. 11th. Karjakin qualified by winning the 2016 Candidates Tournament, 1/2 point ahead of American GM Hikaru Nakamura.

According to Chess.com,
The match is intended to be 12 games; the first player to 6.5 points wins the match. In the event of a 6-6 tie, there will be a rapid and blitz playoff. The time control for the classical games is 100 minutes for the first 40 moves, 50 minutes for the next 20 moves, and 15 minutes for the rest of the games. There will be an additional 30 second increment per move starting from move one.
Also,
Agon, the company that holds the commercial rights to events in the world championship cycle, is the organizer of the match. It will be providing official coverage on its WorldChess website, which will include a live video stream with multiple camera angles, 360-degree VR, and expert commentary.
All available on pay-per-view, as they say. The match is being held in New York City. The prize fund is 899,000 euros, which is approximately $1 million.

Endgame of the Week (Endgame 33)
Your job is to demonstrate how White can win this endgame.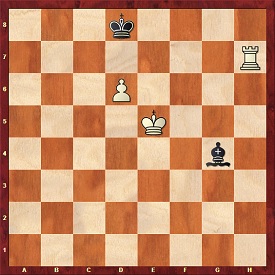 3k4/7R/3P4/4K3/6b1/8/8/8 w - - 0 1



___________
Solutions Update

Problem 1 - White to To Play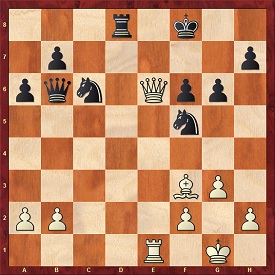 3r1k2/1p5p/pqn1Qpp1/5n2/8/5BP1/PP3P1P/4R1K1 w - - 0 1


The decision tree for this problem is just a thin branch.
1.Qxf6+ Kg8
There's no place else to go.
2.Bd5+ Rxd5
Again, forced.
3.Re8#
Kaboom.

Problem 2 - White To Play (312)

3r2k1/p5pp/2PbRp2/3P4/8/1P4P1/P4P1P/6K1 w - - 0 1


White's pawn is so far advanced that the Black bishop is a goner.
1.Rxd6! Rxd6
2.c7
Inferior responses to this move are 2...Rc6 3.dxc6 Kf7 4.c8=Q and 2...Rd8 3.cxd8=Q+. In either case, White will quickly. Probably the best of a bad lot is:
2...Kf7
3.c8=Q Rxd5
So Black is left with a rook vs. White's queen, but he did manage to eliminate the 2nd passed pawn. White should win, but it might take a while.

Problem 3 - White To Play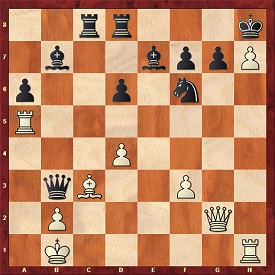 2rr3k/1b2bppP/p2p1n2/R7/3P4/1qB2P2/1P4Q1/1K5R w - - 0 1


1.Qxg7+! Kxg7
No other choice.
2.h8=Q+ Rxh8
If 2...Kg6 then 3.Qh6#
3.Rg5+ Kf8
4.Rxh8+ Ng8
5.Rgxg8#
And 5.Rhxg8# works just as well.

Problem 4 - White To Play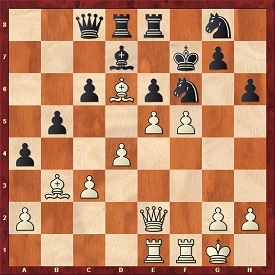 2qrr1n1/3b1kp1/2pBpn1p/1p2PP2/p2P4/1BP5/P3Q1PP/4RRK1 w - - 0 1


The good news is that even though the mate is a long ways off, relatively speaking, most of the moves are forced, so there's not much of a decision tree.
1.Qh5+ Nxh5
2.fxe6+ Kg6
3.Bc2+ Kg5
4.Rf5+ Kg6
5.Rf6+ Kg5
6.Rg6+ Kh4
7.Re4+ Nf4
And here White has two options, but both lead to mate on move 10. The first option is
8.Rxf4+ Kh5
9.Rg3 Bxe6
10. Bg6#
And the second:
8.g3+ Kh5
9.Rxf4 a3
10.Rh4#
Or 9...Rxe6 10.Rh4#, either way, it's mate in 10.
This is one of those positions that separate the masters from mere mortals. Because the decision tree is narrow, I believe that a master would be able to see the 10-move mate pretty much all in advance. In fact, in the old days, he would've announced the mate in 10, then played it out to the delight of the onlookers.

Endgame of the Week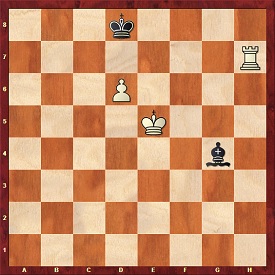 3k4/7R/3P4/4K3/6b1/8/8/8 w - - 0 1


White may be tempted to bait Black with 1.d7 Bxc7. And indeed, there are a number of trappy lines after White moves 2.Kd6. Black is in a tight spot, with mate threatened, or the loss of his piece:
2...Ke8 (or 2...Kc8)
3.Rxd7
2...Bb5
3.Ra7 threatening Ra8#
3...Bd7
4.Rxd7+
But Black can sidestep all of these pitfalls by responding to 1.d7? with 1...Kc7, refusing to allow his king to be hemmed in. There follows:
2.Kd5 Bxd7
3.Rg7 Kc8
4.Kd6 Ba4
...and this KR v. KB endgame will most likely be drawn.
So what is the best move for White? It is
1.Rh4!
Now Black has to decide what to do with his bishop. He has 5 options;
1...Bd7
1...Be2
1...Bf3
1...Bc8
1...Bd1
Let's take them in order.
1...Bd7 severely limits the movement (i.e. escape) of Black's king;
2.Rh8+ Be8
3.Ke6 and Black has just been zugzwanged
3...Kc8
4.Rxe8+ and wins
1...Be2 is not much better:
2.Ke6 Bb5
To stave off checkmate.
3.Rh8+ Be8
4.d7 Kc7
Forced.

5.dxe8=Q and Black is toast.

1...Bf3 really doesn't do anything, either:
2.Ke6 Bc6
3.Rh8+ Be8
4.d7 Kc7
Again, forced.
5.dxe8=Q
The fat lady is singing.

1...Bc8 also falls short:
2.Rh8+ Kd7
3.Rxc8 Kxc8
White is, technically, down the exchange, but his pawn is about to queen, so the point is moot.
4.Ke6 Kd8
5.d7 Kc7
6.Ke7 for the win.

That only leaves one option left:
1...Bd1
But the best response is an immediate pawn push:
2.d7 Kxd7
Any other move, and White replies 3.Kd6 or 3.Ke6
3.Rd4+
Ha! Rook fork! White wins!
Hope to see you all next week!
___________
Note: that cryptic line of letters and numbers you see underneath each board diagram is a representation of the position in what is known as "Forsyth-Edwards Notation", or F.E.N. It's actually readable by humans. Most computer applications nowadays can read FEN, so those of you who may want to study the position, you can copy the line of FEN and paste into your chess app and it should automatically recreate the position on its display board. Or, Windows users can just "triple click" on it and the entire line will be highlighted so you can copy and past it into your chess app.
___________
So that about wraps it up for this week. Chess thread tips, suggestions, bribes, rumors, threats, and insults may be sent to my yahoo address: OregonMuse little-a-in-a-circle yahoo dott com.

posted by Open Blogger at
04:45 PM
|
Access Comments