ę Saturday Gardening Thread: It's a Dilly [KT]
|
Main
|
Saturday Afternoon Chess/Open Thread 10-22-2016 [OregonMuse] Ľ
October 22, 2016
Ace of Spades Pet Thread [Mis. Hum.]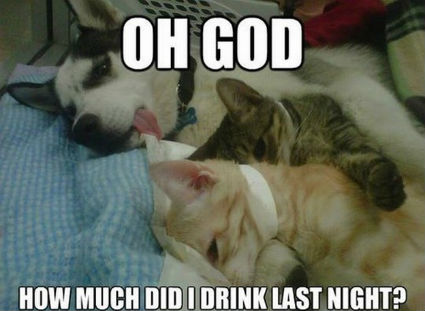 Why it's that time again. Welcome to the Ace of Spades Pet Thread. The experts say a calendar year is 7 years long to a dog. Wonder what this last week has been? Anyway, down and stay. We didn't tell you that you could leave. Enjoy!
A Little of This. A Little of That.
Half dog-half snake h/t a regular Moron who didn't leave his nic.

Not your typical episode of Cops. h/t Beckoning Chasm
The normal crafting of the AoS Pet Thread consists of going through the emails with photos you folks have sent in. Then your humble COB writes a couple of lines about the pets. However today will be a little different. There are quite a few nice stories that we here at AoS cannot do justice to. So you will have PetMoron photos and stories from their "owner".
Meet The PetMorons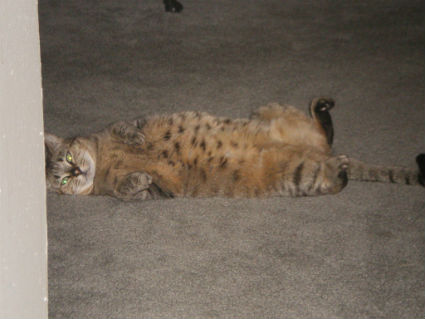 Regular Moron Tlikum has a pair of cats. This one is Miss Piggy. Per Tikum Piggy is the most unusual cat I have ever known. She WILL steal food off your plate as you are eating, especially if it is chicken. She is also ok with gentle tummy rubs. Her tail is always straight up when she walks. Lastly, she frequently rolls over on her back to relax.
His other cat is Ki-Ki and here is the Photobucket link Cute kitty-kat.
The following is an excerpt from an email sent in by Lurker Stacey.
"My name is Stacey, these are my two dogs Patton (blue heeler) and Ruby (Min
Pin). My husband had a massive heart attack and died while walking them in
June. I was told he gripped the leashes so the two wouldn't run away. I was
out of town at the time.
I would love for them to be on the Pet thing if it all possible. If not, I
understand. I love looking at Moron pets and reading all the comments."
Stacey we are sorry to hear of your loss. And we are glad we can post your photo.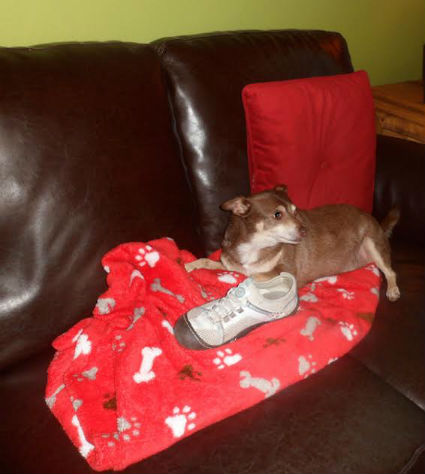 Another Lurker, DMH, submitted this story about Mochalicous.
"Mochalicious started finding items of mine to keep him "calm" when we were out. Coats, tops, and his favorite, my tennis shoes. He was a rescue pet who had a bad prior life. His time with us was special and spoiled, and we enjoyed his company. He unfortunately got cancer and did not make it through doggie chemo. He was a good boy, rip.
DMH"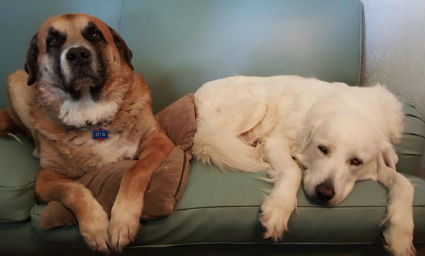 It must be Lurker Saturday. Lucy/Miss Conduct submitted her thoughts about here dogs.
"
Hi, Open Blogger. I donít even read the comments at Ace but I do visit regularly. You can call me Miss Conduct. Iím a crazy dog AND cat lady. Frankly, though, the dogs are way more photogenic, so thatís what Iím sending you. This is Otis the Anatolian Shepherd Dog and Lupe the Great Pyrenees. Otis is perfect, if a total hambone, while Lupe is a very sweet stinker. This is a rare photo in which she appears to be playing the straight man. Do not be fooled."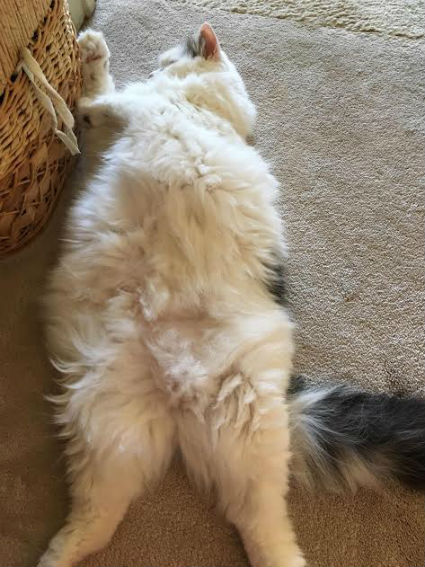 Lurker Frosto was kind enough to send in this photos.
"This is my Serbian cat, Freedom. He also has 2 brothers, Revolution and General George Washington, both not pictured. I'm a lurker, love the blog and appreciate everything you guys do."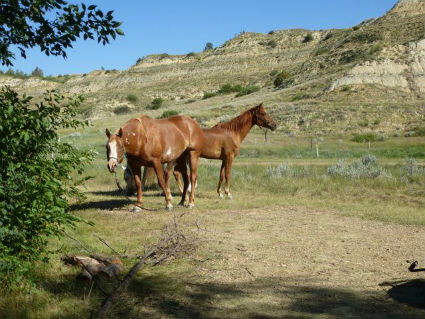 Palerider was on a trip in ND and took this photo. Here is her description of it.
"The paint horse in front is my sisters mare Babe. The Arabian gelding on alert is mygelding Tanzaknight. For geologists the name is a play on the gem. The grey horse with only part of his head showing is my dad's gelding RazzMo."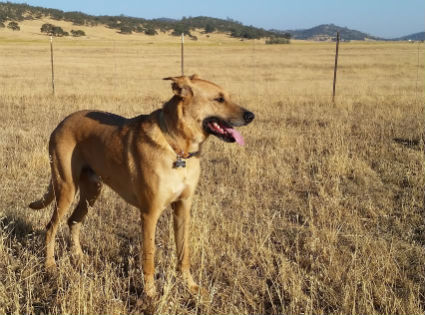 So another Lurker wanted to share a photo of his dog with us. Joe, the Lurker sent in this photo of Deacon.
"Another lurker who hardly ever comments - but I read them, and usually get a good chuckle.
This is Deacon - equal parts mongrel, cur, and mutt. We got him as a 15 pound puppy from a rescue and couldn't be happier how he turned out. Never thought he would end up being 100 pounds!
In the picture he's on a rabbit safari at our weekend place in the Sierra foothills. That's right, I'm living behind enemy lines in California."
'Ette Lindafell is a cool mom. Check out these pets she let her kids have. She also owns an adorable Bedlington Terrier.
Linda tells us, "These are my 3 kid's leopard geckos. Named Stampy, Toothless, & Bob (l to r)."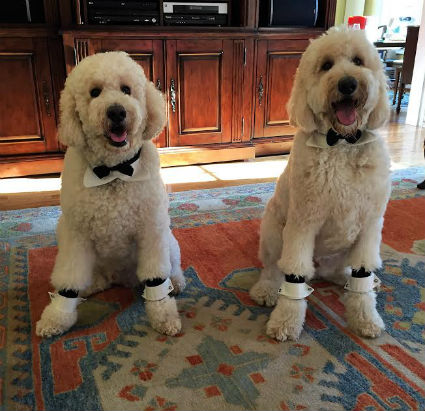 Last but not least are Max & Murphy wearing Chippendale outfits. GML submitted this photo. The only information given was in the subject line. We wish the story of this photo had been shared. Getting dogs dressed, sitting and staying still for photos is never an easy project.

Thank you all for the photo submissions. Let us know what you think about today's Pet Thread. Where? Why petmorons at gmail dot com of course. You can also sendnews tips animal news, photos or spare treats to this address. You folks and your pets be well this upcoming week.


posted by Open Blogger at
02:55 PM
|
Access Comments