« Ace of Spades Pet Thread [Mis. Hum.]
|
Main
|
Bridge Thread To The ONT [CBD] »
October 15, 2016
Saturday Afternoon Chess/Open Thread 10-15-2016: [OregonMuse]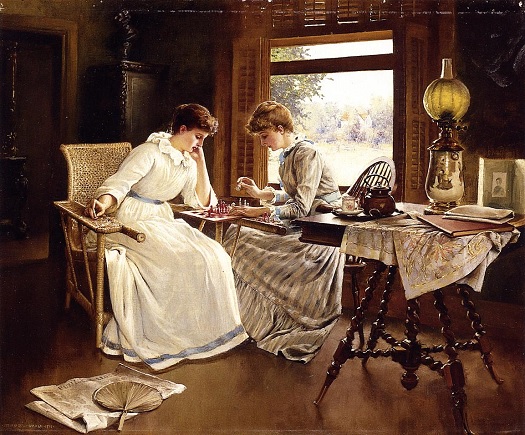 Chess Players
Frederick Judd Waugh
(As usual, the large version of the pic is better, which you can see by clicking on it)
Good afternoon morons and moronettes, and welcome to the Saturday Afternoon Chess/Open Thread, the only AoSHQ thread with content specifically for all of us chess nerds who pay homage in the temple of Caïssa, goddess of the chessboard. And, for those of you who aren't nerdly enough for chess, you can use this thread to talk about checkers, or other games, or politics, or the time when Donald Trump groped your grandmother, or whatever you wish, only please try to keep it civil. Nobody wants to get into a poo fight on a Saturday afternoon. Except monkeys. Who fling their poo and scream. They're angling for a gig on MSNBC.

Problem 1 - Black To Play (275)
Hint: Black wins material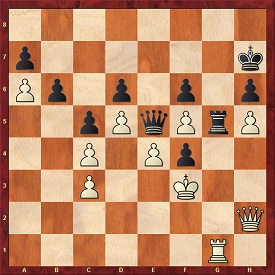 8/p6k/Pp1p1p1p/2pPqPrP/2P1Pp2/2P2K2/7Q/6R1 b - - 0 1


Problem 2 - White To Play (186)
Knights are tricksy little devils.
Hint: White mates in 2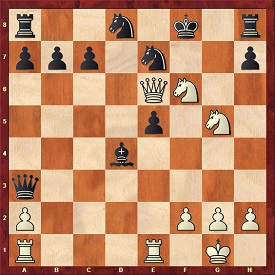 r2n1k1r/ppp1n2p/4QN2/4p1N1/3b4/q7/P4PPP/R3R1K1 w - - 0 1



More Hijab Protest
US Women's Chess Champion, IM Nazi Paikidzi has issued a strongly-worded statement:
We demand that FIDE reconsider its decision to award the Women's World Chess Championship to Iran. In its handbook, FIDE explicitly states its guiding moral principles and one of them is that the organization "rejects discriminatory treatment for national, political, racial, social or religious reasons or on account of sex." (F.01(1)(2)). Yet, by awarding the Championship to Iran, it is breaking that pledge to its members and subjecting them to discrimination on all fronts.
So now there's a petition:
The campaign has gathered over 15,000 signatures and has been featured prominently in many mainstream media venues, including The Telegraph, the Washington Post, Fox News, CNN and The New York Post. The Post included an interview with US Chess Federation Board President Gary Walters. "We absolutely support Nazi Paikidze. Women should not be oppressed for cultural, religious or ethnic reasons."
Yeah, yeah. I keep looking for anything substantial, some proposed action that will result in real-world consequences, but so far I've heard nothing but grand pronouncements and virtue signalling. Perhaps it's too early.
But I've decided to protest with something concrete: from now on, during every chess game I play on chess.com, I will be topless. Fortunately, nobody will want pics.

Problem 3 - White To Play (BWTC 14)
Hint: White mates in 3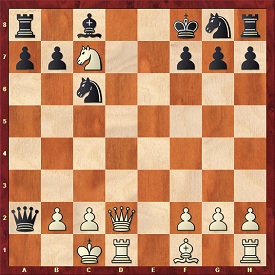 r1b2knr/ppN2ppp/2n5/8/8/8/qPPQ1PPP/2KR1B1R w - - 0 1



Problem 4 - Black To Play (20)
This is a position from an actual game, and it's complicated. You can see that White has an additional queen, but Black has a rook and bishop as compensation, so White is only two pawns ahead. But Black controls the 'f' file and is bearing down on the white king. So, how does Black proceed? This is probably a good problem to load into your chess app and spend some time playing against, because the decision tree is non-trivial.
Hint: Black can force checkmate, but it will take > 5 moves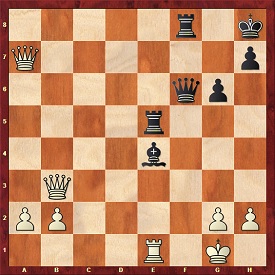 5r1k/Q6p/5qp1/4r3/4b3/1Q6/PP4PP/4R1K1 b - - 0 1



Endgame of the Week (297)
Black's queen and advanced pawn look very bad for White. But it's White's move, so what can he do? Remember, this is the endgame, so if you can't find a win, look for a draw.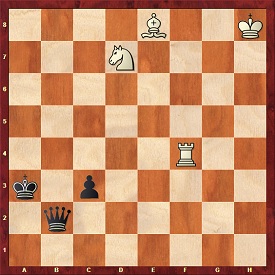 4B2K/3N4/8/8/5R2/k1p5/1q6/8 w - - 0 1



___________
Solutions Update
Problem 1 - Black To Play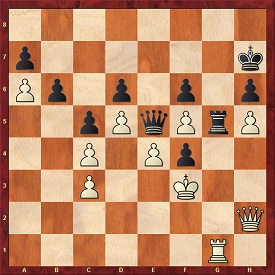 8/p6k/Pp1p1p1p/2pPqPrP/2P1Pp2/2P2K2/7Q/6R1 b - - 0 1


White's queen is toast. The key move is:
16...Qxc3+!
There are 3 possible replies, none of which save the queen:
If White captures the pawn with 17.Kxf4, then 17...Qe5+ skewers the queen.
Likewise if White tries to dodge with 17.Kf2 or 17.Ke2, then 17...Qc2+ also skewers.

Problem 2 - White To Play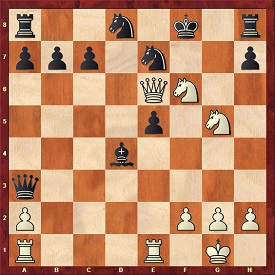 r2n1k1r/ppp1n2p/4QN2/4p1N1/3b4/q7/P4PPP/R3R1K1 w - - 0 1


1.Qf7+! Nxf7
Black is forced to capture the queen. And then...
2.Ne6#
The two knights team up powerfully here.

Problem 3 - White To Play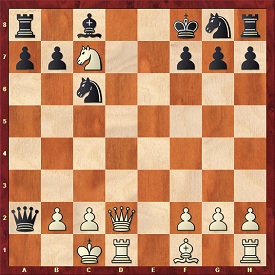 r1b2knr/ppN2ppp/2n5/8/8/8/qPPQ1PPP/2KR1B1R w - - 0 1


The key move is:
1. Qd6+!
Black's only option is to block.
1...Nge7
Not 1...Nce7? 2.Qd8#, but blocking with the other knight only delays the inevitable by one more move.
2.Qd8+ Nxd8
3.Rxd8#

Problem 4 - Black To Play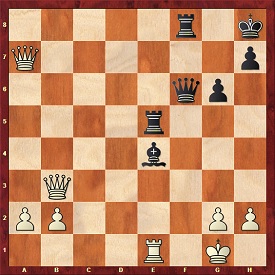 5r1k/Q6p/5qp1/4r3/4b3/1Q6/PP4PP/4R1K1 b - - 0 1


Black's best move is not a checking or an aggressive attacking move, but rather a preparatory one:
1...Bd3!
This move does two things. First, it puts pressure on White's rook on e1. Second, if White had any plans on sliding his queen on b3 over to the kingside to help out with the defense, he can now no longer do so. Because White's queen cannot capture the bishop. 2.Qxd3 would result in:
2...Rxe1+
3.Qf1 Qxf1#
And not 2.Rxe5?? because of the immediate 2...Qf1#
At this point, I turned it over to my chess app to find White's best continuation, because I wasn't sure how to proceed. It came up with:
2.Qg7+!?
As you may know, a chess machine, when faced with a lost position, will start throwing pieces in the way of the impending checkmate just to drag it out, and usually it's pretty pathetic. However, the human player (that's us) need to play carefully so as to make sure that the machine isn't using the piece sacrifices to develop counterattacking chances.
So, in this case, with a White queen up in our face, how do we want to capture it? Do we capture with the queen or with the king?
As it turns out, Black can win either way, but if the recapture is made with the queen, it takes a bit longer. Like this:
2...Qxg7
3.Rc1 Qa7+
4.Kh1 Qf2
5.Qd1 Bf1
6.Qf3 Bxg2+
7.Qxg2 Re1+
8.Rxe1 Qxe1+
9.Qg1 Qe4+
10.Qg2 Rf1#
This is a perfectly acceptable continuation. But as it turns out, it's a bit quicker if you do the recapture with the King.
2...Kxg7
3.Qb7+ Kh8
3...Kh6 is also a possibility. I'll cover this below.
4.h3
White wants some breathing room, but it will not succeed.
4...Rxe1+
5.Kh2 Qe5+
6.g3 Rf2+
7.Qg2 Rxg2+
8.Kxg2 Qe2#
And if 3...Kh6 then there follows
4.Qf3 Rxe1+
5.Kf2 Qh4+
6.g3 Re2+ (6...Qxh2+ 7.Kxe1 Rxf3 8. a3 Qe2#)
7.Kg1 Qxh2+
8.Kf1 Rxf3#

Endgame of the Week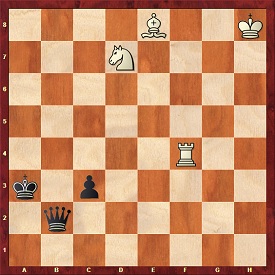 4B2K/3N4/8/8/5R2/k1p5/1q6/8 w - - 0 1


White can see he has few, if any, winning chances in this position. But Black's king is awkwardly placed, a bit exposed, and perhaps he can use the threat of knight forks and also perpetual checking to force the draw.
And if you think you've got a winning position, these are precisely the things you need to watch out for from your opponent. You need to protect your king from perpetual checks and watch out for him doing things like sacrificing all of his pieces to achieve a stalemate, or reducing the material to below the point where a checkmate is possible. These aren't cheap tricks, they are legitimate tactics all chess players should have in their tool kits.
(White's first move may surprise you!)
1.Ra4+! Kxa4
2.Ne5+
Not 2.Nc5++ as then the knight would be out of position to threaten the subsequent forks.
2...Kb3
The only way to avoid the fork. If 2...Ka5 then 3.Nc4+
Also, if 2...Ka3 then:
3.Nc4+ Ka2
4.Nxb2 cxb2
5.Bg6 Kb3
...and White has achieved a draw as Black will not be able to queen the pawn without White trading his bishop for it.
So, therefore:
3. Bf7+ Kc2
4. Bg6+ Kd1 (if 4...Kc1 then 5.Nd3+ fork!)
Black could move his king back to b3, but then White checks with Bf7+, threatening the perpetual.
5.Bh5+ Kc1
Black needs to keep his king on the dark squares, otherwise White while simply check him perpetually with his bishop. So the knight fork is inescapable.
6.Nd3+ Kd2
7.Nxb2 c2!
Nice. Black sees that taking the knight fails because of 8.Bg6 and the pawn will never queen. But White has a resource:
8.Nd3!
Again the pawn is prevented from queening. Black's only recourse is to take the knight.
8...Kxd3
But now:
9.Bg6+ Kd2
10.Bxc2
...and now it's a draw due to insufficient material. A very cleverly executed strategic plan by White.
See you all next week!

___________
Note: that cryptic line of letters and numbers you see underneath each board diagram is a representation of the position in what is known as "Forsyth-Edwards Notation", or F.E.N. It's actually readable by humans. Most computer applications nowadays can read FEN, so those of you who may want to study the position, you can copy the line of FEN and paste into your chess app and it should automatically recreate the position on its display board. Or, Windows users can just "triple click" on it and the entire line will be highlighted so you can copy and past it into your chess app.
___________
So that about wraps it up for this week. Chess thread tips, suggestions, bribes, rumors, threats, and insults may be sent to my yahoo address: OregonMuse little-a-in-a-circle yahoo dott com.

posted by Open Blogger at
04:55 PM
|
Access Comments