« The Morning Report 10/5/16 [J.J. Sefton]
|
Main
|
Politico Founder Jim Van Der Hei: I've Always Defended the Media Against Bias Charges, But This Year, They've Proven Themselves to Be Hyperpartisan Embarrassments »
October 05, 2016
Hurricane Matthew- Tuesday NightWednesday Morning (tmi3rd)
This was scheduled for last night...so at tmi3rd's request I updated the map to the newest version. He also points out that preparations to evacuate need to be finished today if south of NC. [CBD]
Good evening from the AoSHQ Weather Desk. I'm tmi3rd, and let's not screw around.

If you are anywhere on the east coast of Florida, it is time to leave. You're going to get at least sideswiped, and that means you're going to get at least tropical storm force winds and Category 4 storm surge, to say nothing of a ton of rain.

If you're on the coast in Georgia, South Carolina, or North Carolina, you need to be completing preparations to leave and be prepared to go in the next 24 to 48 hours.

More below the fold...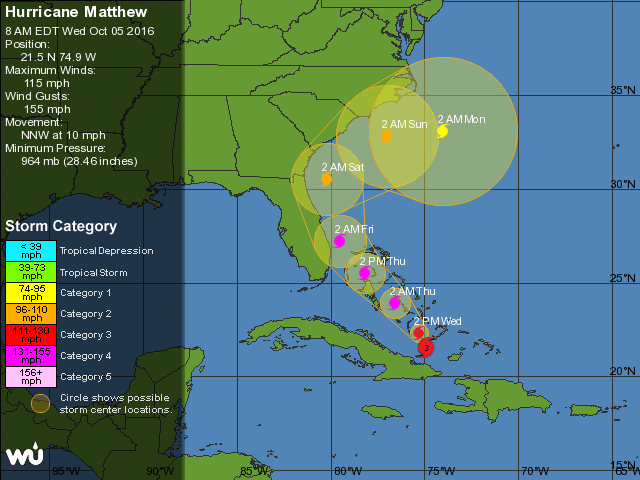 A hurricane watch in effect for essentially the east coast of Florida south of St. Augustine, and a tropical storm watch is in effect for the southernmost portion of the Florida peninsula.

It's going to slow its motion going forward as it interacts with the Bahamas, but at this point, it looks like the conditions are favorable for it to maintain intensity as it heads north.

Worrying about the specifics of the path at this point is pointless until it completely clears Cuba, but I want to emphasize to the folks from Virginia northward that you need to keep a very close eye on this. It's going to turn east at some point, but it's anyone's guess when that's going to happen.

In the short term- for the southeastern Atlantic coast, prepare for very heavy rain, at least tropical storm-force winds, and major hurricane storm surge. I'll have more as this develops, but stay safe and take this one seriously.

If you need to reach me, find me on Twitter.


posted by Open Blogger at
09:45 AM
|
Access Comments