« Horrible Old Racist Uses Disgusting Triggering Language To Describe Undocumented Pre-Citizens [CBD]
|
Main
|
Gun Thread: 1st PERIODIC, OCCASIONAL and SPORADIC POSTAL HANDGUN MATCH »
October 02, 2016
Food Thread: How To Get That Pesky Baboon's Blood Out Of Your Oil* [CBD]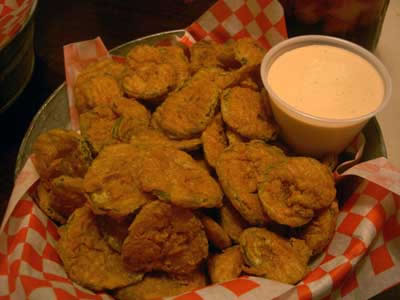 [Yup. Deep Fried Pickles]
Don't let the scolds get under your skin; fried food is grand and glorious, and unless you eat so much of it that you get fat...who cares how you use the fat component of your diet? Hell, if Ace weren't on a hobo hunt (He picked up one of those three-day all-inclusive hunts that even include skinning and butchering. Damned 1%er) he would be railing against the carbs in the batter!
But cooking oil gets dirty. Well, not really dirty, but filled with bits of food and batter that begin to flavor the oil and burn. The usual technique is to filter the oil after it cools, but that can be messy and slow.
Luckily we have Niedermeyer's Dead Horse, who sent me a marvelous new way to clean cooking oil...
from "Serious Eats'" J. Kenji López-Alt, The Food Lab: A Mind-Blowing Technique for Cleaning Deep-Fry Oil Using Gelatin. Yes, he is a pompous leftist (compost!), but this sounds like a useful technique, at least to try once.

******
Alton Brown is one of my favorite food/cooking celebrities. I like his logical approach to cooking, and his taste in food runs very, very American, which makes me smile. The NY Times did a reasonably balanced profile of him, with only veiled criticism of religion. Anyway, it's worth a read if you can stand the baseline douchiness of
the most overrated newspaper in the world.
******
Well this is nice!
Going public--Not: Michigan state epidemiologist didn't publicly report Flint-area disease outbreak
.
The plea agreement states that Miller was aware of the Legionnaires' cases in 2014, and reported to someone identified only as "Suspect 2" that the outbreak "was related to the switch in the water source" after compiling data about the illness in Genesee County. No explanation is given in the plea deal as to why the cases weren't publicly reported.
Because the elites will always...ALWAYS...decide for us whether we need to know. This exposes the central flaw in government regulation. They think they know better, and there is nothing we can do about it. Please explain to me what benefit the people of Flint gained from government rather than private control of infrastructure. And does anyone care to bet on the political affiliation of Ms. Miller?
******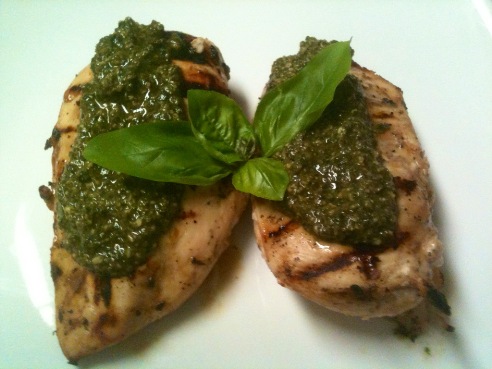 Pesto is great, and really easy to make. And basil is still available in the supermarket, so what are you waiting for? I use domestic Parmesan and whatever nuts i have around the kitchen. I used pistachios for my most recent batch, and it worked fine. The classic -- pine nuts -- is too damned expensive, and doesn't add anything that other good, oily nuts add to the dish.
And as you can see from the photo, pesto isn't just for pasta. Use it as a spread for sandwiches or a garnish on grilled chicken or even a salad dressing. (Yes, I am a pesto whore).

******
This was originally a veal chop recipe from Gourmet Magazine, but I think that veal is too mild to stand up to the bold flavors of this dish, so I just use thick pork chops. And the original recipe called for a temperature of 155 F...for veal! They were clearly on drugs.
Pan-Roasted Pork Chops with Arugula
4 (2 inch-thick) pork rib chops
2 1/2 tablespoons unsalted butter
1 1/2 tablespoons olive oil
1 garlic clove
1/4 teaspoon salt
1 1/2 tablespoons balsamic vinegar
3 tablespoons minced shallot
1/2 cup dry white wine
1 cup chicken broth
3/4 teaspoon minced fresh rosemary or 1/4 teaspoon dried, crumbled
2 small bunches arugula, trimmed (shut up)
Preheat oven to 425F.
Pat pork chops dry and season with salt and pepper.
Heat 1/2 tablespoon butter and 1/2 tablespoon oil in a 12-inch heavy skillet over moderately high heat until hot but not smoking, then sear chops until golden brown, about 3 minutes on each side.
Transfer skillet to middle of oven and roast chops until an instant-read thermometer inserted horizontally into a chop registers 145F (do not touch bone), about 10 minutes (depending on thickness).
While chops are roasting, mash garlic to a paste with salt using a mortar and pestle (or mince and mash with a large heavy knife), then transfer half of paste to a bowl and whisk in 1/2 tablespoon vinegar, remaining tablespoon oil, and salt and pepper to taste.
Transfer chops to a plate and keep warm. Add shallot and remaining garlic paste to skillet and cook over moderate heat, stirring, until softened, about 1 minute.
Add wine and remaining tablespoon vinegar and boil, scraping up brown bits, until reduced to about 2 tablespoons, about 4 minutes.
Add broth and rosemary and boil until reduced by half, about 4 minutes. Remove from heat and add remaining 2 tablespoons butter, swirling skillet to incorporate, then stir in any veal juices accumulated on plate. Season with salt and pepper.
Add arugula to dressing and toss to coat. Serve chops with sauce and arugula.
******
* With apologies to William Shakespeare:
Double, double toil and trouble;
Fire burn, and caldron bubble.
Cool it with a baboon's blood,
Then the charm is firm and good.
&topic=world_news">

posted by Open Blogger at
04:00 PM
|
Access Comments