« Ace of Spades Pet Thread [Mis. Hum.]
|
Main
|
Claustrophobes Need Not Apply [CBD] »
October 01, 2016
Saturday Afternoon Chess/Open Thread 10-01-2016 [OregonMuse]
(Is that guy on the left really supposed to be Putin? If so, it's a pretty crappy rendition.)
'Once while walking over Waterloo Bridge, in London, with stout-hearted Teichmann, we conversed of the ingredients that associate to make a chessplayer. I ventured a remark that, if he would name one indispensable ingredient, I would name an able player wholly destitute of it. And Richard very tolerantly said, "Have you given any thought to 'vanity'?"'

--William Napier
Good afternoon morons and moronettes, and welcome to the Saturday Afternoon Chess/Open Thread, the only AoSHQ thread with content specifically for all of us chess nerds who pay homage in the temple of Caïssa, goddess of the chessboard. And, for those of you who aren't nerdly enough for chess, you can use this thread to talk about checkers, or other games, or politics, or whatever you wish, only please try to keep it civil. Nobody wants to get into a tomato fight on a Saturday afternoon.

Problem 1 - Black To Play (47)
Hint: Black mates in 2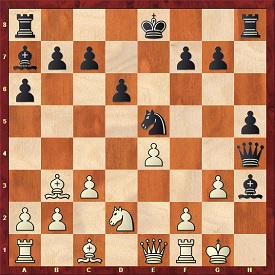 r3k2r/bpp2pp1/p2p4/4n2p/4P2q/1BP3Pb/PP1N1P2/R1B1QRK1 b kq - 0 15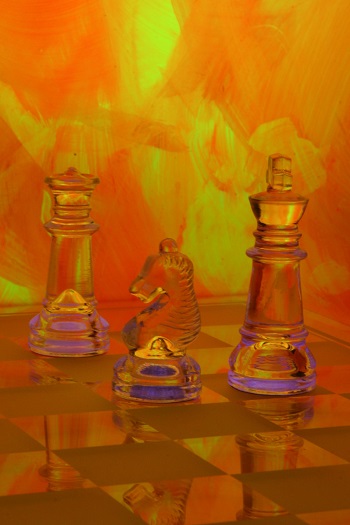 A Bit of Experimental Photography by JTB


Problem 2 - White To Play (56)
Hint: White mates in 3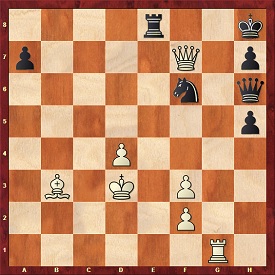 4r2k/p4Q1p/5n1q/7p/3P4/1B1K1P2/5P2/6R1 w - - 0 1



Chess Variant - Solitaire
This is not a chess variant like Chess960 or Capablanca Chess. This is a different kind of game you can play with the chess pieces. For all I know, there could be a number of games chess variants where only one player is required, but I just discovered this one on Thursday and I think it's pretty fun. And the good part is, you don't really know how to play chess as such in order to play chess solitaire. All you need to know is how the several pieces move and capture.
It's kind of like the "peg" solitaire games where you have a number of pegs filling every hole in a board except one, and you have to make checker-style jumps to remove pegs until only one is left.
With that in mind, here is what solitaire chess looks like: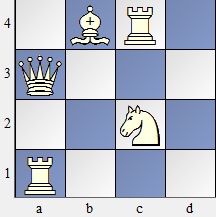 So the idea is to make captures using the conventional chess capture rules until only one piece is left. Note that the only legal moves are those that capture another piece. Try your skill out on the above diagram. You can express your answer using conventional algebraic notation. Example:
1. Nxa1
2. Qxb4
3. Rxb4
...and now I'm stuck, as there is no way for the knight on a1 and the rook on b4 to capture each other. So that's a failed solution. Look for others. And while I have a solution, I can't say for sure whether it's a unique solution. Seems to me that there could be more than one way to solve one of these problems, but I don't know for certain, so it will be interesting to see if any of you morons come up with a different solution than the one I found, which I'll include when I put up the problem solutions later on.
OK, now try a slightly harder one: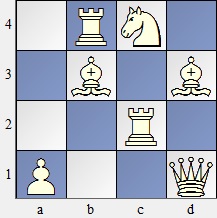 I got these from a site where you can play solitaire chess online for free.

Problem 3 - White To Play (258)
Hint: White mates in 4
This is kind of a tricky one, with a number of branches on the decision tree.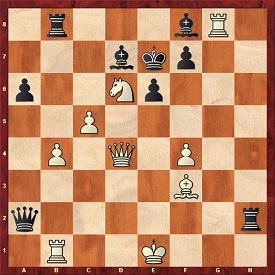 1r3bR1/3bkp2/p2Np3/2P5/1P1Q1P2/5B2/q6r/1R2K3 w - - 0 1



Bowing To Pressure
Next year's women's world chess championship just got interesting:
The world's top female chess players have reacted with horror after being told they must compete at next year's world championship wearing a hijab.

Within hours of Iran being revealed as its host country, the prestigious event was plunged into crisis as it emerged players taking part face arrest if they don't cover up.

In response, Grandmasters lined up to say they would boycott the 64-player knock-out and accused the game's scandal-hit governing body FIDE of failing to stand up for women's rights.
And FIDE's response should come as a surprise to no one:
FIDE's Commission for Women's Chess, meanwhile, called on participants to respect "cultural differences" and accept the regulations.
In my opinion, FIDE has always been a tool for whatever anti-western movement is currently en vogue. Used to be the commies. Now it's the jihadis.
But you know who's not on board with all of the protests going on over this? GM Susan Polgar, who is chair of FIDE's Commission for Women's Chess:
"I personally would have no issues with wearing a head scarf (hijab) as long as it is the same to all players. I believe the organisers provided beautiful choices for past participants of Women's Grand Prix.

"I cannot speak on behalf of others but from my personal conversations with various players in the past year, they had no real issues with it."
No, this is not the full burqa body bag, hijabs look like this.
But I think there's a larger issue here, which is this:
The U.S. Department of State has issued a warning about travelling to Iran saying citizens risk being unjustly imprisoned or kidnapped because of their nationality.
I think that the possibility of any of these things happening to women attending a world-class chess tournament is probably pretty low. Even so, if I were an American woman who was given the opportunity to play in this event, I'd feel pretty unsettled, and I'd be asking all kinds of pointed questions about security arrangements. And I'd be burning with hatred for FIDE for pulling this stunt. In fact, I already do.
So let's see how this plays out. In order for these protests to be successful, a large number of the selected participants, including US women's champion IM Nazi Paikidze, who has been vocal about this, are going to have to get together and boycott the event, create a big stink for FIDE, and accept whatever consequences come their way. Otherwise, it's all a bunch of useless virtue-signalling. But I predict this is not going to happen. I think most will look at the tournament venue, look at the hijab, look at the possibility of lost opportunities for advancing their chess careers and think "Meh, it's not so bad. I can deal with it."
(h/t JTB for this story)
Endgame of the Week (271)
Hint: It's a mate in 3 for White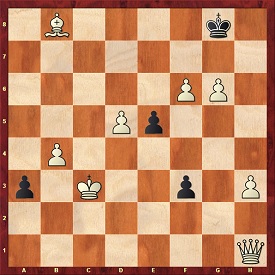 1B4k1/8/5PP1/3Pp3/1P6/p1K2p1P/8/7Q w - - 0 1
Kling, 1843

___________
Solutions Update
A moron suggested last week that I include the diagram for each of the problems with the solutions so that you don't have to keep flipping back and forth. I thought this was a good idea.

Problem 1 - Black To Play (47)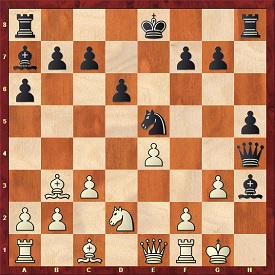 r3k2r/bpp2pp1/p2p4/4n2p/4P2q/1BP3Pb/PP1N1P2/R1B1QRK1 b kq - 0 15


1...Qxg3+!
2.fxg3 is not possible because White's f-pawn is pinned by the Bishop way up there on a7, which I hope you all noticed.
2.Kh1
Forced. And now:
2...Qg2#
Kaboom!

Problem 2 - White To Play (56)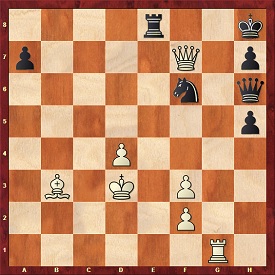 4r2k/p4Q1p/5n1q/7p/3P4/1B1K1P2/5P2/6R1 w - - 0 1


1.Qxe8+ Qf8
Yes, Black can capture the queen, 1...Nxe8, but then 2.Rg8# finishes him off a move early.
2.Qxf8+ Ng8
3.Qxg8#

Problem 3 - White To Play (258)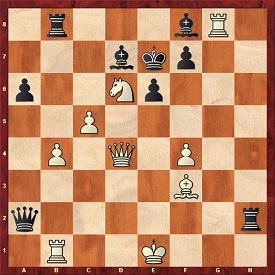 1r3bR1/3bkp2/p2Np3/2P5/1P1Q1P2/5B2/q6r/1R2K3 w - - 0 1


As you can see, Black is threatening all sorts of mayhem with that queen/rook tag team that he has magnificently placed on the 2nd rank. So White has absolutely no time to mess around:
1.Nf5+ Ke8
There are two other responses, 1...Kd8 and 1...exf5. We will deal with each one separately.
2.Rxf8+ Kxf8
3.Qg7+
Not 3.Qh8+?? Rxh8
3...Ke8
4.Qg8#
But back to Black's initial responses to 1.Nf5+, if instead 1...Kd8 then
2.Rxf8+ Kc7
3.Qd6#
Or, if 1...exf5 then
2.Qd6+ Kd8 (or 2...Ke8 )
3.Rxf8#

Endgame of the Week (271)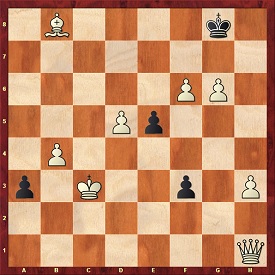 1B4k1/8/5PP1/3Pp3/1P6/p1K2p1P/8/7Q w - - 0 1
Kling, 1843

The key to this problem is seeing that the Black king is pretty much trapped, and all White has to do is figure out a way to move his queen to the 8th rank to deliver the checkmate. The 'c' file looks the most promising, but the king needs to be moved out of the way.
1.Qc1 a2
2.Kd2 f2 (2...a1=Q makes no difference. 3. Qc8#)
3.Qc8#
Knowing that everything depends on White getting the Queen to the back rank, can Black escape by getting past the pawn blockade? He can try, but he won't be fast enough:
1.Qc1 Kf8
2.Kd2 Ke8
3.Qc8#
So the strategic idea here is for White to move the queen to the 'c' file, move the king out of the way, then move the queen to c8. So an interesting question is, can White move the king out of the way first, then move the queen?
As a matter of fact, he can't. He can still win, but it won't be in 3 moves. So, for example, if he makes his second move first, 1.Kd2, then Black replies 1...e4, threatening 2...e3+ and there goes the mate in 3. Or, alternately White can try 1.Kb3, but then:
1...a2
2.Qc1 a1=N!
And once again, the mate in 3 is thwarted. The queen *has* to be moved first.
A most ingenious study.

Chess Variant - Solitaire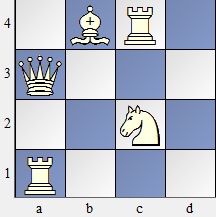 1. Rxa3
2. Bxa3
3. Nxa3
4. Nxc4
Switching the order of moves 1 and 2 would also work.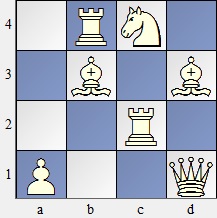 Answer 2:
I got stuck on this one for awhile because I thought the only piece that can capture the pawn on a1 is the queen. I was wrong:
1.Rcxc4 (translation: "the rook on the 'c' file captures whatever piece is on c4")
2.Rxb4
3.Rxd3
4.Rxd1
5.Rxa1
See you all next week!
___________
Note: that cryptic line of letters and numbers you see underneath each board diagram is a representation of the position in what is known as "Forsyth-Edwards Notation", or F.E.N. It's actually readable by humans. Most computer applications nowadays can read FEN, so those of you who may want to study the position, you can copy the line of FEN and paste into your chess app and it should automatically recreate the position on its display board. Or, Windows users can just "triple click" on it and the entire line will be highlighted so you can copy and past it into your chess app.
___________
So that about wraps it up for this week. Chess thread tips, suggestions, bribes, rumors, threats, and insults may be sent to my yahoo address: OregonMuse little-a-in-a-circle yahoo dott com.

posted by Open Blogger at
04:45 PM
|
Access Comments