« Sunday Open Thread [CBD]
|
Main
|
Move Along, Nothing To See....[CBD] »
September 25, 2016
Food Thread: Maillard....It Isn't Just A Duck [CBD]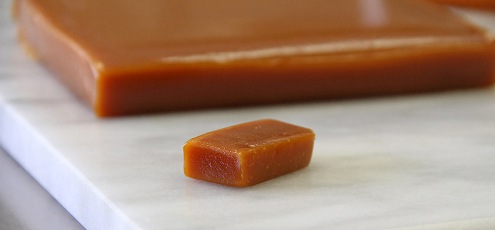 Pastry chef Michael Laiskonis explains Maillard reactions and why browned foods taste so damn good
Our very own
Y-not
sent this article to me, and it's fascinating and, at least for me, a revelation. Of course I knew that those luscious caramels that destroy my will power were brown, and taste good, but it never clicked that it can be the same reaction that makes those steaks I love taste marvelous. Hell, I have made caramel dozens of times (it's easy) and watched it brown.
Yes, I am a moron, and not just with a capital M.
Grilled Tenderloin in a Salt Crust I have done something like this with chicken, and it worked rather well; juicy and tender and, interestingly, not over-salted. And since whole tenderloins often go on sale for not very much money, it's a good cut with which to try this technique.
By the way, while prime beef is often significantly better (and significantly more expensive) than choice, tenderloin is very lean, so buying prime makes very little sense. My local place often has whole tenderloin on sale for about $7/lb, which is a fine price, considering that the yield is great. No bones, and minimal loss from trimming the silverskin and the little bit of connective tissue.

******
A long time ago, in a galaxy far, far away, I bought a temperature probe with alarm so that I could roast turkeys and other large chunks of flesh without constantly opening the oven to check the internal temperature. It was a pain in the ass, complete with preprogrammed temperatures that were not easily overridden. I have no interest in eating pork cooked to 175° or a beef roast charred to a crisp. The little beast had been programmed according to government guidelines which, as we all know or could surmise, are worthless. So a few years ago I bought this dandy little gadget from a company called
Thermoworks.

They call it a "DOT," and it is ridiculously simple to use, and seems accurate. They also make Thermapens, which are ubiquitous among the chattering classes in the cooking world, but are actually marvelous tools. And expensive. Which is why I use slower but just as accurate probes that cost 1/4 of what they get for their fancy models.
******

And speaking of tools....your hands are the best ones around. Bare, not covered with gloves or holding some fancy gadget that cracks your eggs for you. Admittedly, I will grab a pair of surgical gloves when i slice ribs before serving, because the dry rub that I favor has an amazing affinity for underneath my nails, no matter how short I trim them. And mixed with pork fat it's even more tenacious, so gloves it is. But for most other jobs I use bare hands, which improves dexterity, and also gives me a sense of the raw ingredients. That sounds touchy-feely and New-Age, but it really isn't.
When I started paying attention to meat (shut up!), and not just slapping it on the grill, I found that I was able to be more discerning at the market. And picking up meat that needs some prep, such as hanger steaks, and paying attention to the way the grain runs and how much connective tissue there is and how much fat and how firm or tender it is before cooking is a good way of learning a little bit about how to cook different cuts. And this extends to other foods. Even vegetables!

******
Hank Shaw, of the marvelous Hunter-Angler-Gardener-Cook website is always a fun read. And his discussion of how to make
Homemade Root Beer Syrup
is a wonderful, far-ranging discussion of....everything.
If you like root beer, you like sassafras.

The aromatic bark, leaves and roots of this little tree are believed to be the first plant exported from North America to Europe, back in the late 1500s. All parts of this little tree make for delicious — and different — teas, sweets and other confections, and sassafras commanded exorbitant prices in Europe… until everyone started drinking sassafras tea to cure their syphilis. Soon no one wanted to be seen sipping their syphilis cure in public, and the sassafras trade withered.

More recently, sassafras has been getting a bad rap by the folks at the USDA, who say that the active component of sassafras, safrole, is a "known carcinogen." Why? They gave tons of pure safrole to rats and the rats got cancer. Later researchers noted that, like the whole saccharine scare in the late 1970s, safrole seems to cause cancer in rats — but not people.
From root beer to politically-driven medical research to STDs...it's like he is reading our minds!

******
here's a recipe for
Grilled Balsamic Chicken Wings
that looks like it would be fun. it's definitely simple. Yes, they are selling their glaze, so ignore that part if capitalism offends you. And I wonder whether leaving the wings to marinate for six hours at room temperature is wise. The vinegar certainly inhibits microbial growth, but it isn't going to kill everything, and six hours is a long time considering that the doubling time of many bacteria is less than 20 minutes. 2
17
is a very big number.If any of you Morons want to do the experiment please report your findings. I will be refrigerating mine. And making a dipping sauce that contrasts the balsamic vinegar. Yeah....it will probably be Ranch dressing.
******
I have made this, and it tastes damned good, although the color of the end result is not particularly appealing, so don't be put off by it. And
Giada
has other attributes besides the color of her food....
As usual, there is a step that works fine, as long as you have someone else washing your dishes. It's one of my pet peeves: recipe writers, particularly celebrity chefs, have no sense that cleaning up is actually a requirement of most of their readers, who can't simply step away from the kitchen and relax with a glass of wine while their kitchen gnomes make everything sparkle.
So....one cookie sheet is plenty.
Artichoke And Bean Crostini
Ingredients
• Vegetable cooking spray
• 4 very thin slices prosciutto
• 12 (1/4-inch thick) slices rustic country bread
• 1/2 cup extra-virgin olive oil, plus extra for drizzling
• 1 (12-ounce) package frozen artichoke hearts, thawed
• 1 (15-ounce) can cannellini beans, rinsed and drained
• 1 cup grated Pecorino Romano
• 1/2 cup coarsely chopped fresh basil leaves
• 1 teaspoon lemon zest
• 3 teaspoons fresh lemon juice
• 2 teaspoons kosher salt
• 1/2 teaspoon freshly ground black pepper
Put an oven rack in the center of the oven. Preheat the oven to 375 degrees F.
Spray a baking sheet with vegetable cooking spray
Lay the prosciutto in a single layer on the prepared baking sheet and bake for 10 to 12 minutes until crispy. Set aside to cool for 10 minutes.
On another baking sheet, arrange the bread slices in a single layer. Using a pastry brush, brush the bread with 1/4 cup of the oil. Bake until golden, about 12 to 15 minutes.
In a food processor, combine the artichoke hearts, beans, cheese, basil, lemon zest, lemon juice, salt, and pepper. Pulse until the mixture is chunky. With the machine running, slowly add the remaining 1/4 cup of olive oil. Spoon the artichoke mixture onto the crostini. Crumble the prosciutto and sprinkle on top.
Drizzle with oil and serve.
&topic=world_news">

posted by Open Blogger at
04:00 PM
|
Access Comments