« EMT 09/25/16 [krakatoa]
|
Main
|
Sunday Open Thread [CBD] »
September 25, 2016
Sunday Morning Book Thread 09-25-2016: E Deplorobus Unum [OregonMuse]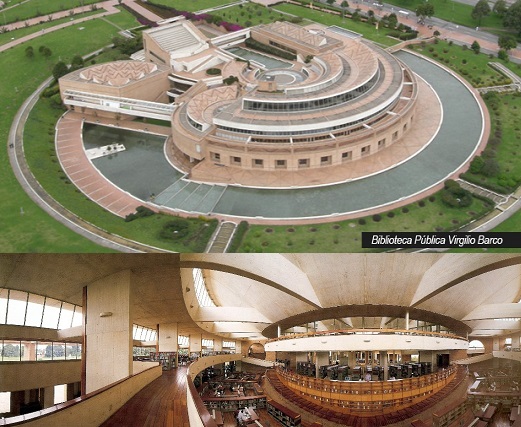 Public Library, Bogota, Colombia, Interior and Exterior
(h/t to Rod for the library pic)

Good morning to all of you morons and moronettes and bartenders everywhere and all the ships at sea. Welcome to AoSHQ's stately, prestigious, internationally acclaimed and high-class Sunday Morning Book Thread, where men are men, all the 'ettes are gorgeous, safe spaces are underneath your house and are used as protection against actual dangers, like tornados, hurricanes, and the election of Hillary Clinton, and special snowflakes do not last. And unlike other AoSHQ comment threads, the Sunday Morning Book Thread is so hoity-toity, pants are required. Even if it's these.

Alphabet Soup
Via WeaselZippers, science! has discovered that words, not just some words, but words in general, indeed, the very concept of "words", are responsible for the oppression of women.
The Alphabet Versus the Goddess: The Conflict Between Word and Image by Leonard Shlain, who claimed, among other things:
"Literacy has promoted the subjugation of women by men throughout all but the very recent history of the West...Misogyny and patriarchy rise and fall with the fortunes of the alphabetic written word."
Teh stupid, it burns!
First off, hasn't the idea of some sort of primeval feminist paradise, a matriarchal golden age of Goddess worship and universal peace shown to be a complete load of hooey? Second, if the literate word is so oppressive to women, then why do women dominate the writing and publishing industries? Schlain hedges his sweeping statement with the qualifier "...all but the very recent history of the West", but if the oppression is so pervasive, there is no adequate explanation for why it should suddenly be different now. I think that Schlain has managed to get things precisely backwards: the truth is that literacy has actually *empowered* women and liberated them, because facility with words does not depend upon physical strength or agility, which favors males.
The 1-star reviews complain about his bad science and pseudo-science, and Schlain's admission that "By profession, I am a surgeon... I am by nature a storyteller" kind of gives the game away. He's telling a story, or constructing a myth, not conducting a scientific investigation. It's not the way things are, it's the way he would like them to be.
Also, one of the things words have allowed us to do is to accumulate medical knowledge. This enables us to learn about the human body so we can ameliorate the effects of disease, injury, and old age. So all of us, both men and women, can live healthier, happier lives. Because of words. This should have been something that the author, who was an associate professor of surgery at University of California, San Francisco, until his death in 2009, ought to have been able to appreciate.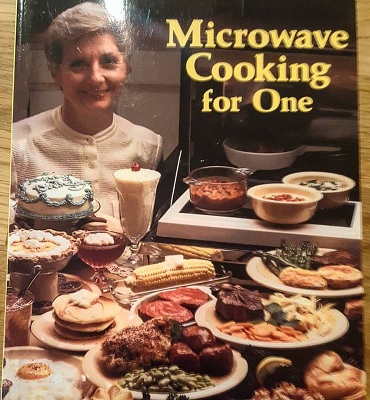 The Saddest Book In The World

(h/t Anonosaurus Wrecks for the pic)

Help A Moron Out
The father of moron commenter and fellow OB cob CBD, who was a voracious reader of history, passed back in May, and CBD inherited his library of several hundred history books. Once he takes the ones he wants, he would like to know of any of you morons have any ideas what to do with the rest. He's ruled out donating them to his local library since he thinks they'll take a few and then pulp the rest. He's tried to donate them to Hillsdale College, but they didn't return his e-mail. And reselling them individually through Amazon or Alibris is a PITA he'd like to avoid.
So I'm putting this out there in the hopes that any of the MoronHorde™ might have any ideas.

The Old Gray Mare
A few weeks back, John Kerry had another flare-up of hoof-in-mouth disease:
...But if you decide one day you're going to be a terrorist and you're willing to kill yourself, you can go out and kill some people. You can make some noise. Perhaps the media would do us all a service if they didn't cover it quite as much. People wouldn't know what's going on.
Every time Kerry says something dumb like this, I always think, does he think he can make hay out of this, or is he just horsing around?
But even though we all had fun laughing at the horse's ass, I don't think what he said is completely ridiculous.
After all, when some jackass goes running out onto the field during an NFL game, they don't show his antics, because notoriety is what the jackass wants. I think this is NFL policy. Although, if the jackass in question was a 22-year-old hottie who just so happened to be naked, I suppose the policy might get suspended for a few seconds, especially if there's a Moron™ in the control room.
And would our equine SoS ever dare to suggest implementing his policy domestically? Would #BLM be the national pests that they are if they were just ignored?
I doubt it. I suspect that what Kerry chiefly wants ignored is stuff (like ISIS attacks) that reveals the magnitude of his failures, both his and those of his boss.
But along these lines, Anna Puma mentioned an old novel "where the media decides to ignore and ridicule terrorists instead of reporting on all the sensationalist gory details."
Originally published in 1979, the terrorist bad guys of Dean Ing's novel Soft Targets are planning a terrorist attack on the U.S., which, back then, was simply unpossible:
Hakim Arif stars as the leader of the Arab-backed El-Fatah band of terrorists who have in their group a Panamanian and - surprise - two Israeli members of a religious sect whose beliefs are so convoluted as to ally them with their own enemy. Maurice Everett is the FCC Chairman whose idea to have the country's major TV networks ridicule terrorists versus giving them the publicity they and their backers so crave, puts him and the co-creators of the idea at the top of El-Fatah's hit list.
It's an interesting idea, but only for back then, when terrorism was far from our shores. Not today. I can't imagine such a policy being implemented for something like 9/11, or even that Florida gay nightclub that got shot up.
On the other hand, as Martin Luther once said, "The best way to drive out the devil, if he will not yield to texts of Scripture, is to jeer and flout him, for he cannot bear scorn." At some point, these ISIS clowns need to be laughed at. Perhaps after a bunch of heavy ordnance gets jammed down their throats.

Gene Wilder
So I watched this interview of Gene Wilder, who passed away a few weeks back, and it turns out he was also a novelist. I never knew that.
His first novel is titled My French Whore: A Love Story, set during WWI:
It's almost the end of the war and Paul Peachy...enlists, and ships off to France. Peachy instantly realizes how out of his depth he is—and never more so than when he is captured. Risking everything, Peachy—who as a child of immigrants speaks German—makes the reckless decision to impersonate one of the enemy's most famous spies.

As the urbane and accomplished spy Harry Stroller, Peachy has access to a world he could never have known existed—a world of sumptuous living, world-weary men, and available women. But when one of those women—Annie, a young, beautiful and wary courtesan—turns out to be more than she seems, Peachy's life is transformed forever.
Wilder also wrote Something to Remember You By: A Perilous Romance, a romance set in WWII, and The Woman Who Wouldn't.

Moron Recommendations
Veteran moron commenter Mary Poppins' Practically Perfect Piercing is reading the new Hitler bio, Hitler: Ascent, 1889-1939, by Volker Ullrich.
Many previous biographies have focused on the larger social conditions that explain the rise of the Third Reich. Ullrich gives us a comprehensive portrait of a postwar Germany humiliated by defeat, wracked by political crisis, and starved by an economic depression, but his real gift is to show vividly how Hitler used his ruthlessness and political talent to shape the Nazi party and lead it to power. For decades the world has tried to grasp how Hitler was possible. By focusing on the man at the center of it all, on how he experienced his world, formed his political beliefs, and wielded power, this riveting biography brings us closer than ever to the answer.
MP4 says this new bio is good enough to stand with Sir Ian Kershaw's 2-volume set.
Prof. Kershaw has a number of books on various facets of Nazi Germany and WWII, among them Luck of the Devil: The Story of Operation Valkyrie
The July 1944 Plot to kill Adolf Hitler was a desperate attempt by a group of senior officers to redeem Germany's honour and end the Second World War. They were heroic because they knew their chances of success were slight and that the result of their failure would undoubtedly be a terrible death. They wanted to leave a message for later generations: that there were Germans who understood the evils of Nazism and were willing to act against it...Luck of the Devil is...a brilliant account of just what happened in those fateful days at Hitler's Wolf's Lair headquarters, when his opponents came so astonishingly close to assassinating what is one of the modern era's most terrible figures.
It has always astounded me how these plots against Hitler failed due to fluke circumstances beyond all prediction or control. The phrased used in the title of Gershaw's book, Luck of the Devil, sums it up just about perfectly.

Books By Morons
I heard this week from a lurking moron who wants me give a shout out to his wife on the occasion of the publication of her first book, Into Thin Ayre: An Emerson Ayre Novel, which he describes as "an urban fantasy, an average woman in Ottawa (Canada) who has powers and responsibilities thrust upon her." The Amazon blurb says:
Emerson Ayre was a normal girl with a normal life until a supernatural inheritance leaves her questioning the nature of reality.

Forced into moonlighting in a job that she doesn't want and can't quit, Emerson joins the ranks of an elite group of women with special powers tasked with protecting the future of the planet.
And on a personal note, the author's husband added "I liked how she used all the stupid stuff her husband does as inspiration. Who knew I would be so useful?"
$2.99 on Kindle.

___________
Moron lurker author Vince Milam has published the third of his "Challenged World" series, which I first mentioned here last November. The first two in the series, The Unknown Element and Pretty Little Creatures were released last years. The series follows a group of ordinary people who must rise above themselves to fight supernatural evil.
The third book, Gather The Seekers, continues the adventures of Cole Garza, sheriff of a small Gulf Coast town, who, along with his two companions, is once again drawn into a battle that is way bigger than he is:
The intrepid trio of Cole, Nadine, and Francois are joined by others with the same "radar" to hone in on evil activities – all wrapped around a tale of ISIS waging jihad in America. Jude Gill is a spiritual warrior from San Francisco with tats, spiked hair, and an attitude. She is joined by Luke Sikes from Virginia, another spiritual warrior. Luke is a former NFL linebacker and brings a spiritual ferocity to the tale. These two – Jude and Luke – join Francois the French priest as a potent trio of seekers. Every spiritual warrior needs secular help. Francois is again aided by Nadine and Cole, while Jude is assisted by Jean Murphy – a retired cop. Jean holds little truck with malfeasance, having been hardened by the mean streets of Oakland. Luke's aide-de-camp is Nick Capellas, a Department of Homeland Security agent. Nick is young, handsome ("eye candy" according to Nadine), and unsure at best of the eclectic team he has been pulled into. Jihad in America.
Trigger warnings for absolute Good, absolute Evil, and for Christianity being true. Also, even though these books are a series, each can be read as a "stand-alone" novel. Vince assured me of this.
Today, Sunday, the price for the Kindle edition of this book has been reduced to 99 cents.

___________
Moronette Sgt. Mom tells me that the third volume of her Luna City Chronicles series is now live on Amazon:
Welcome to Luna City, Karnes County, Texas … Population 2,454. This does not count the strangers come to town, searching for the fabulous Mills treasure-hoard, the seldom-seen Agua Dulce ghost-horsemen, and the mysterious lights spotted floating over the highway on one dark and moonless night.Ex-celebrity chef, Richard Astor-Hall (formerly Rich Hall, the Bad Boy Chef) has his hands full managing the Luna Café and Coffee … plus some outside catering jobs … and a fund-raising charity event in which he might be drafted into playing a much bigger part than he agreed on at the start. A touch of mystery, a bit of possible romance
Kindle version $3.99. There's also a dead tree edition.

___________
Moronette 'votermom' is putting together a list of moron authors over on the Goodreads site which is intended to be accessible to non-members. Here is the list she has compiled so far. Let her know if there's an author she's missing.
http://www.bookhorde.org/p/aoshq-authors.html
___________
Don't forget the AoSHQ reading group on Goodreads. It's meant to support horde writers and to talk about the great books that come up on the book thread. It's called AoSHQ Moron Horde and the link to it is here: https://www.goodreads.com/group/show/175335-aoshq-moron-horde.
___________
So that's all for this week. As always, book thread tips, suggestions, bribes, rumors, threats, and insults may be sent to OregonMuse, Proprietor, AoSHQ Book Thread, at the book thread e-mail address: aoshqbookthread, followed by the 'at' sign, and then 'G' mail, and then dot cee oh emm.
What have you all been reading this week? Hopefully something good, because, as you all know, life is too short to be reading lousy books.


posted by Open Blogger at
09:00 AM
|
Access Comments