« Electoral College Projection, Based On...Um....Uh...[CBD]
|
Main
|
"There Will Be More:" Bomber Threatens More Attacks »
September 18, 2016
Food Thread: You Got Your Chocolate On My Cocktail! [CBD]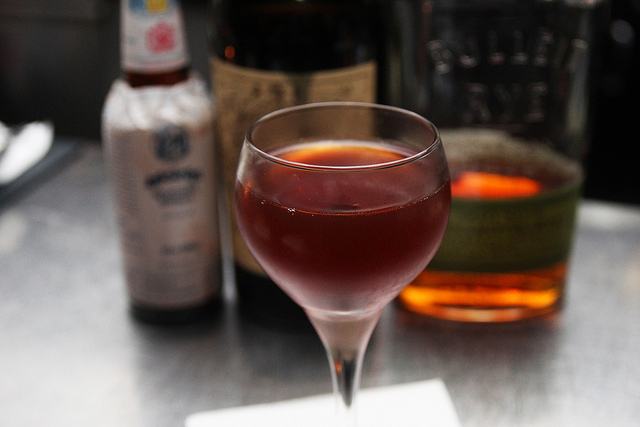 There are some good rules that govern cocktail alchemy -- alcohol + sweet + sour in a roughly 3:1:1 ratio will yield a good place to start. Obviously not all drinks follow this rule, but if you are playing around with new flavors it's a fine beginning.
Some drinks are radically different. Martinis are nowhere near this ratio, Old Fashioneds are mostly rye with a splash of sweet and a dash of bitters, and many other excellent drinks deviate from this loose rule. And that ratio also respects the bite of alcohol, and avoids the treacly, overly sweet flavors of many slapdash drinks. But many fine bartenders prefer 2:1:1, so if you like your drinks on the sweet side of the line, just start there.
So...are there equivalent ratios in cooking? Obviously the Golden Rule of 1:1, Bacon to all other food is well known, but what about things like marinades, which is what got me thinking about this question in the first place?
My marinades seem to follow a pretty consistent pattern, even when I deviate from my standard ones. oil as the base, mustard or vinegar as the tart, honey or brown sugar usually as the sweet, and then a variety of additions from the spice rack and the garden. Garlic, onions, salt, pepper, chiles, smoked paprika, etc.
Eh....short answer is: No.
I made a very successful marinade for lamb recently that was primarily parsley, with a little bit of this and a little bit of that thrown in for variety. It sure worked well. And oil+salt+cracked black pepper works wonderfully for big chunks of beef.
There is simply too much variety of ingredients for a ratio to work. The Unified Field Theory of cooking remains elusive....

******
Stop kissing cats (and stop touching yourself), and don't click on the video at work. Wow....
******
Yesterday we made peanut butter cups at Chez Dildo, and there was great rejoicing. Why bother, when the commercial version is pretty good? Well, we used good quality bittersweet chocolate, which elevated it to damned good. And next time I will use better peanut butter, and brown sugar instead of powdered sugar. Anyway, it's fun, quick, yields fantastic results, and will impress your friends and neighbors.
Here's another recipe
(not the one I used) that looks like it will work well. But ignore the step that includes washing the chocolate-covered spoon used in the first step. It's melted chocolate. On a spoon. Who wouldn't just put it in his mouth? And don''t bother with the food processor. Just mix the peanut butter and sugar in a bowl. And use regular sized muffin liners instead of the mini ones, and put them in a muffin tin to make handling them easier. In fact, just go on the internet and find another recipe.
******
Pot-roasted Shoulder of Pork with Chilli and Beer
sounds pretty damned good, and pretty damned easy. And I just love reading the Brits' recipes; there is something pleasing and archaic, and redolent of a fire-warmed pub filled with Dickensian characters.
******
I made ribs yesterday, and by careful plan increased the cooking time to six hours and 30 minutes at 225°-250°, with cherry-wood smoke for the first hour of cooking. Actually, that's a lie. My plan was six hours, but I forgot. Anyway, I peeled the membrane and put a dry rub on for 24 hours before cooking, then smeared them with about a tablespoon of honey before I put them in the smoker.
They were great, but a little less unctuous and fatty than I prefer, especially at the ends of the racks. So I think six hours is the sweet spot.

******
I have very little patience for most wine reviewers. I am extremely suspicious of their relationships with the winemakers and the distributors who supply many of them with wine. It's difficult not to assume some untoward motivations. Anyway, Robert Parker, the most famous of the reviewers, has a
convenient vintage chart
that I use occasionally when I need some general information.
******
"Best Of" lists are usually wrong -- it's the "Gell-Mann Amnesia effect" in full swing.
But this list is sort of fun....
and keep clicking to the other drinking lists. I have been to a few of these places, and they are loads of fun, and really expensive. That's one reason why making one's own cocktails is both satisfying and frugal!
******
It's pretty fussy, as many of
"America's Test Kitchen"
Recipes are wont to be. But it is also quite good, so when the leaves start to turn and your thoughts move from grilled meat and corn and fresh tomatoes to hearty stews on cold autumn days, give it a shot....
Best Chicken Stew
Ingredients


2 lbs boneless skinless chicken thighs, halved crosswise and trimmed

kosher salt

pepper, to taste

2 slices bacon, chopped

1 lb chicken wings, halved at joint

1 onion, chopped fine

1 celery rib, minced

2 garlic cloves, minced

2 teaspoons anchovy paste

1 teaspoon minced fresh thyme

5 cups chicken broth

1 cup dry white wine, plus extra for seasoning

1 tablespoon soy sauce

3 tablespoons unsalted butter, cut into 3 pieces

1/3 cup all-purpose flour

1 lb small red potato, unpeeled, quartered

4 carrots, peeled and cut in 1/2-inch pieces

2 tablespoons chopped fresh parsley
Directions
1. Adjust oven rack to lower-middle position and heat oven to 325. Arrange chicken thighs on baking sheet and lightly season both sides with salt and pepper; cover with plastic wrap and set aside.
2. Cook bacon in large Dutch oven over medium-low heat, stirring occasionally, until fat renders and bacon browns, 6 to 8 minutes. Using slotted spoon, transfer bacon to medium bowl. Add chicken wings to pot, increase heat to medium, and cook until well browned on both sides, 10 to 12 minutes; transfer wings to bowl with bacon.
3. Add onion, celery, garlic, anchovy pastes, and thyme to fat in pot; cook, stirring occasionally, until dark fond forms on pan bottom, 2 to 4 minutes. Increase heat to high; stir in 1 cup broth, wine, and soy sauce, scraping up any browned bits, and bring to boil. Cook, stirring occasionally, until liquid evaporates and vegetables begin to sizzle again, 12 to 15 minutes. Add butter and stir to melt; sprinkle flour over vegetables and stir to combine. Gradually whisk in remaining 4 cups broth until smooth. Stir in wings and bacon, potatoes, and carrots; bring to simmer. Transfer to oven and cook, uncovered, for 30 minutes, stirring once halfway through cooking.
4. Remove pot from oven. Use wooden spoon to draw gravy up sides of pot and scrape browned fond into stew. Place over high heat, add thighs, and begin to simmer. Return pot to oven, uncovered, and continue to cook, stirring occasionally, until chicken offers no resistance when poked with fork and vegetables are tender, about 45 minutes.
5. Discard wings and season stew with up to 2 tablespoons extra wine. Season with salt and pepper to taste, sprinkle with parsley, and serve.


posted by Open Blogger at
04:00 PM
|
Access Comments