« Monday Moron Medical Monitoring Session 8
|
Main
|
Evening Open Thread »
September 12, 2016
NYPost: Hillary Avoided Hospital ER To Keep Secret the Details of Her Treatment
Hillary Clinton was headed to an emergency room following her sudden collapse during the Sept. 11 memorial ceremony — but ditched her NYPD escort and detoured to daughter Chelsea Clinton's apartment to keep details of her medical treatment under wraps, The Post has learned.

Secret Service protocol called for the Democratic presidential nominee be taken to a state-designated Level I Trauma Center in the wake of her Sunday morning health crisis at Ground Zero, sources said.

But a campaign operative decided to change course to avoid treatment by doctors, nurses or other medical workers who could leak details to reporters, a source said.

Clinton's van was supposed to be escorted by an NYPD protective detail, but the Secret Service whisked her away from Ground Zero before cops could accompany her, another source said.
Meanwhile, Glenn Thrush of Politico -- who called Hillary's secret illegal email system "kind of bad-ass" -- has the scoop on what really happened in Clinton's Black Ambulance of Secret Ailments, and turns out, nothing really happened at all!!!!
Notice this all comes from "sources close to Clinton" -- that is, her taxpayer-funded Praetorian Guard, whose livelihoods rely on their meal-ticket taking over the government.
Hillary Clinton never lost consciousness, and never stopped talking on her phone — and never put anyone else in danger — after her near swoon at a Sept. 11 memorial on Sunday in New York, according to accounts offered by several people close to the candidate.
Oh well! That's terrific.
I believe all the words people say to me.
The near-fainting spell, according to Clinton staff, is a greater political problem than a physical one –
"Near" fainting.
Oh and it's not really a health problem -- just one of optics.
Like the collapse of Obamacare. That was also not a real problem, just one of optics.
--and the centerpiece of their Monday pushback strategy was a vow to release a far more detailed medical history of the 68-year-old candidate that proves she suffers from no previously undisclosed conditions.
Sure, sure.
People have seizures every day. It's just a fun thing they do.
Clinton's pneumonia isn't severe, according to two people with direct knowledge of the candidate's condition, and she is expected to return to the campaign trail as early as this week.
It just causes the occasional full-body convulsions and collapses.
The real issue is chronic dehydration, exacerbated by her lung problem and Clinton's reluctance to drink water, which has become a source of tension with her staff.
Oh sure. Her problem is simple, and simply cured -- she just needs to drink more water.
Apparently not drinking water puts her into convulsions, but she wisely chooses not to drink it anyway.
"She won't drink water, and you try telling Hillary Clinton she has to drink water," said a person in her orbit – who described a frenzied rehydration mission that included multiple bottles of water and Gatorade.

On Sunday, Clinton began showing signs of light-headedness standing at the Sept. 11 memorial service next to New York Sens. Charles Schumer – who on Monday disclosed that he too just got over a bout of pneumonia -- and Kirsten Gillibrand, the sources said, and they flagged aides to get her a water. After a few minutes, the candidate and her staff determined that she needed to get out of the heat and headed to a pick-up area, where she was seen – and filmed – stumbling into her van in a near swoon.
She did not stumble, she seized, pushing back against her handlers as her back stiffened spasmodically, and then all power and coordination went out from her knees.
"Near swoon." Yeah, that's what I thought as I saw her head falling near the running board of the black ambulance -- wow, what a near swoon. But disaster averted!
Just get that girl a Gatorade and she'll be right as rain, is what I said to myself.
Meanwhile...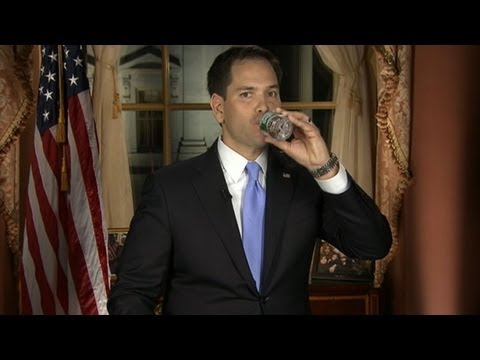 Who's laughing now, ladies?
WHO'S LAUGHING NOW?!!?

posted by Ace at
06:57 PM
|
Access Comments