« Football Sunday in America 08/28/16 - [Niedermeyer's Dead Horse]
|
Main
|
GAB [Weirddave] »
August 28, 2016
Food Thread: Light, Brief and Lithe Edition [CBD]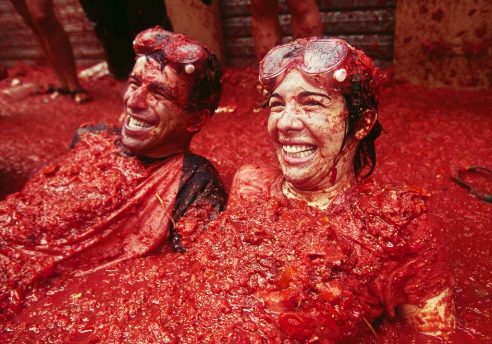 This is the result of the world famous La Tomatina (tomato fight) in Buñol, a small town in Spain's Valencia region. I guess if you are too chicken (or smart) to run with the Bulls in Pamplona, this is a good option. But the curmudgeon in me thinks it's just a big waste of food. Although the claim is that the acidity of the tomatoes cleans the streets, so I guess there is some point to it. I like this point better though.... [NSFW]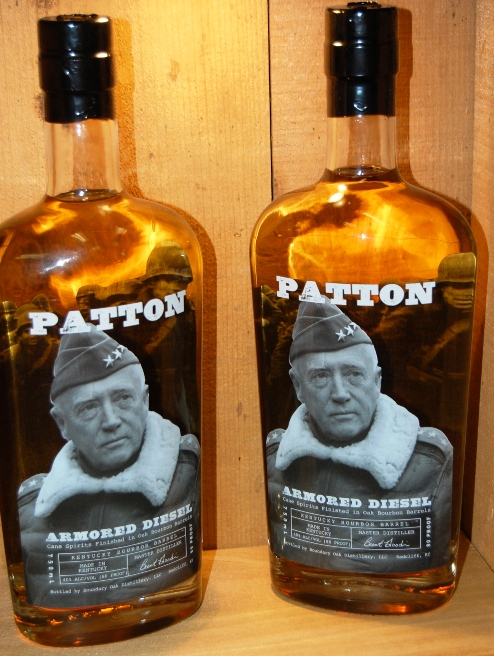 Image of World War II general adorns new bottles of liquor
Bottles of the barrel-aged liquor will carry the likeness of Gen. George S. Patton, who was known for his rapid deployment of armor troops when he commanded the U.S. Seventh Army and later the Third Army during the war.

Known as Patton Armored Diesel, the product borrows its name from a mobile bar that accompanied the general's forces as they crossed France and Germany after D-Day.
I wonder what General Patton would have thought? Either pleased that it was booze, or furious that his name was being used for something undignified....

******
Deep dish pizza isn't really pizza, it's tomato pie. That isn't necessarily a bad thing, because there are versions that are quite good. Just don't call it pizza (Chicago, I'm talking to you...) and all will be well.
Here's an interesting and clear recipe from PizzaMaking.com, which is a grand place to poke around if you are at all interested in the art and science of pizza making. Just be sure to read through it before you start. It's for a basic pie, but most people will want to stuff it full of optional good stuff, like meat!

******
I'm a sucker for time lapse stuff. The accompanying music? Not so much....
The dish is Pressure Cooker Feijoada - Brazilian Black Bean and Meat Stew from Dad Cooks Dinner, one of the best and most accessible web sites dedicated to good, simple food and techniques.

******
Yeah, yeah. Arugula is your trigger for a hipster alert. But it is a very useful green that adds a nice peppery flavor and good texture to things. Just not everything.
Arugula and Potato Salad
¾ lb Yukon Gold potatoes, ½" cube
¼ cup corn oil
White wine vinegar (cider vinegar is fine too)
½ red or yellow pepper, sliced into thin strips
4 oz. baby arugula
Dressing
2 Tbl. finely minced shallot (or Vidalia or similarly sweet onion)
1 Tbl red wine vinegar
1 Tsp Dijon mustard
2 Tbl Extra Virgin Olive Oil
salt and pepper to taste
Whisk the onion, vinegar and mustard together. Drizzle the olive oil into the mixture as you continue to whisk. It will emulsify, or at least mix nicely.
Mix the arugula with the sliced peppers and set aside.
In a large non-stick pan, heat the corn oil on medium-high heat. Add the potatoes and toss until they are coated with the oil. Make sure that the potatoes are in a single layer as you cook them. Toss occasionally until the cubes are nicely browned on all sides. Dump immediately into the salad, pour the dressing over everything, toss and serve.

posted by Open Blogger at
04:08 PM
|
Access Comments